July 2019
Day 1
Today commenced the first day of our immersion to Central Australia. We arrived at approximately 2:45 pm with the sun going down at around 5:00pm. We were originally going to Docker's River, however we took a detour and stopped halfway as our flight was delayed by two hours. On the bus ride there, we passed Uluru and a collection of large rocks, including what I called a "Squid rock" due to its squid-like shape. The flies were the main challenge of the day as they are relentless though seem to go away at night, with the cold. We are currently lighting a fire in the middle of our circle of swags as the sun sets on the day. On the bus, we couldn't hear anything but the dirt road beneath us, in which we have dubbed the massage. 
An aboriginal man named Lee came to visit us later on in the night. He shared stories with us including the one time his swag set on fire, as he was too close, and the sound of a high pitched whistle was a bull that would pee on its tail and flick it up over itself to warn of predators. We shared our spaghetti bolognese with him and he camped close to us for the night. 
Some language we have learnt is:
Palya: Going, coming, hello, goodbye, how are you?
Minyirka: Bindis – there were many.
It has been an eventful first day. 
Neve and Cate
Day 2
We woke up at the crack of dawn to a beautiful golden sunrise. 
We readied ourselves for our day and volunteered to make breakfast for Lee. We made him milk tea and sultana bran with fruit. We had a chat with him to start off our day. We learned the struggles of rolling up our swags and toasting bread without a toaster. After breakfast we packed all of our stuff and prepared to leave but as we were leaving we noticed Lee's car wouldn't start up. We tried pushing his car, jump starting it and checking the engine but nothing would work. We ended up pushing his car to the side of the road for him to then wait for someone to help. We spent a few hours driving on the bus to Docker River. We drove through the town and saw dogs and horses on the way. We settle ourselves down at the local secondary school, Nyangatjajara College and then prepare for lunch. 
A group of us had been assigned to fix the water irrigation system in the schools vegetable garden and plant some more veggies for the children that go to the school. It took a lot of hard work and effort, but at the end we felt accomplished and helpful – it was worth all the hard work. 
After, everyone went down to the community hall where we met the town's children. At first, we played softball with the older girls and later once the game was finished, we played with the younger kids too. It was a lot of fun to build connections with the children we had met and it was sad when we had to leave. Once we arrived back at the secondary college, we ate dinner and played games with the people around our table. 
Olivia and Darcy
Day 3
Most of us woke up to some jolly outback music from Lee's car. We proceeded to stay in our comfy warm swags and talk about our mostly sweet dreams and night endeavours. As the bathroom lines got longer, brekkie was served with a wide choice including toast and cereal (loving the Weetbix) and morning beverages. Girls from Ms Gambrill's group did the washing up, singing Work This Out, a hit from High School Musical 2. Jasmine N was out in charge of the camera and did an exquisite job if I may say so myself. We all scurried onto the whip (the bus), bringing along our hefty donation bags and book of 600 find-a-words. When we dropped the donations off at the primary school, the dogs were intrigued by our activity. 
Off we hopped to the Western Australia border, taking many photos and trying out best to stay off the road (there are no cars anyways so don't worry). On the way back we stopped off for Lee to tell us a story about the landscape. This story was about the black trees across the mountain, that are warriors invading the land of the grass trees. He also told us a story about a woman with her big behind carrying her sister across the land. We went to a lookout and took some photos, which ended in a chat with Lee about devices, social media and mining. This allowed us to gain a new perspective and understand the Aboriginal culture more. 
After that, we travelled back to the primary school and eagerly waited for lunch as we were ravenous. Delicious burgers were served and we swarmed to them like bin chickens to a bin. As many of us went for thirds (and some of us were still waiting in seconds) some of the kids we saw yesterday visited. There was then a minion building competition where the winner is still unclear (so is the prize) but we had a great time nonetheless. The water stopped working, which was quite the problem for us in terms of lavatory and hydration needs, so we popped back to the high school, where camp was set up.
We arrived at the aged care home to a warm welcome. At first we were worried about the language barrier, but we were able to communicate in facial expressions and body language. We performed many songs and dances including We're All In This Together, I Want It That Way, Jingle Bells, Africa, the nutbush and of course the Macarena. The residents were appreciative of our snazzy dance moves and perfect pitch. They then sang songs for us, about their culture and we clapped along. We learnt a dance move to go along with their song, which I'm sure the girls will be happy to perform when we get back. Lee also did a painting of the seven sisters, which we will be learning more about from Stanley.
On the whip (bus) ride home, we passed around our dinner: a kangaroo tail. We found out that most communities have kangaroo tail, as the fillets are sent to the cities. Some people were not so thrilled about the tail. Charlie and Thalia prepared and cooked the kangaroo tail for us. It begins with singeing the fur and scraping it off, then cooking it. Lee came with some witchety grubs and his guitar. The grubs were cooked and we ate them. Some people said it tasted like egg, others said it tasted like peanut butter and others said it tasted like a woolies chicken. As the roo tail was being cooked, Lee taught us a song in Pitjantjatjara about Docker River. We sang along to a few more songs and then ate our dinner (entrée before the roo) which was baked potato, mince beans, veggies and salsa topped with cheese and sour cream.
Once the roo was ready, we headed over to try it (dinner). You had to pull the skin off to get to the flesh. It's hard to describe the taste, but it was sort of a mix of lamb and pork. We were all very excited to try it and took lots of reaction photos. After chatting to Charlie and Thalia about honey ant collection and the stories they had to share, we returned to our swags to head to bed.
Clare and Jasmine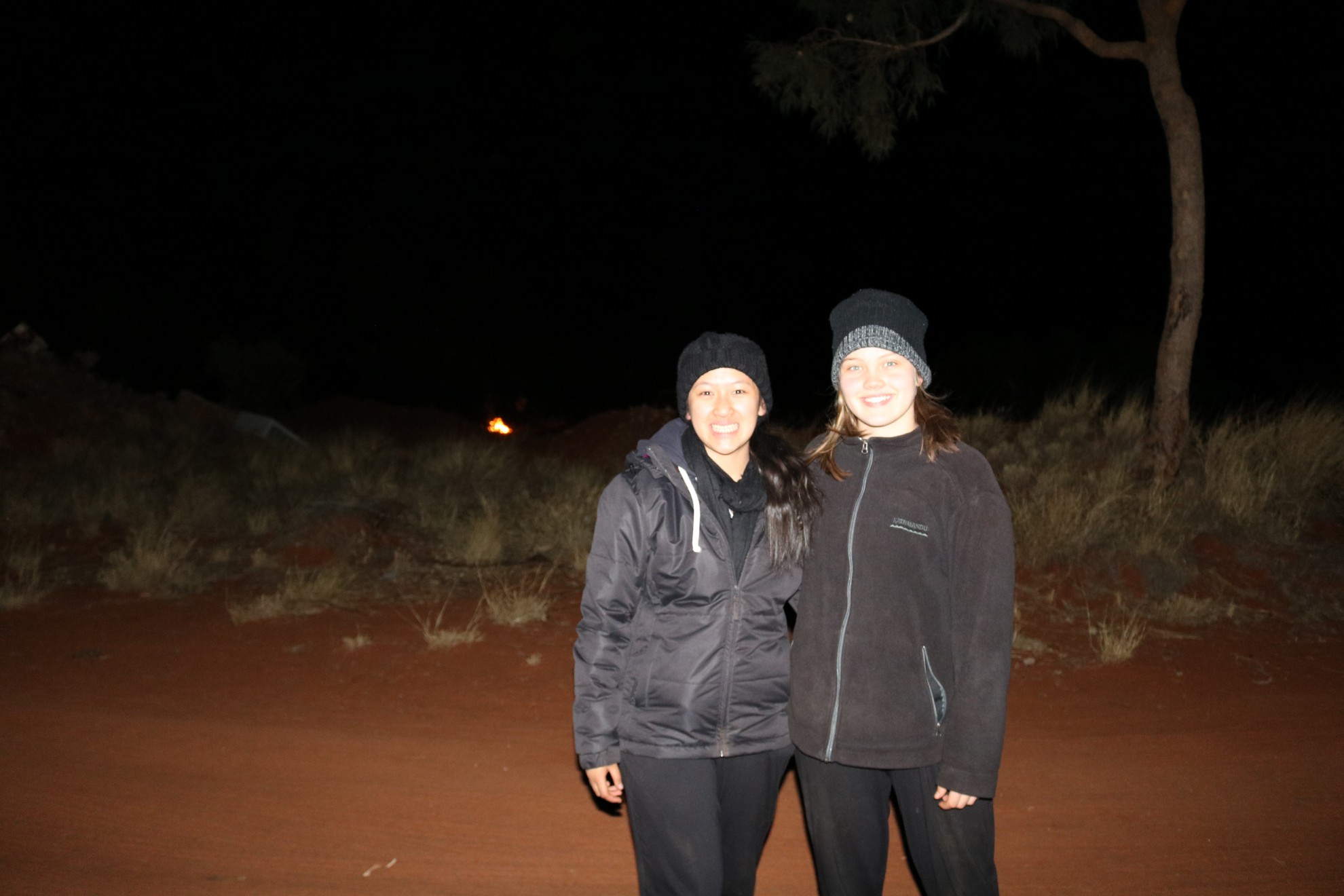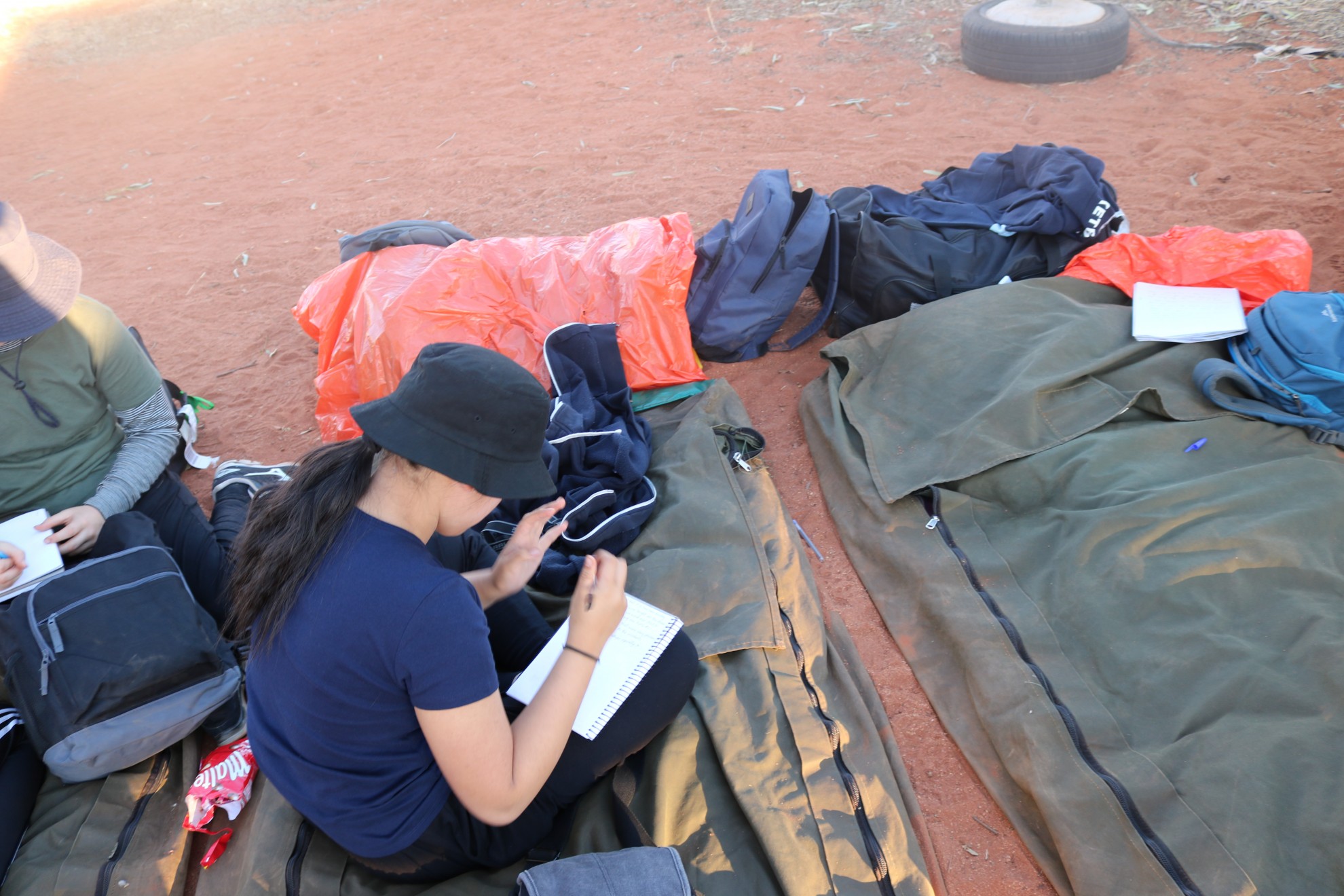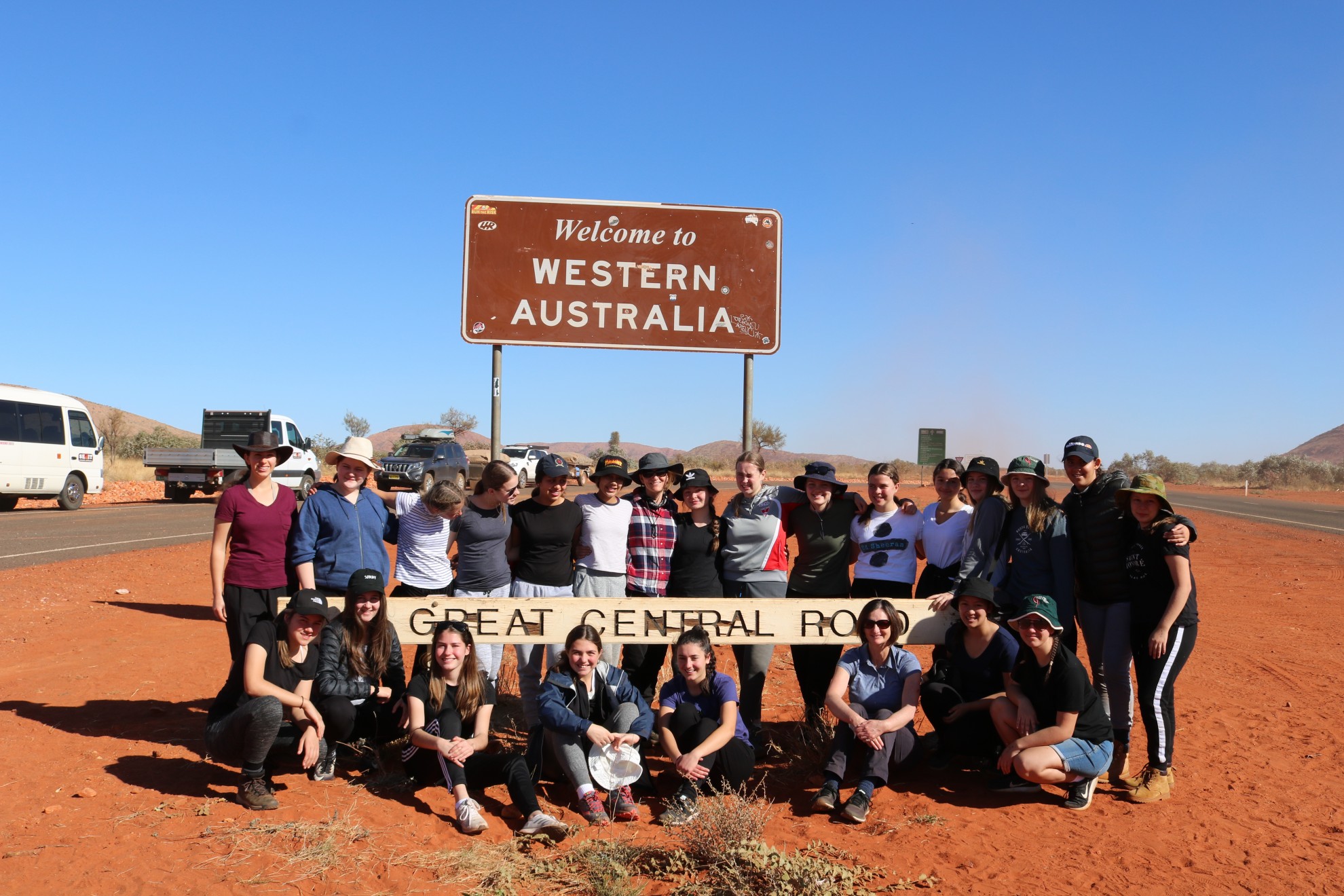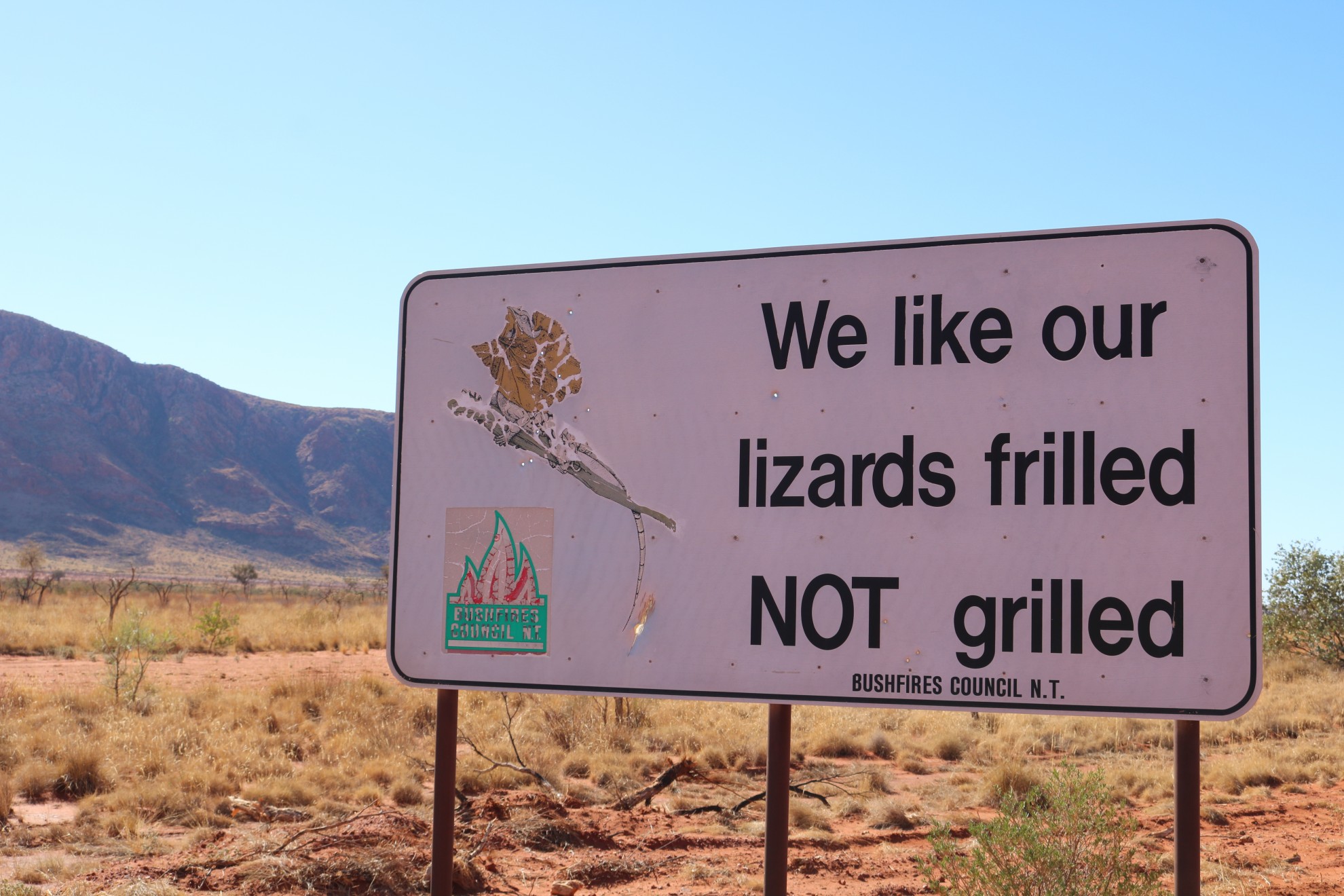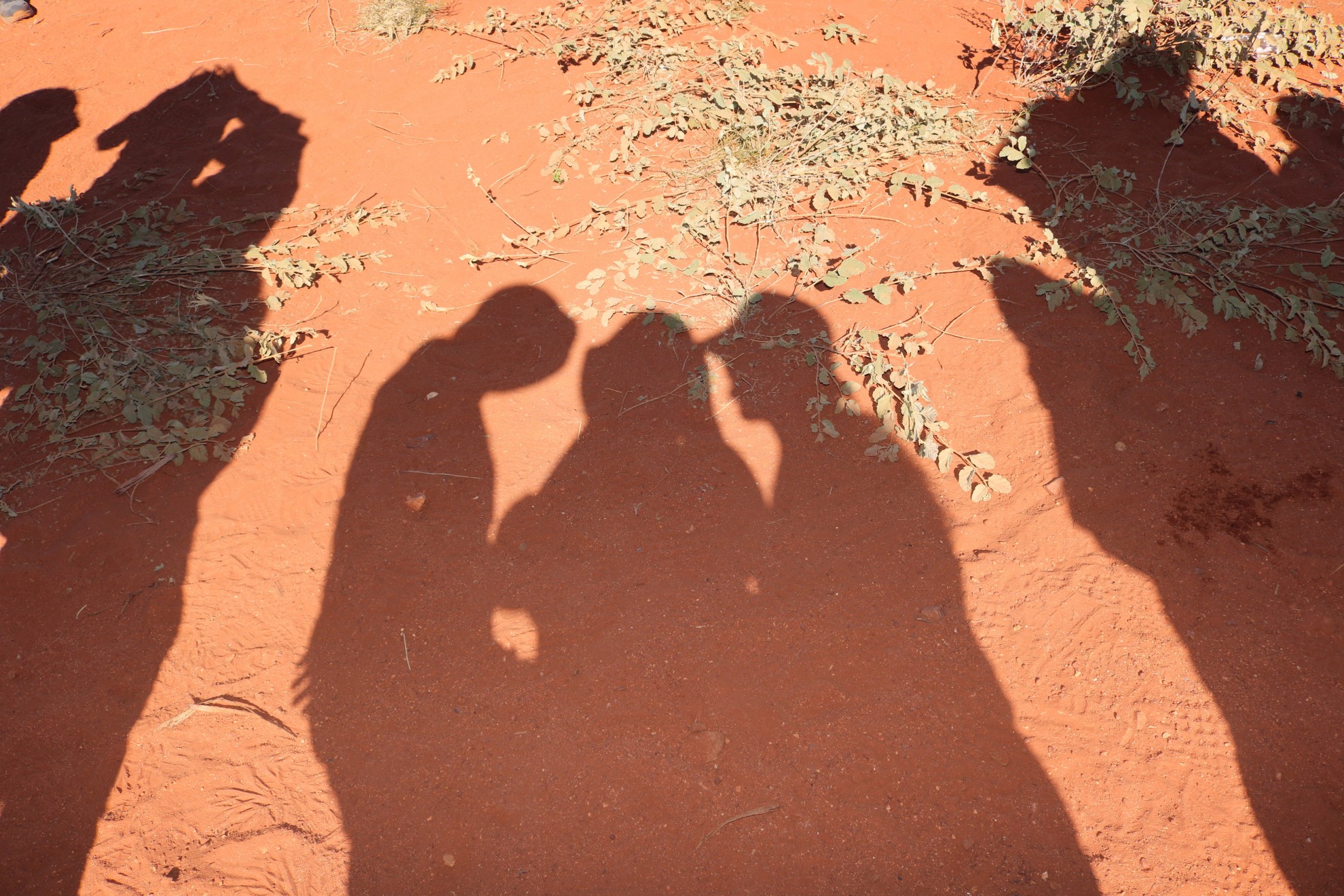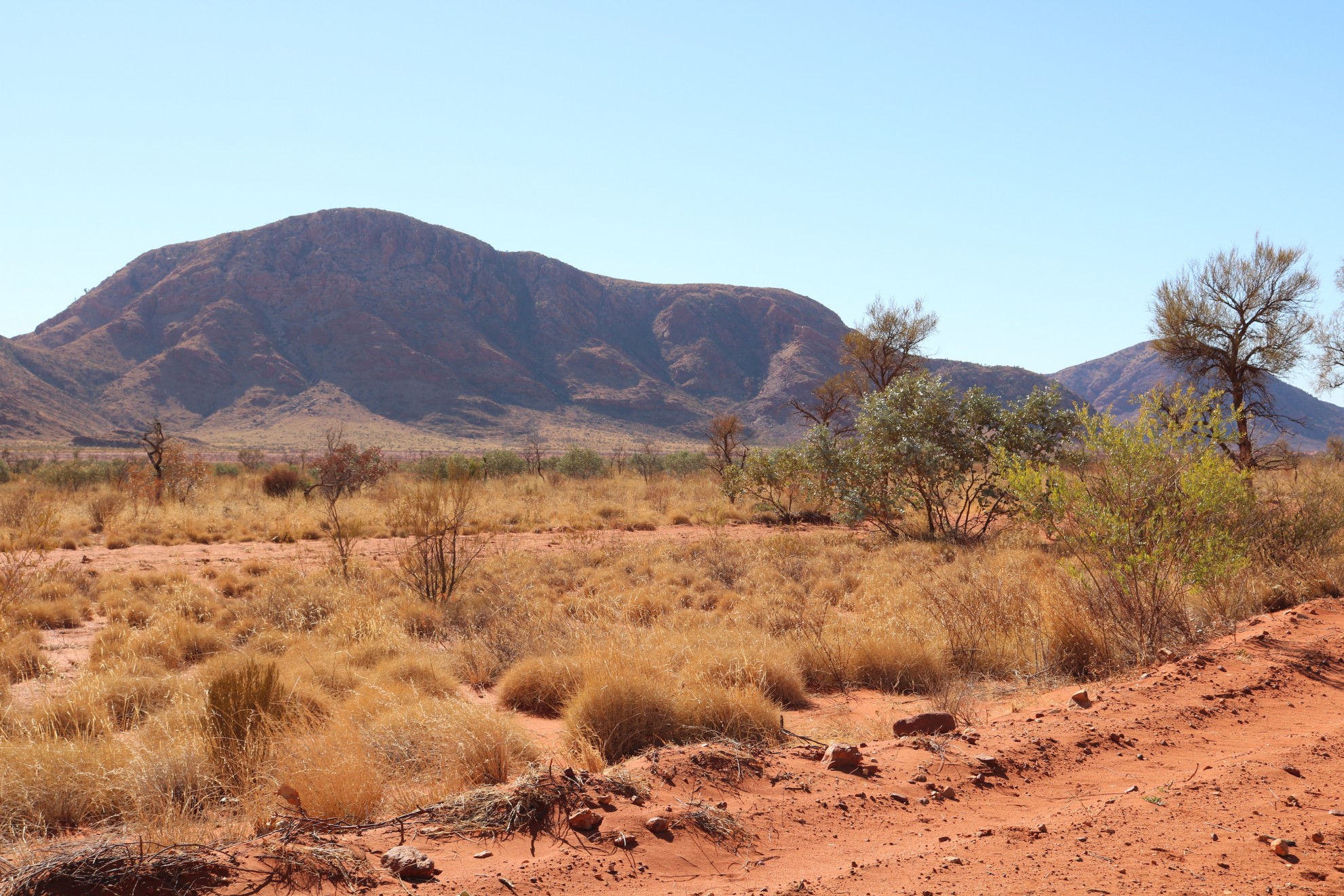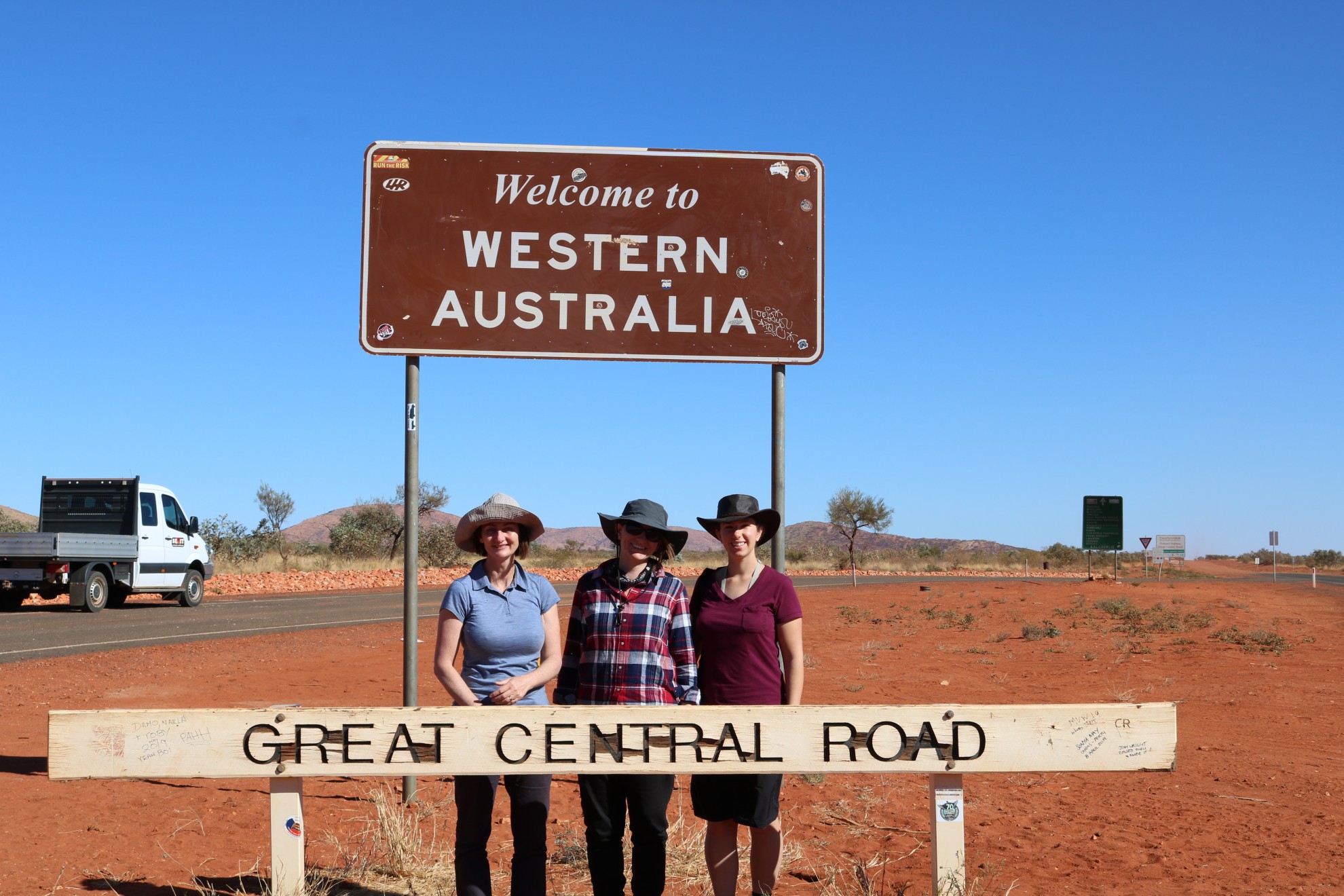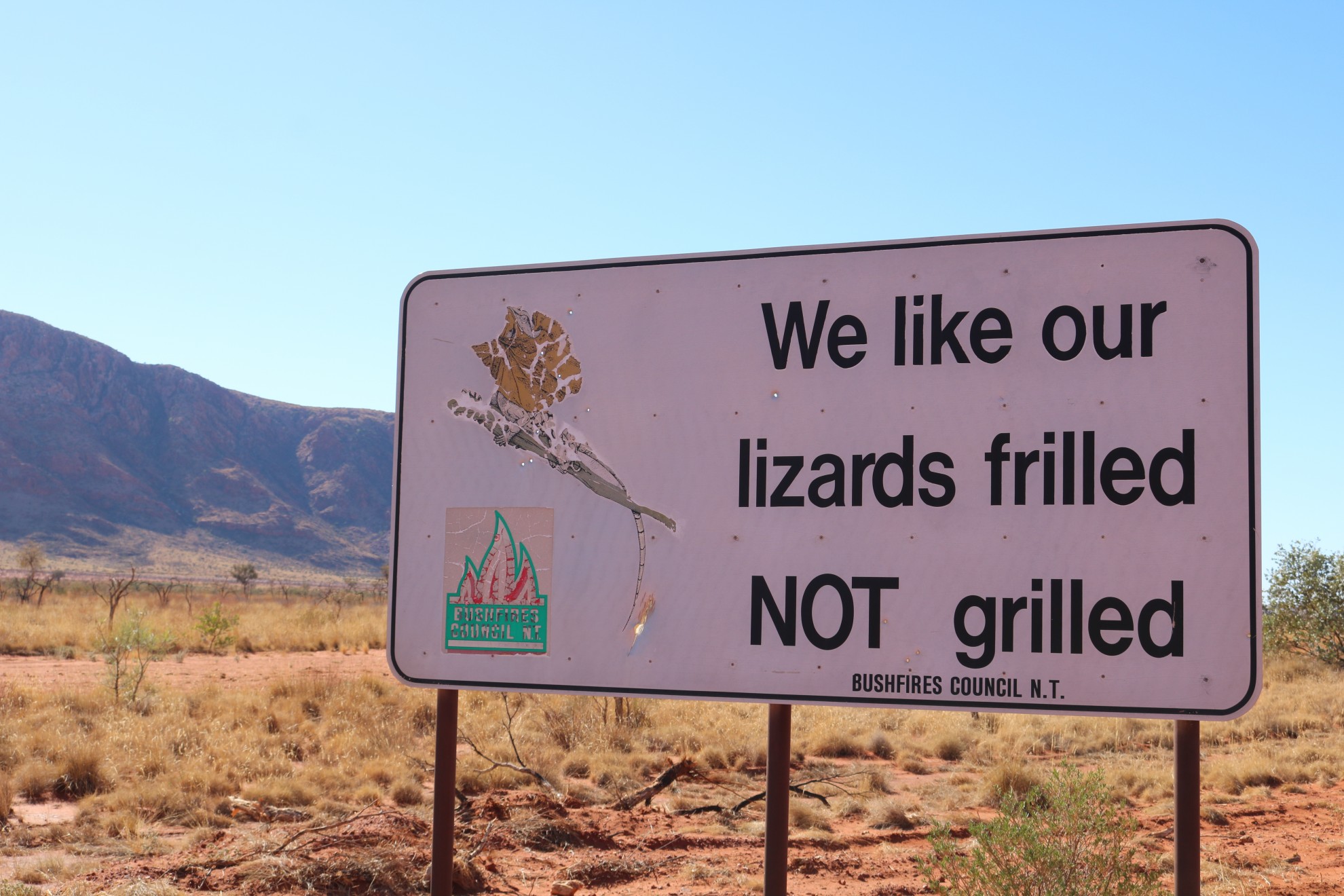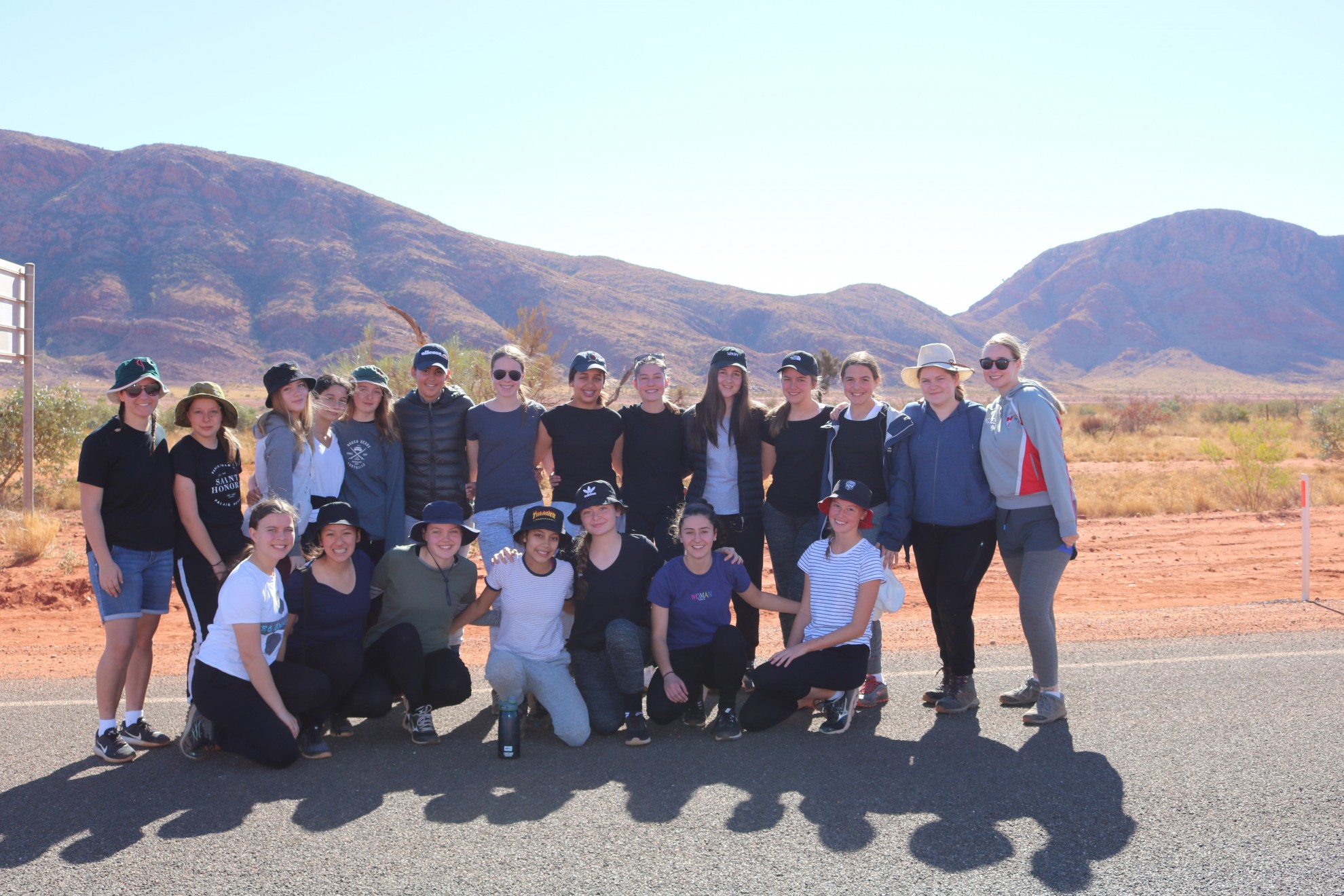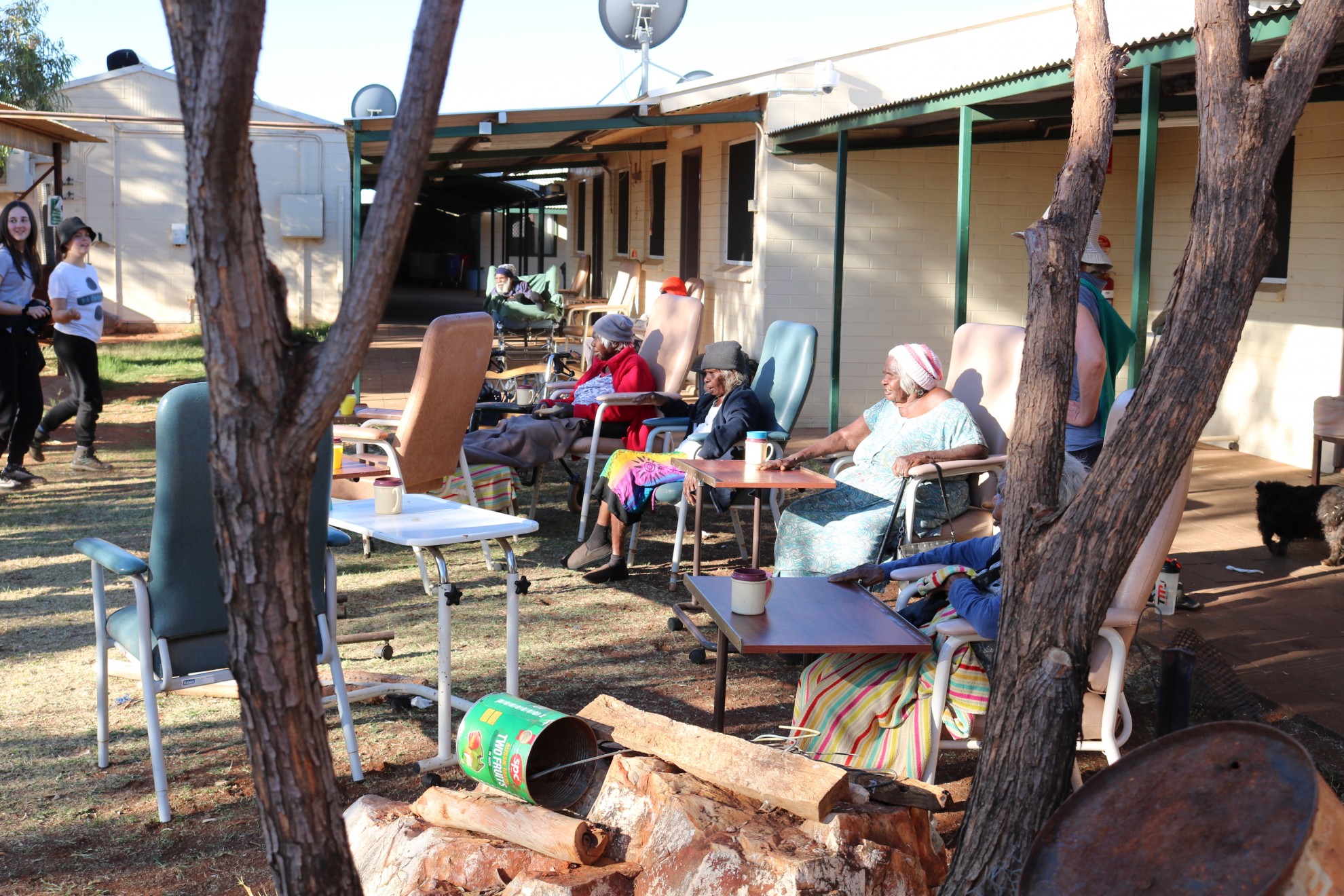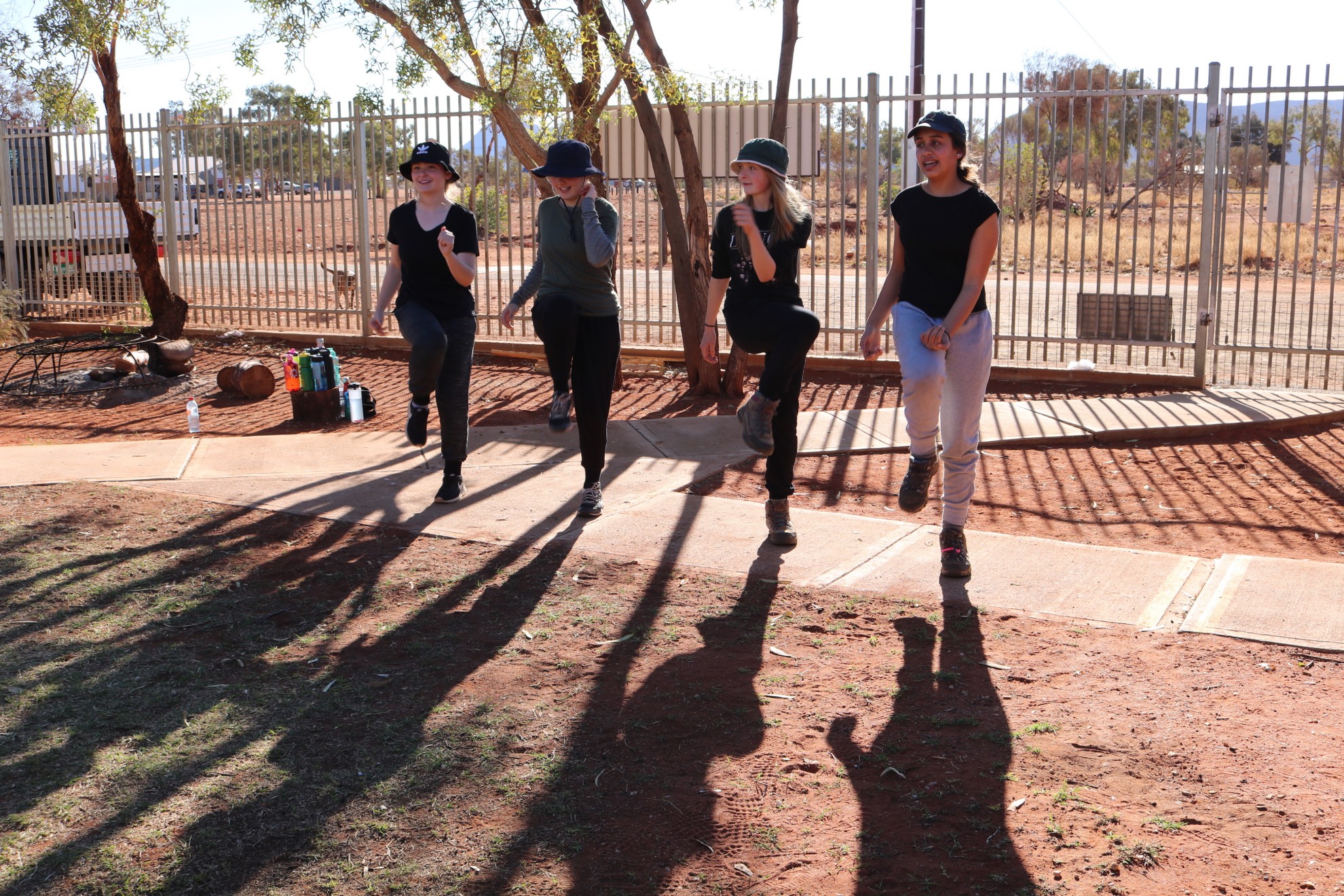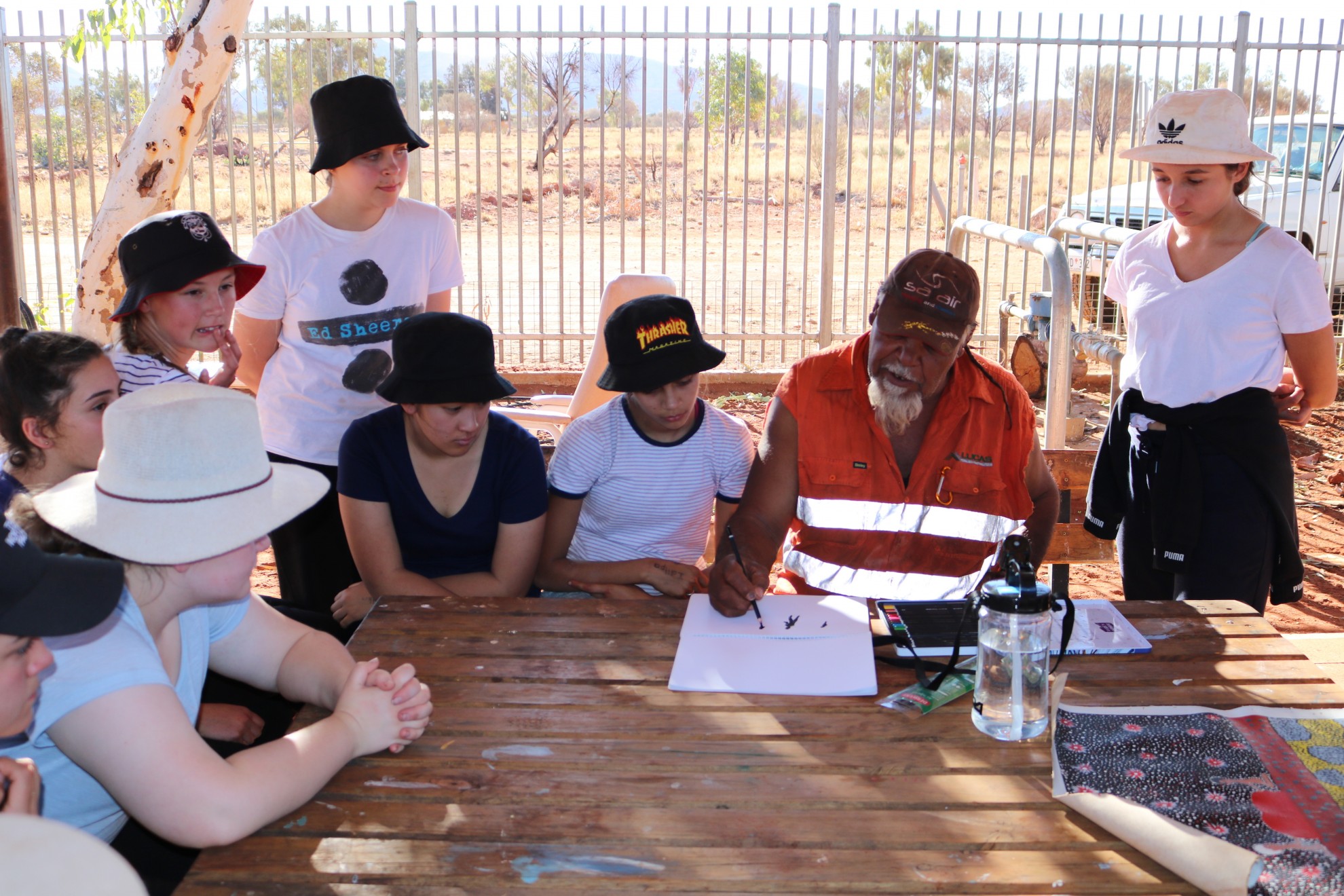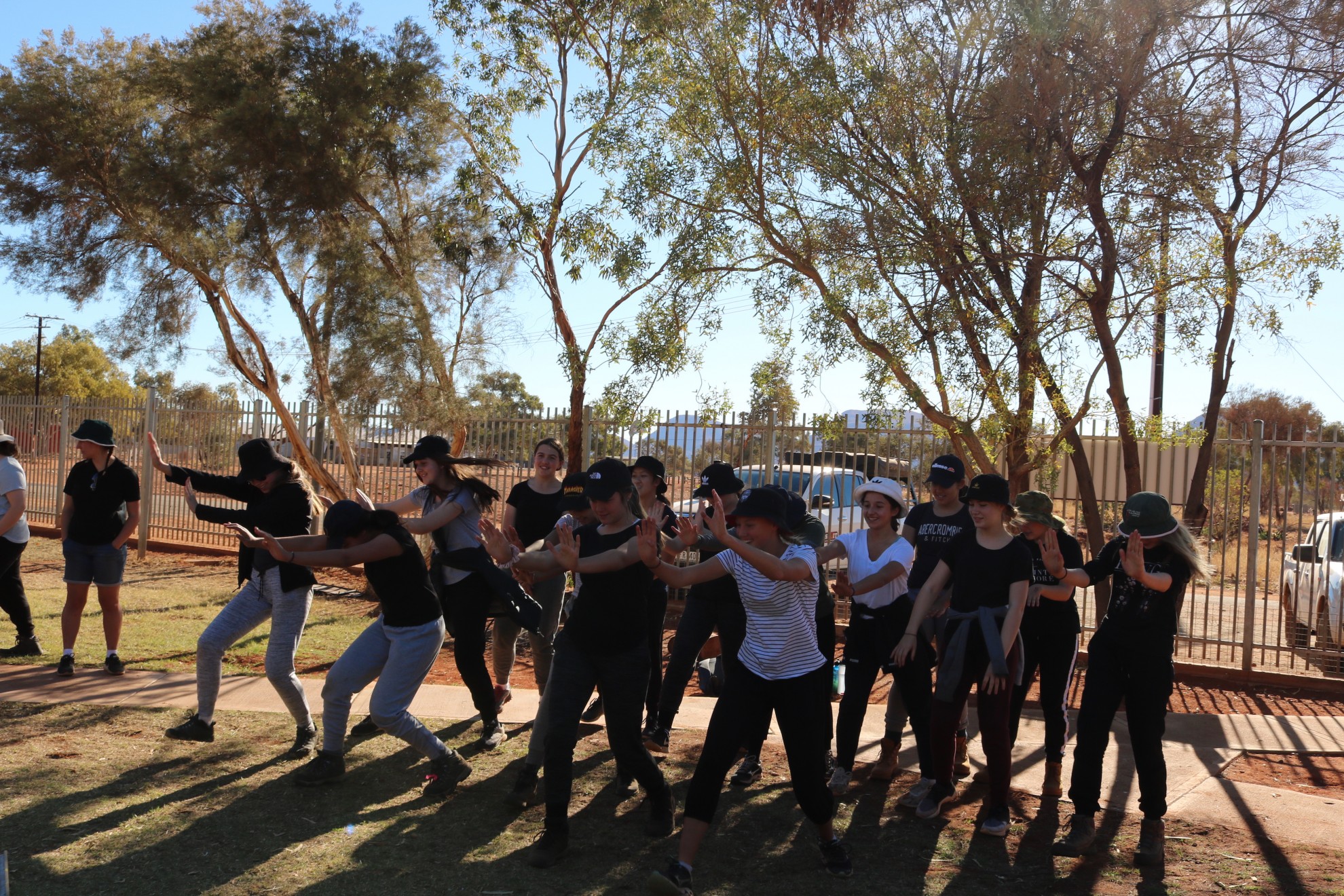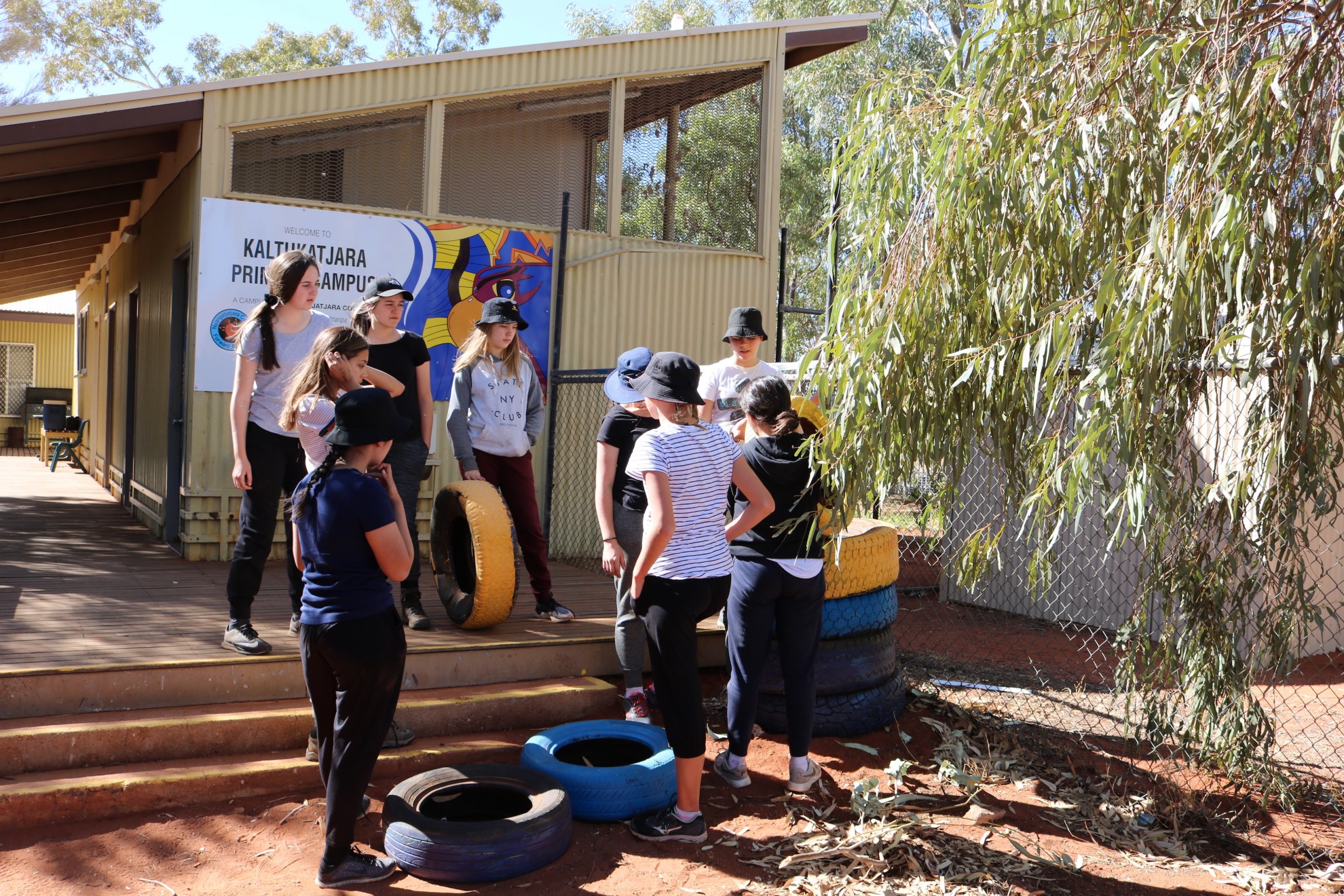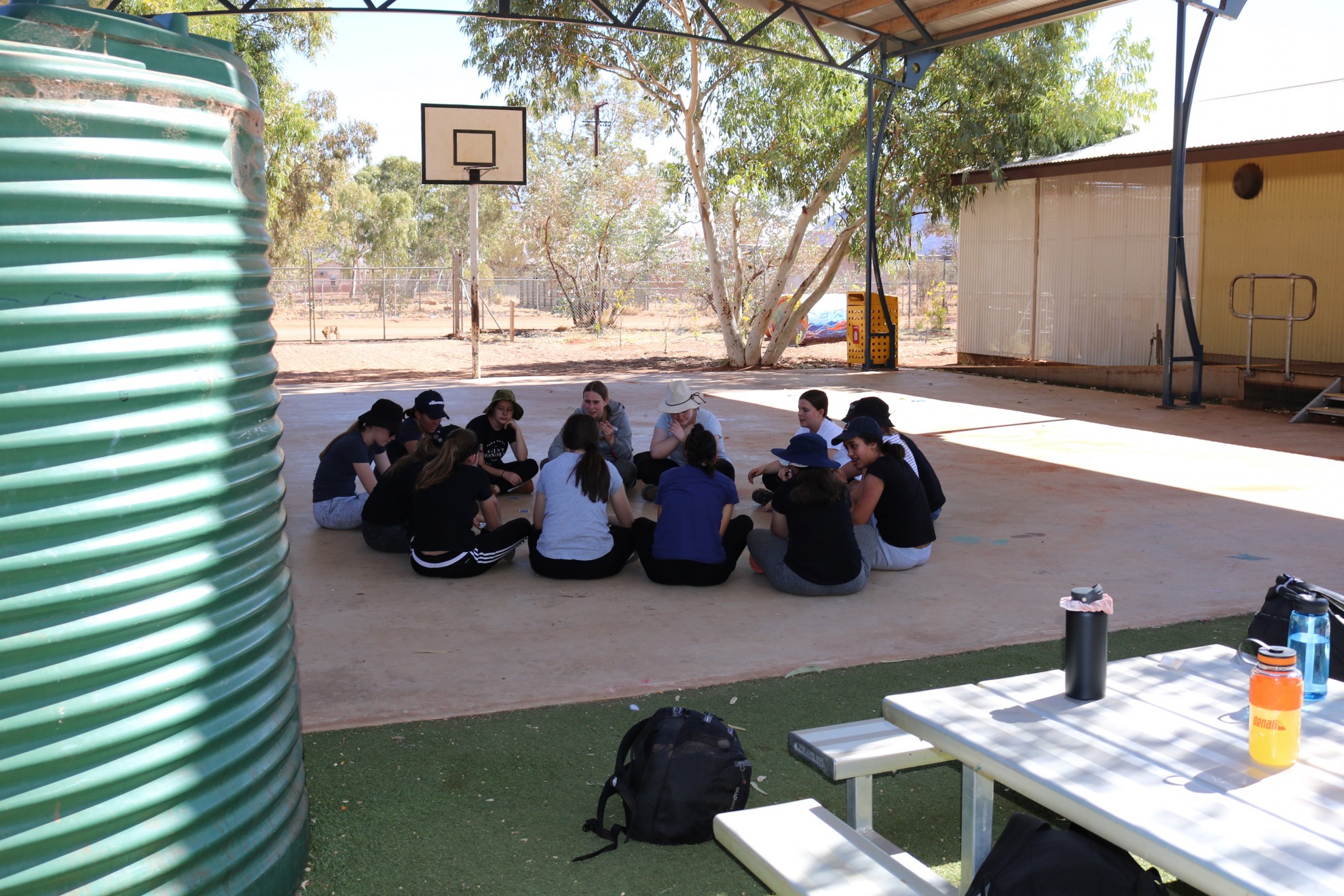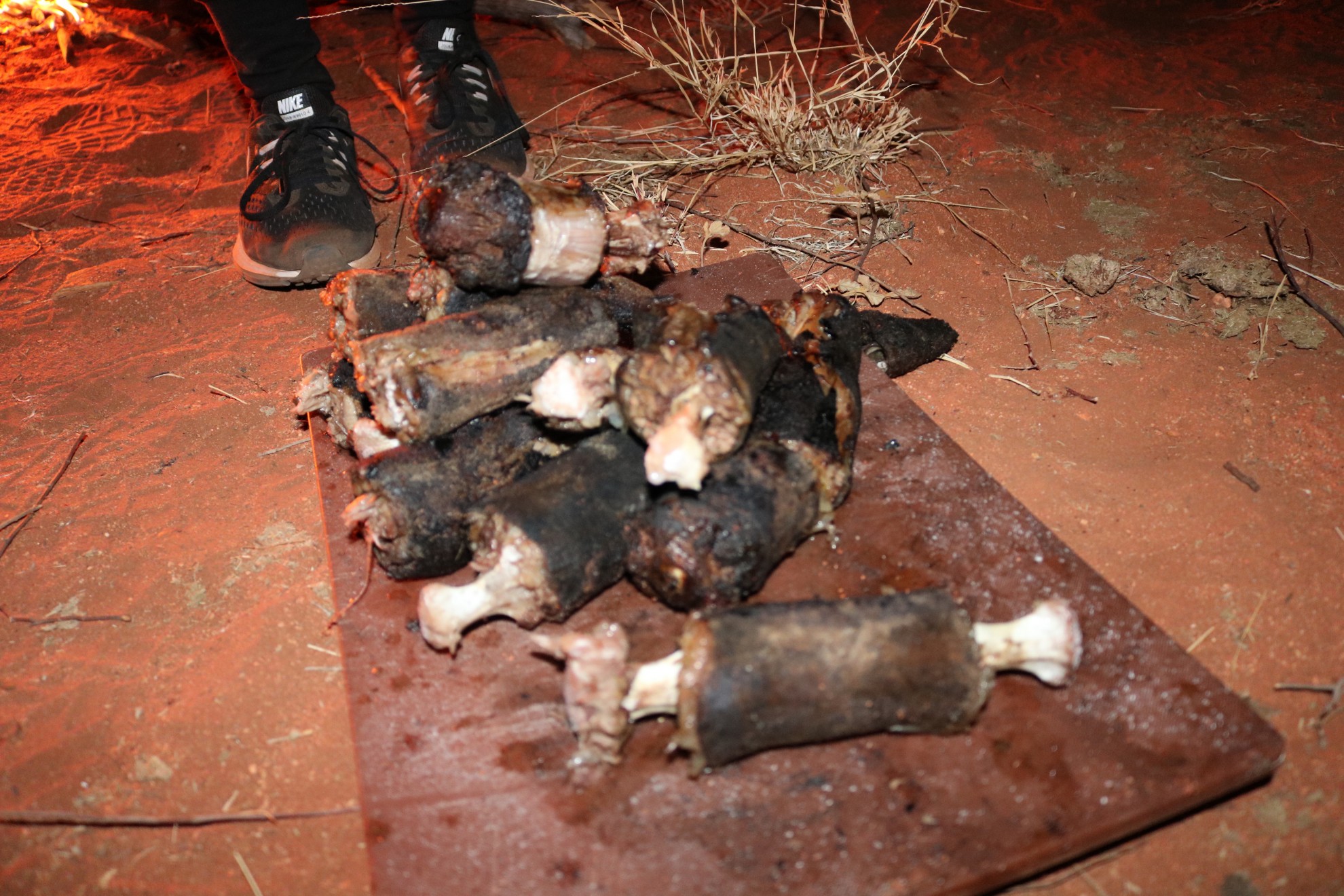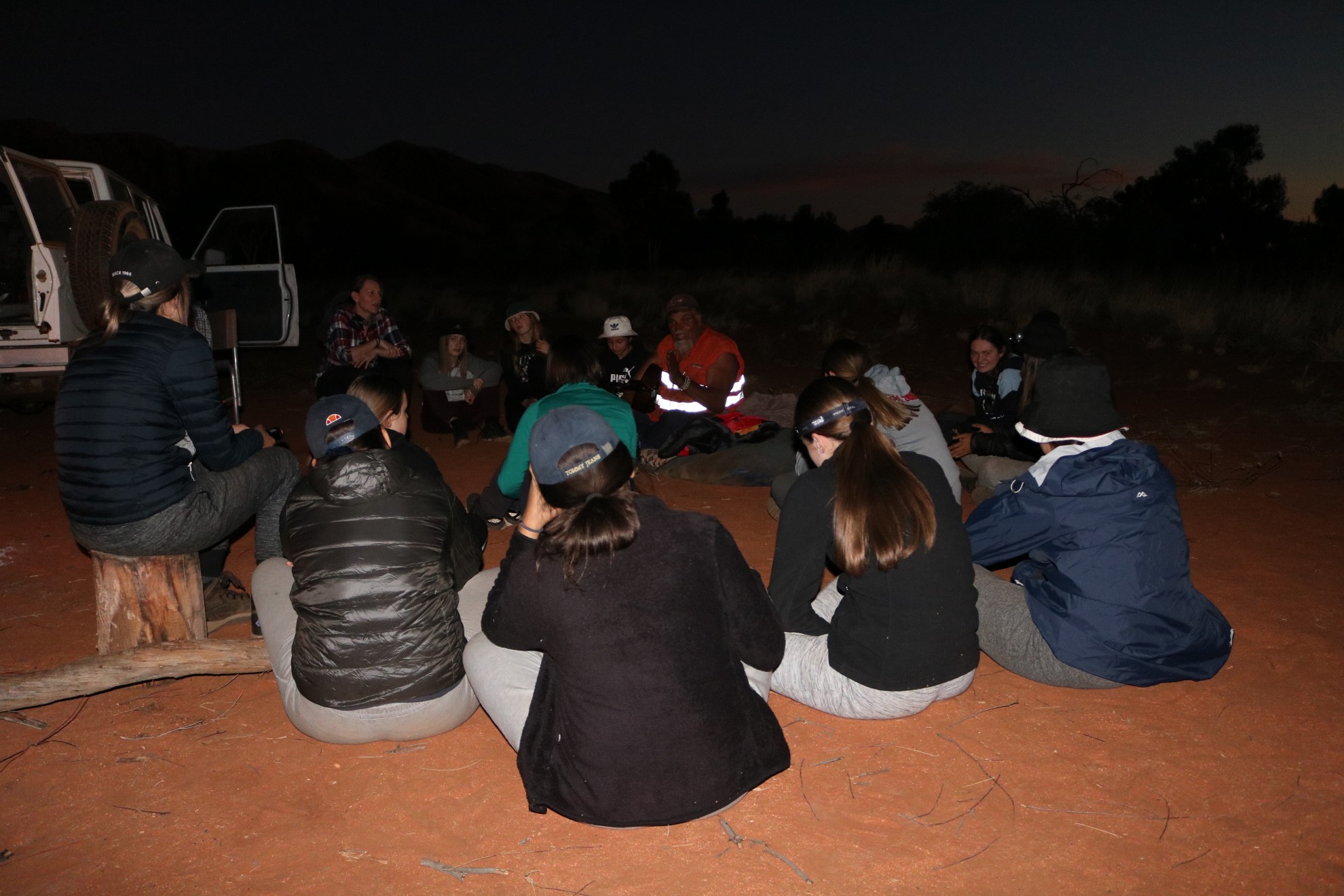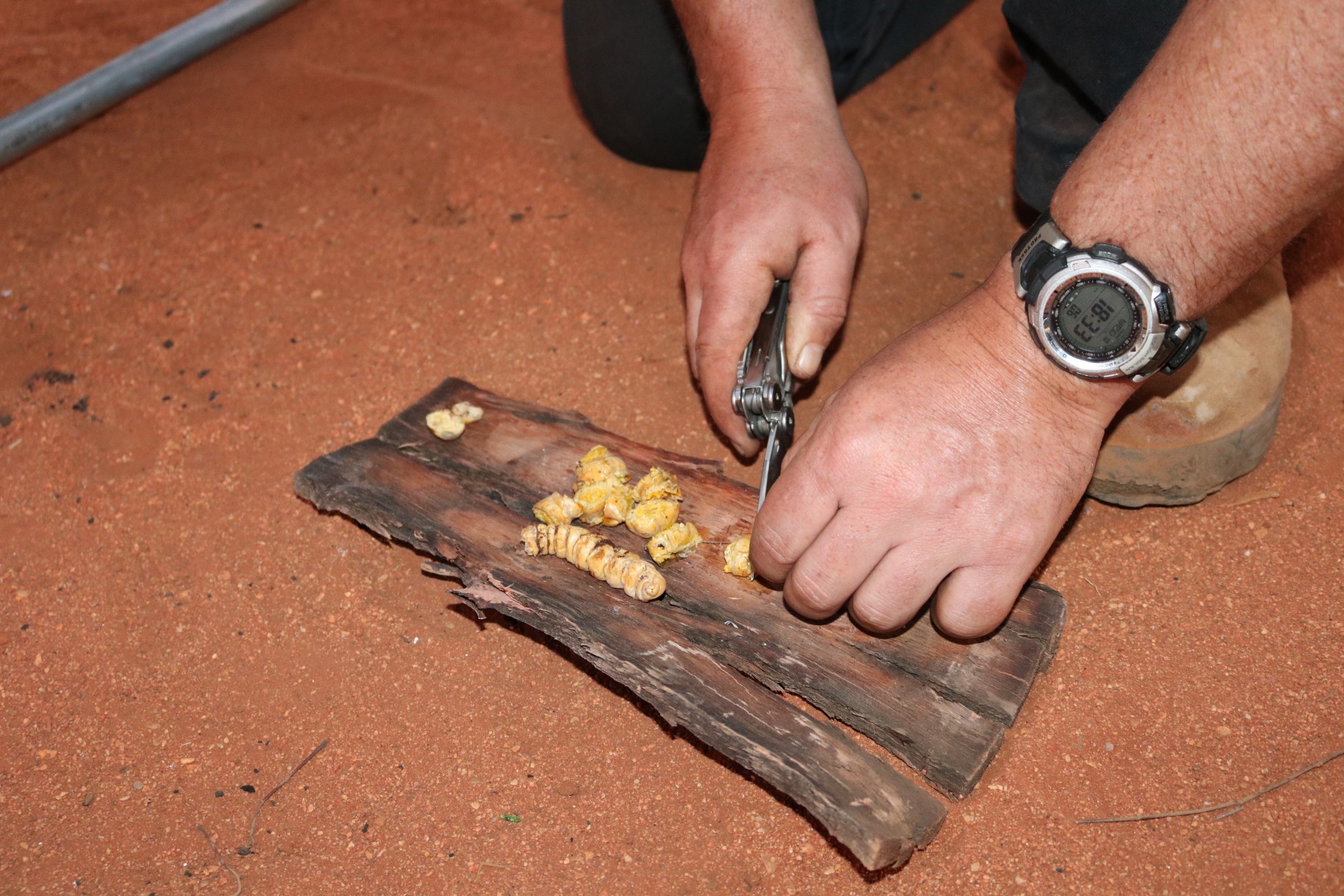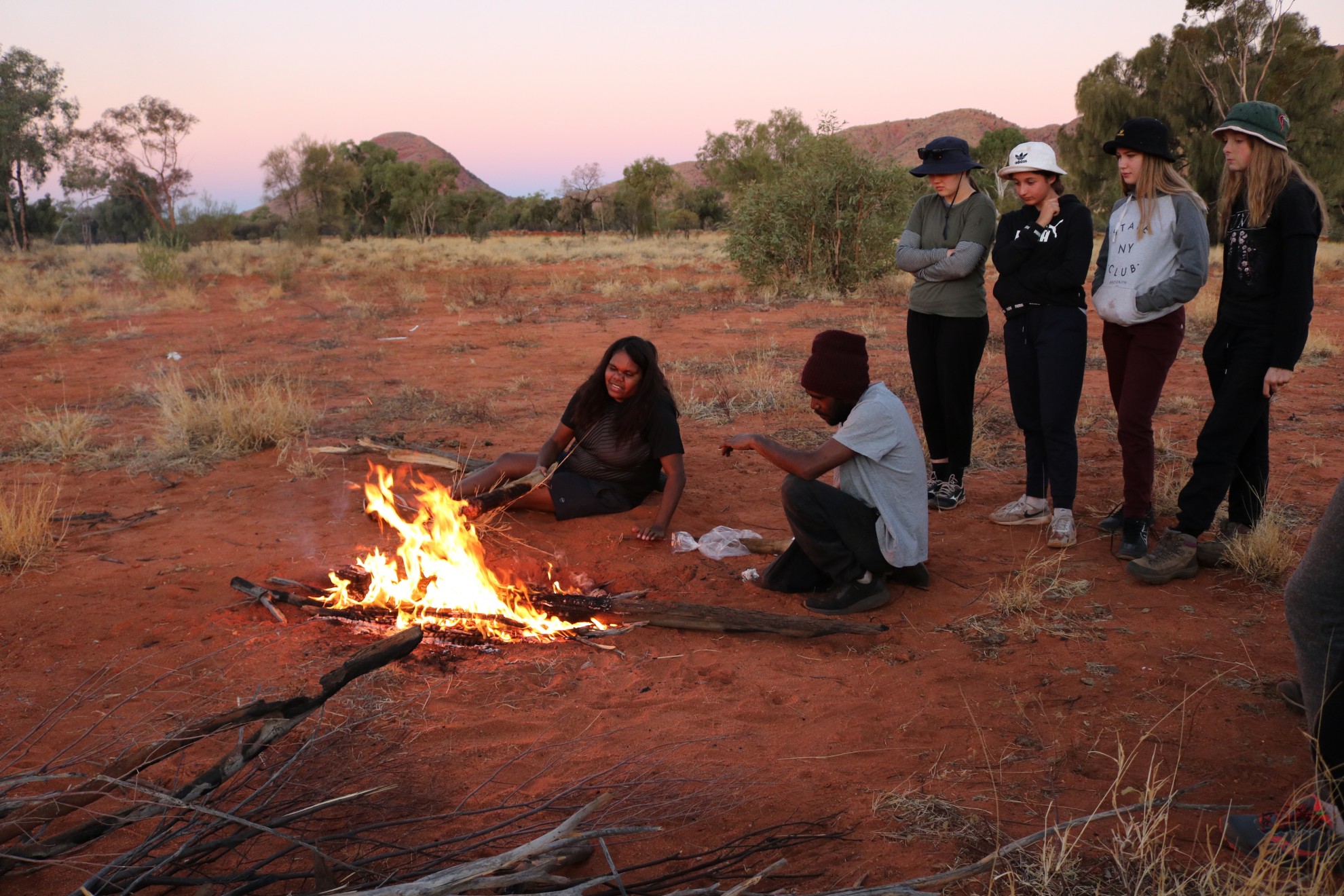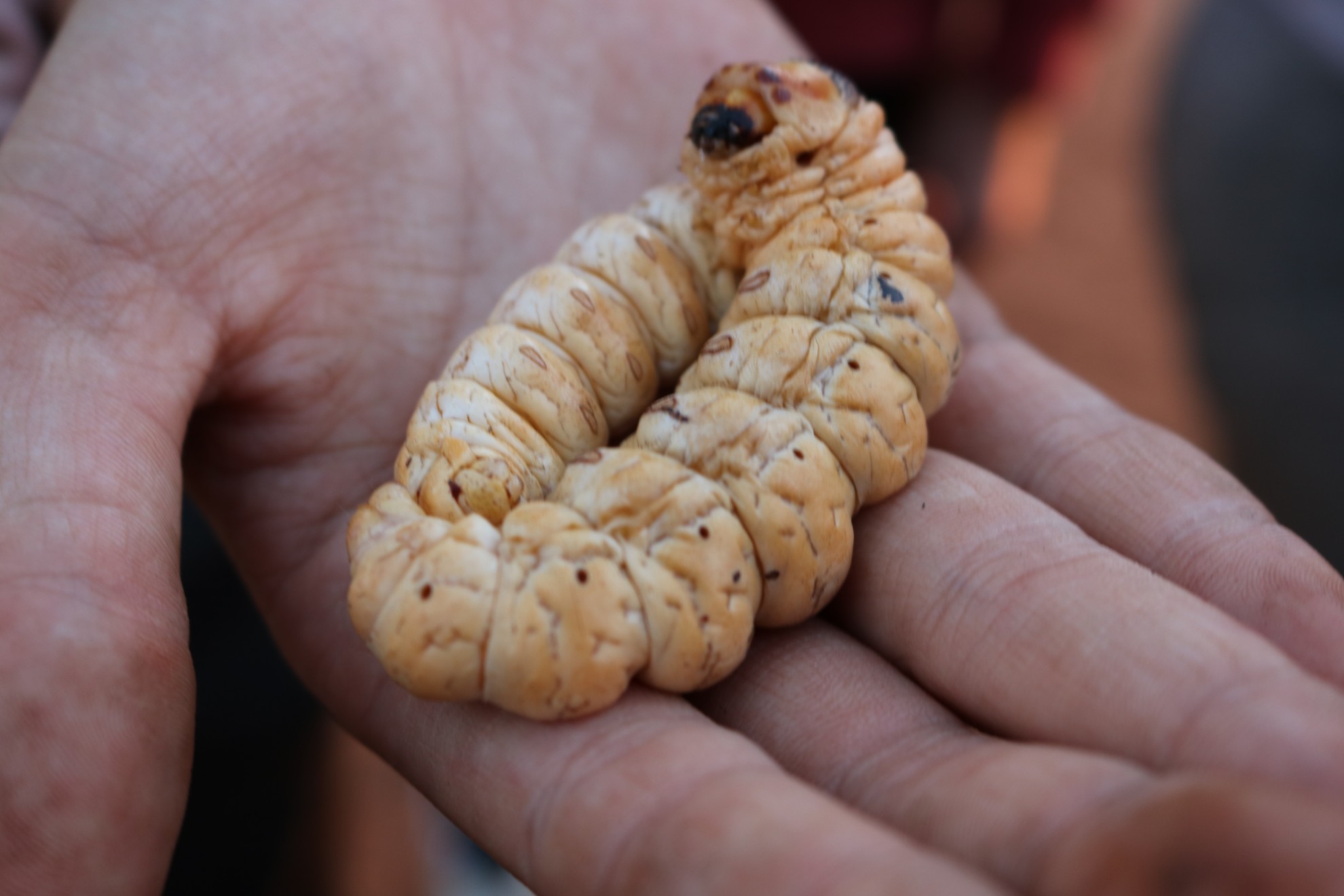 Day 4
Today we are leaving Docker River. We woke up to a beautiful sunrise and Lee and Stanley singing by their campfire. We admired Lee and Stanley's music, while we spoke to our friends about our sleep and the activities planned for the day ahead. Today was an earlier start as we wanted to fit in some last activities in Docker River before heading off to our bush camp at Kata Tjuta. After packing up camp and enjoying breakfast we left the college for the last time and made our way to the aged care facility. 
When we arrived the elders were very happy and excited to see us back, as we had a lot of fun together the day before. When we first arrived, we greeted each elder with a handshake or a hug paired with a small conversation about their day so far. Bonnie and Martha were particularly excited for us to dance for them again, so they quickly started singing indicating they wanted us to perform for them. One of the caretakers who is also Bonnie's daughter, taught us a traditional dance for us to do while Bonnie and Martha sang. 
After dancing and talking for a while, Lee and Stanley arrived at the aged care home. When Lee arrived he brought in his guitar and we all sat in a circle (Lee told us that doing things in circles was common in aboriginal culture) to sing the song he taught us in Pitjantjatjara about Docker River to the elders. Lee told us that the elders were very happy and proud that we were immersing ourselves and making an effort to learn more about their culture, language and way of living. By singing the song in both English and Pitjantjatjara, it allowed us to break the language barrier and overall helped us share a connection with one another.
After singing for a while, we each separated ourselves among the elders and began some small conversations. Brooke was sitting with Bonnie when she invited her inside to show her some things she had made. Other girls followed while we all stood around in a circle so Bonnie could show us all her amazing woodcarvings. She gave us all the opportunity to buy the beautifully carved lizards she had made. Most students purchased carvings to support Bonnie while also having a memento to take home to their families. 
We then left the aged care home and walked to the art centre. Here we saw many beautiful traditional paintings by multiple artists with ages ranging from young children to elders. We saw many finished paintings as well as multiple artists working on their unfinished work as we walked through the gallery. A few students and staff members purchased a range of paintings from the gallery. 
After we had left the gallery and eaten lunch (sausage sandwiches) we went back to the aged care home for a final performance and goodbye prayer before we left Docker River. Martha and Bonnie were very emotional towards the end of our visit as they were worried for us and didn't want us to leave. This was very hard for many students with a few of us leaving in tears as we had developed a very close relationship with the elders over our multiple visits. 
After we left the aged care home we began our trip to Kata Tjuta where we would camp in the bush for the night. We stood by the campfire and watched the sunset over Kata Tjuta which was absolutely beautiful. Overall we all had an amazing day today, we were able to connect with the elders one last time while also leaving Docker River and immersing ourselves in traditional art and culture. We look forward to the activities planned for tomorrow.
Brooke and Holly (insert photo of students with Bonnie from age care home)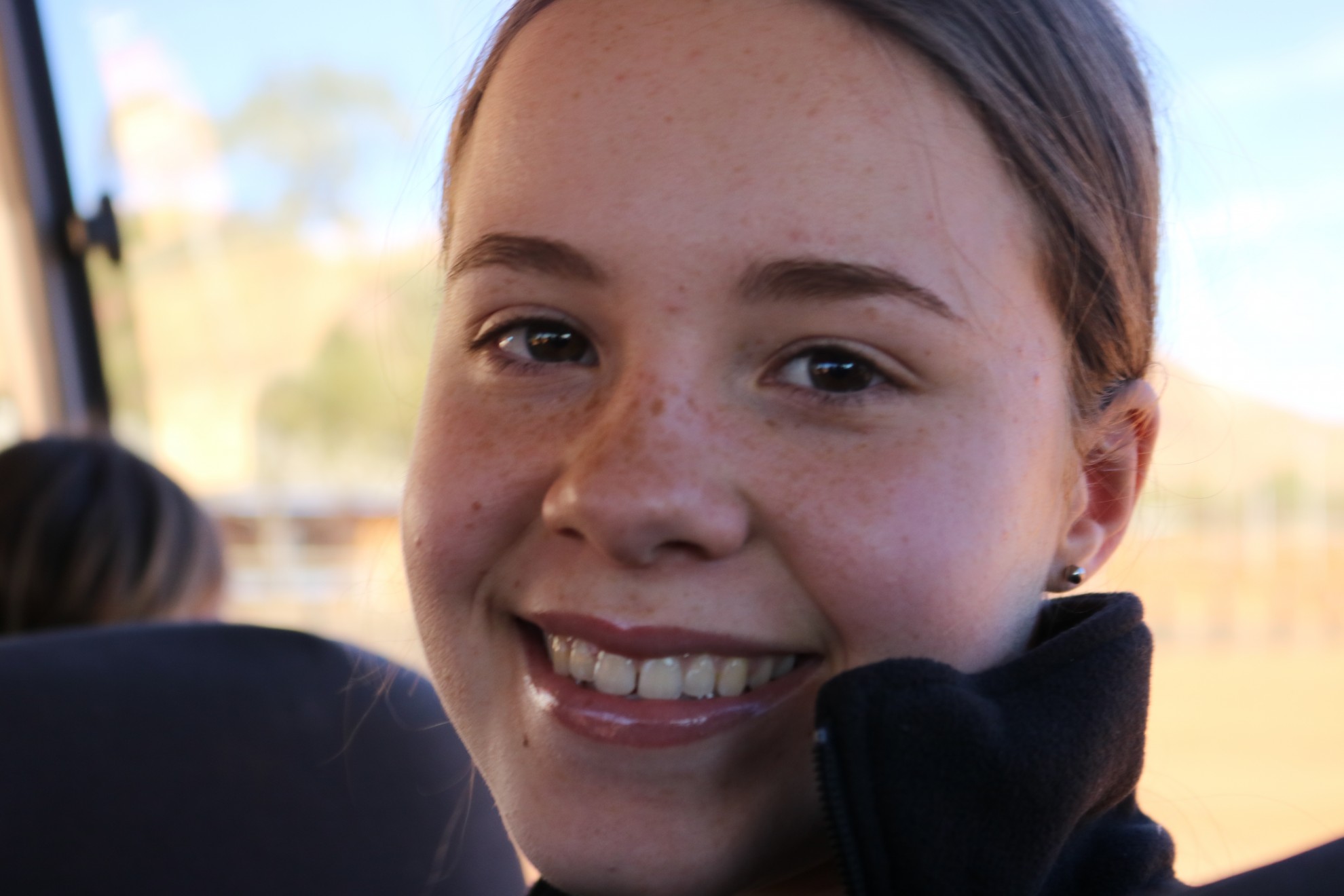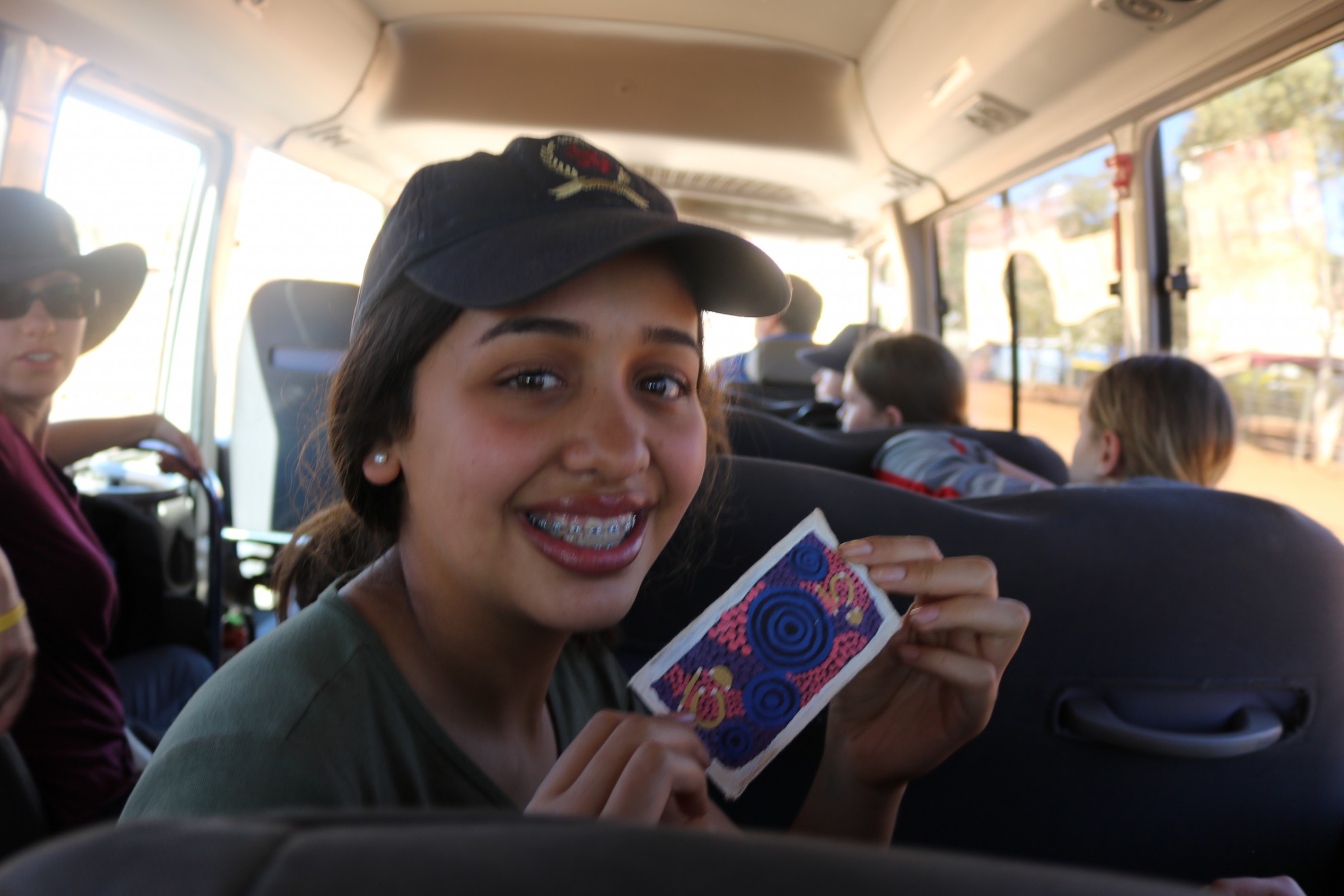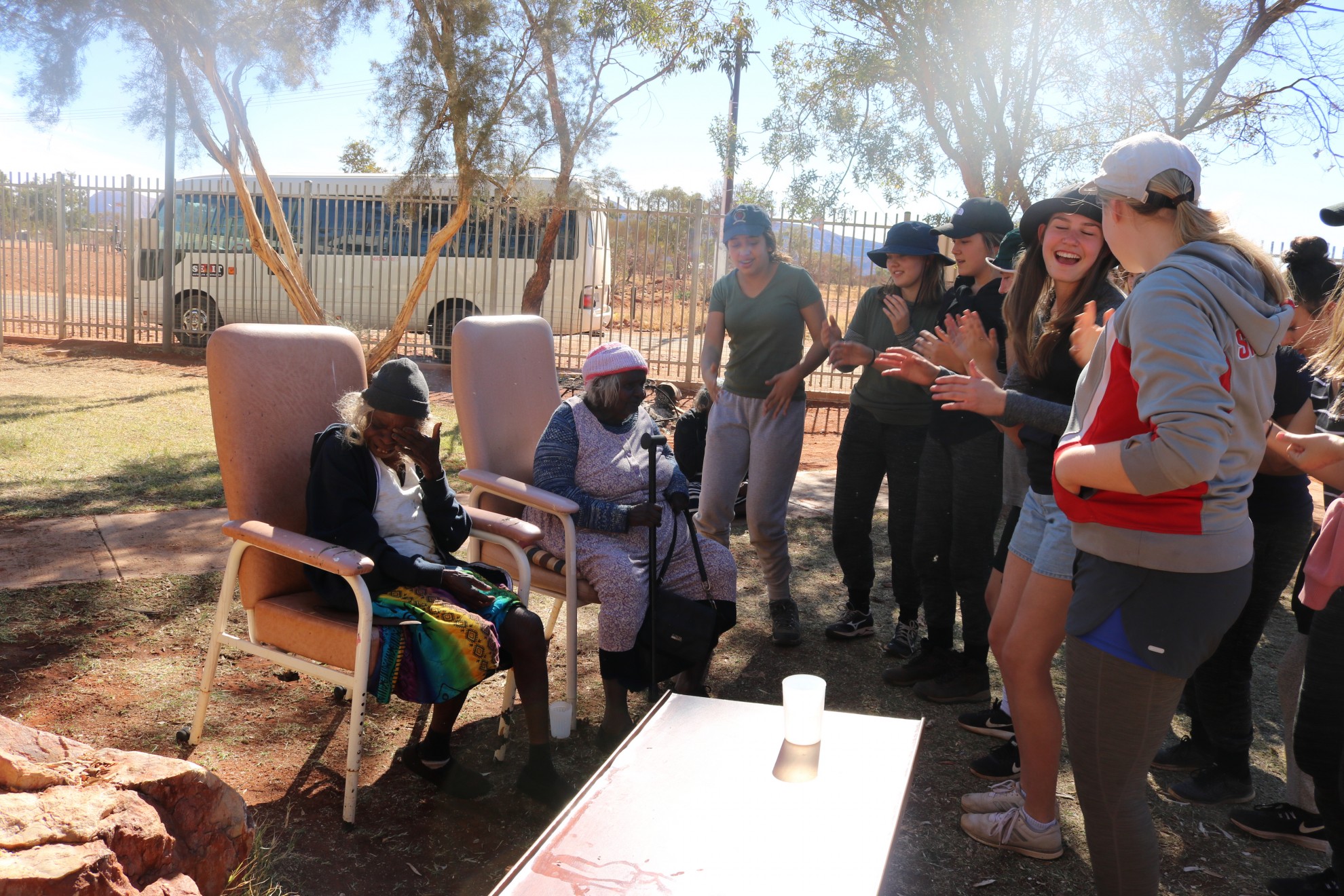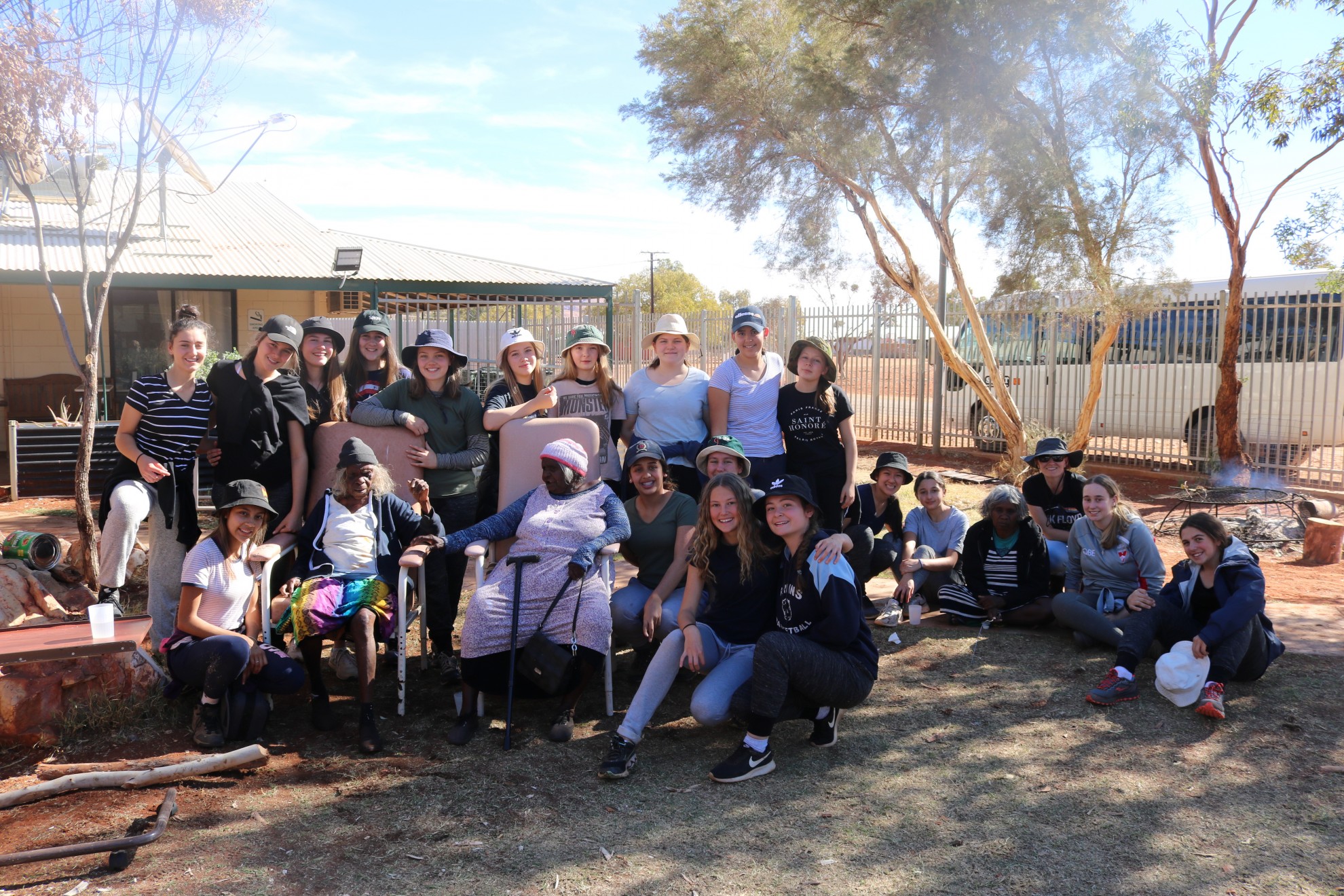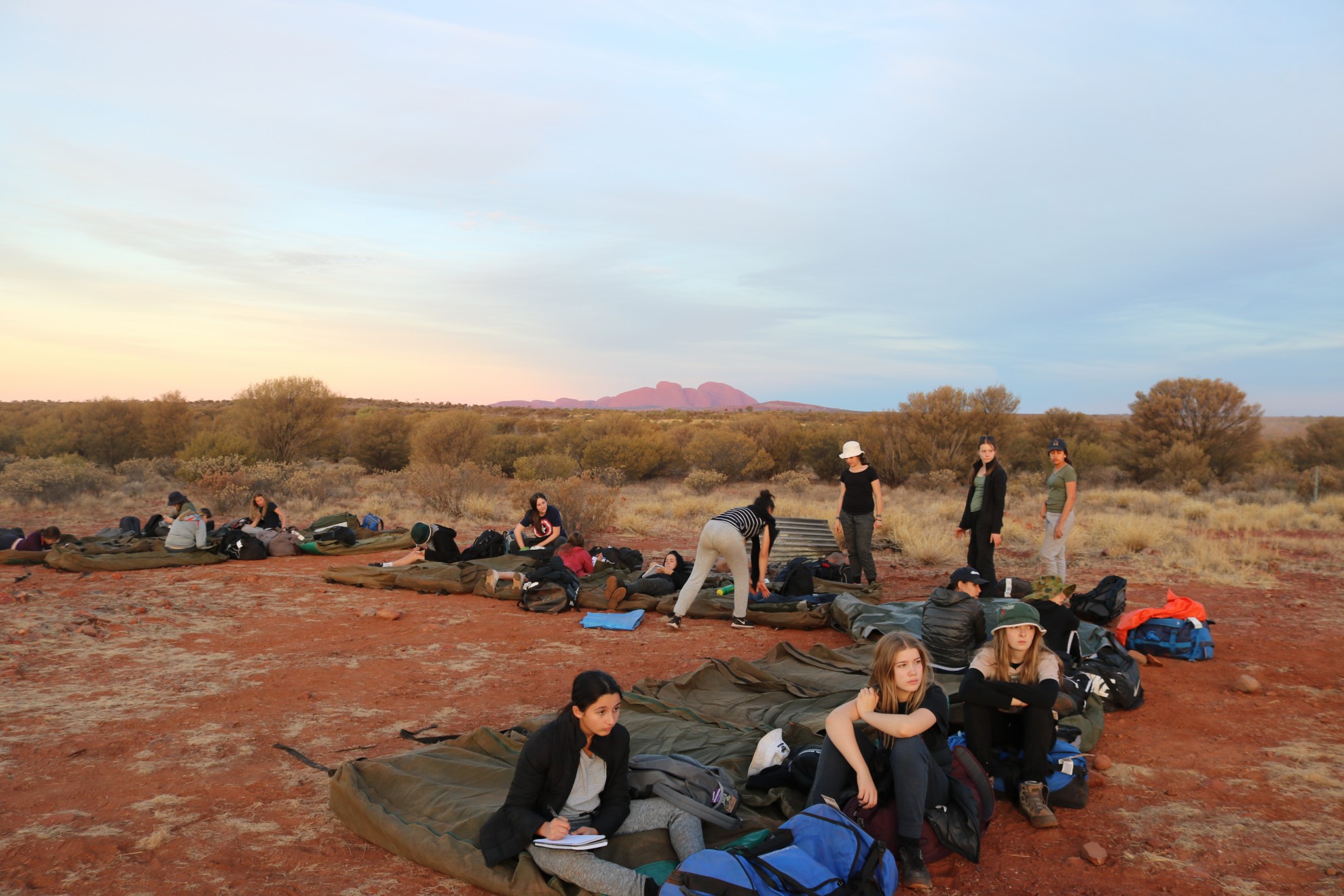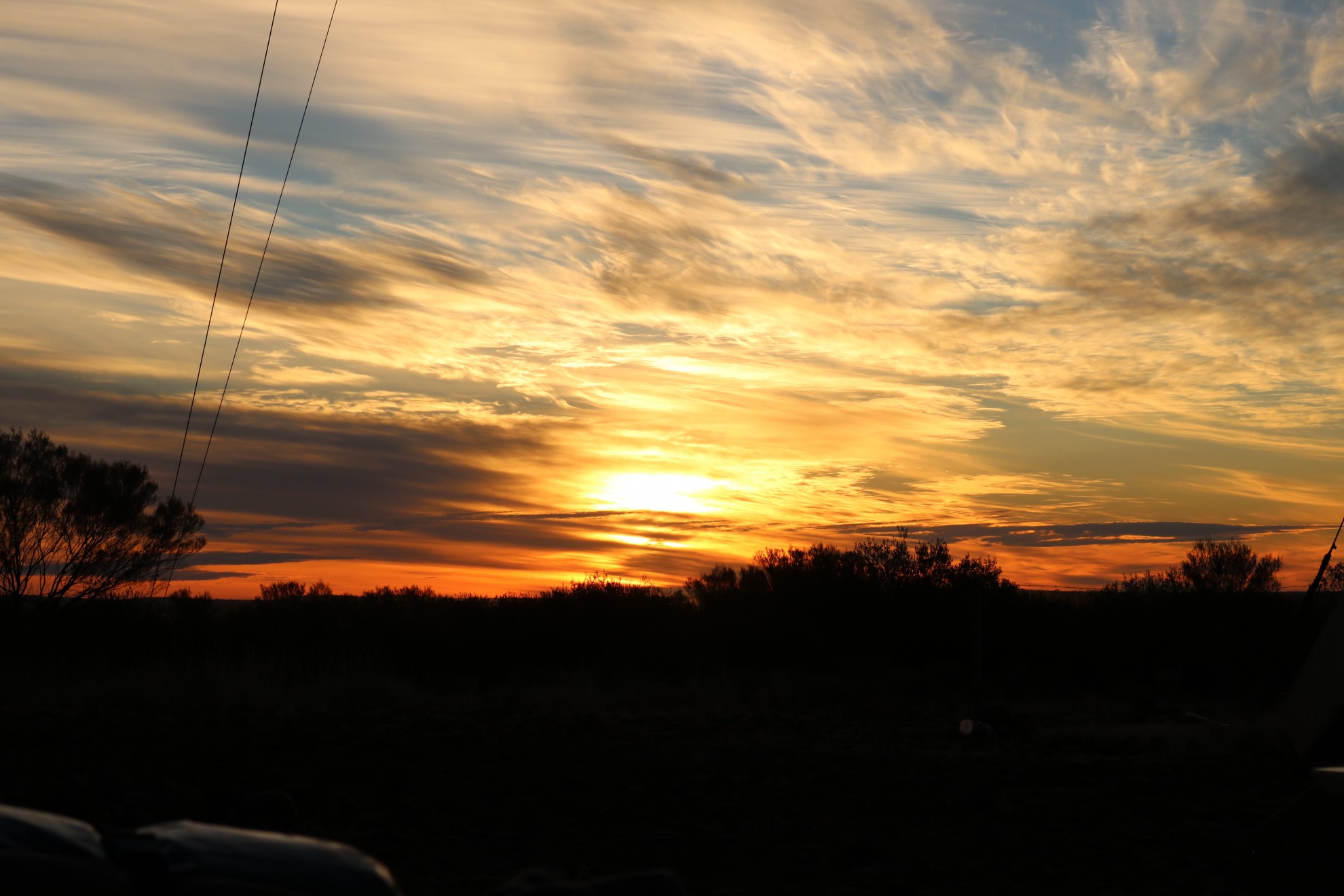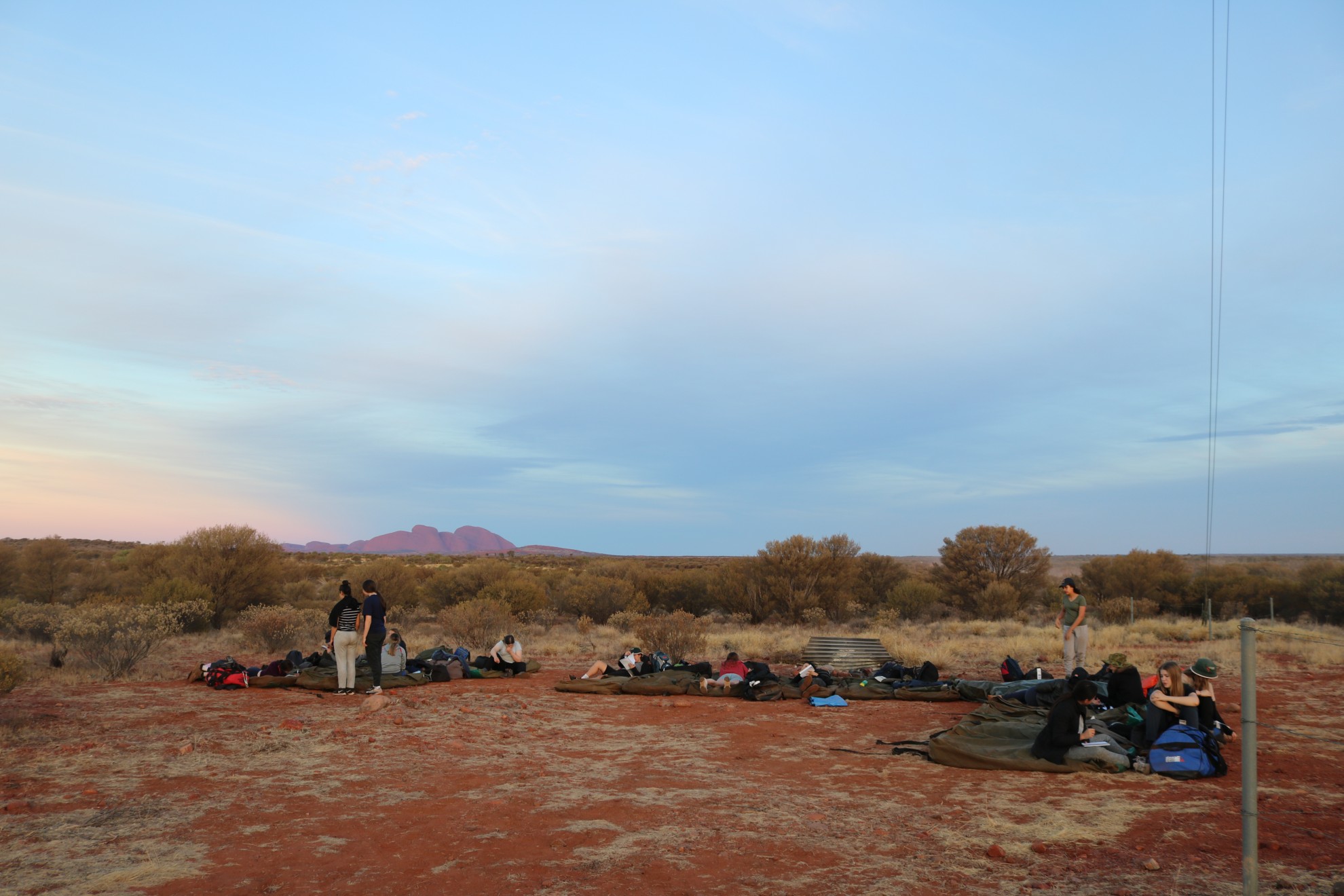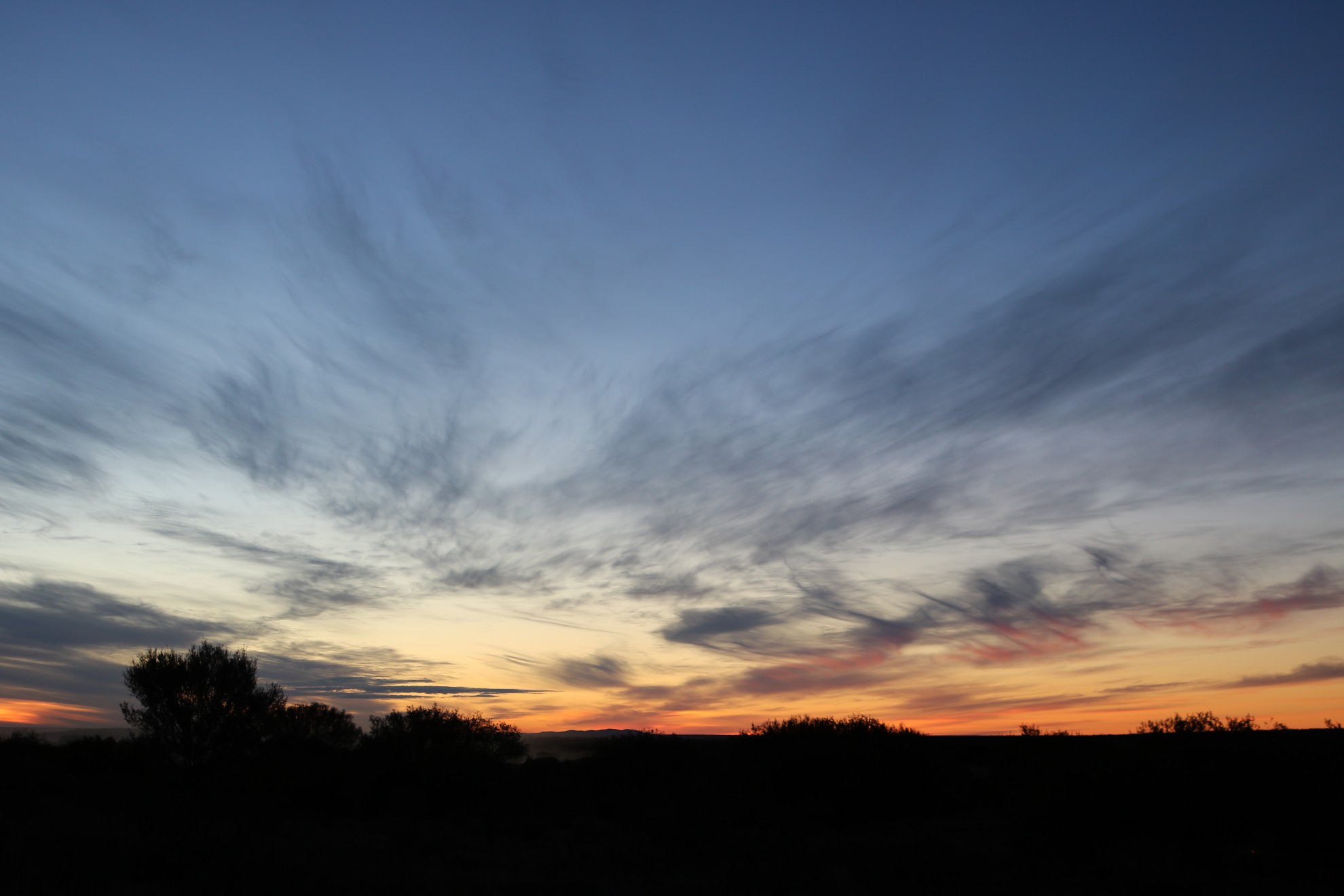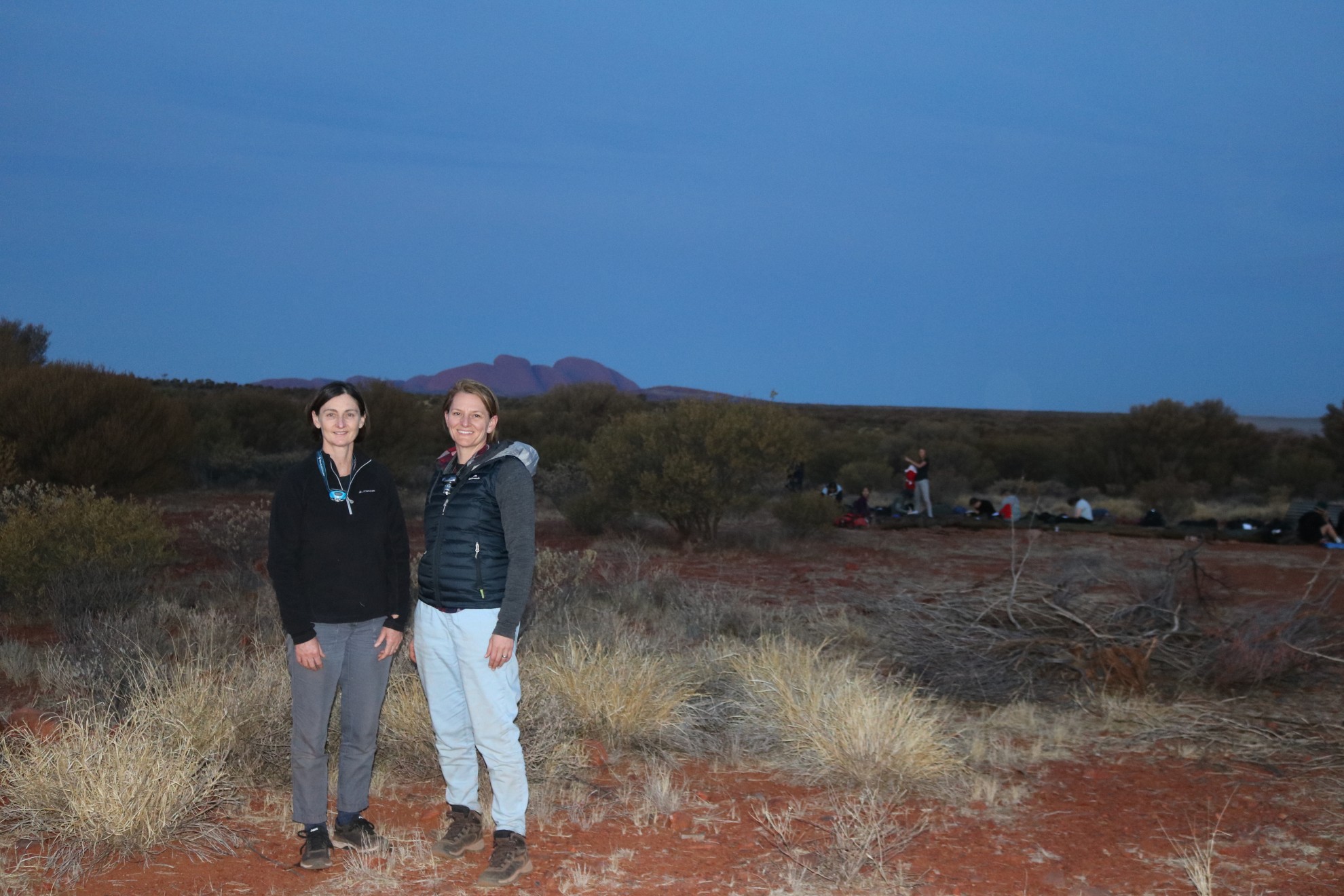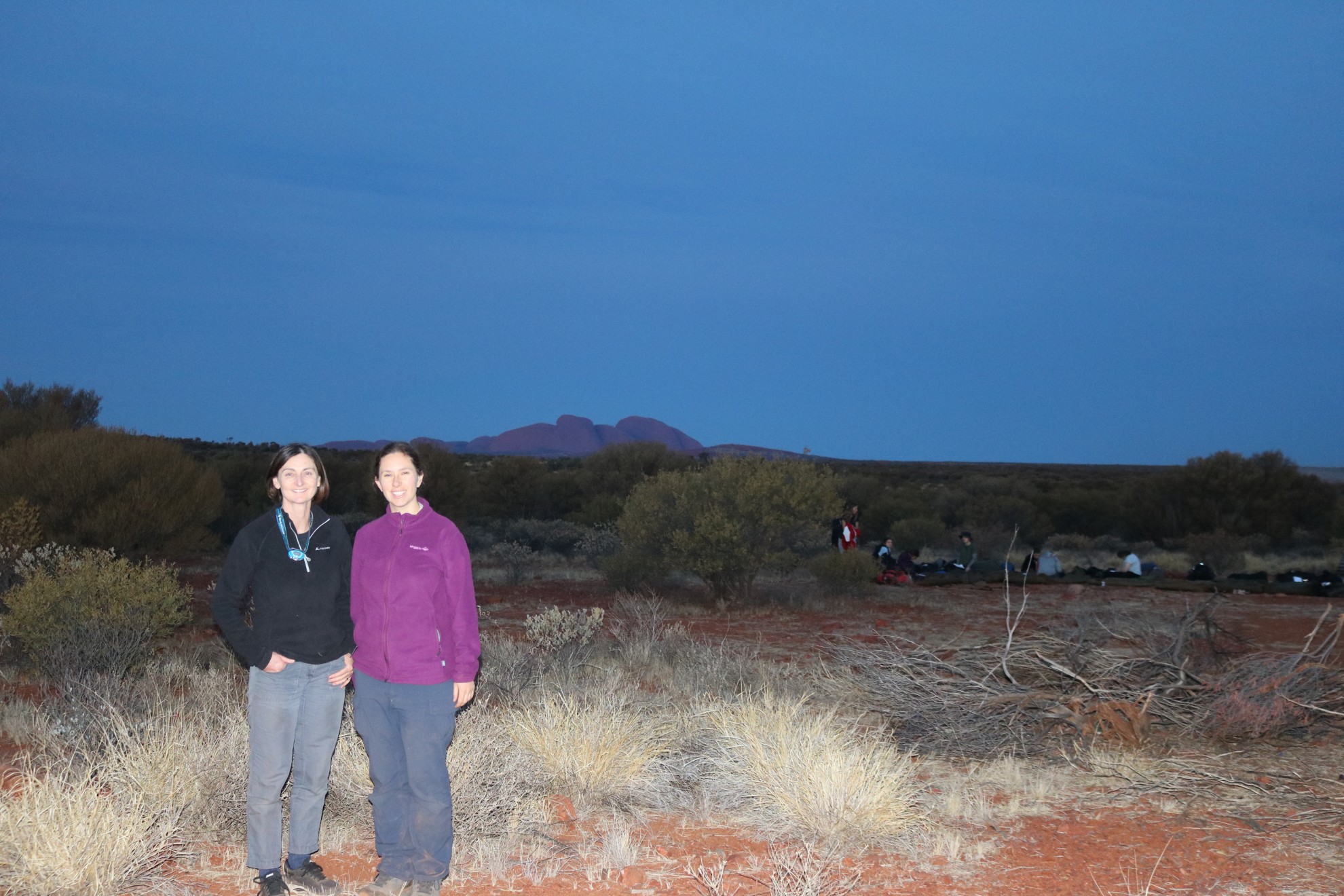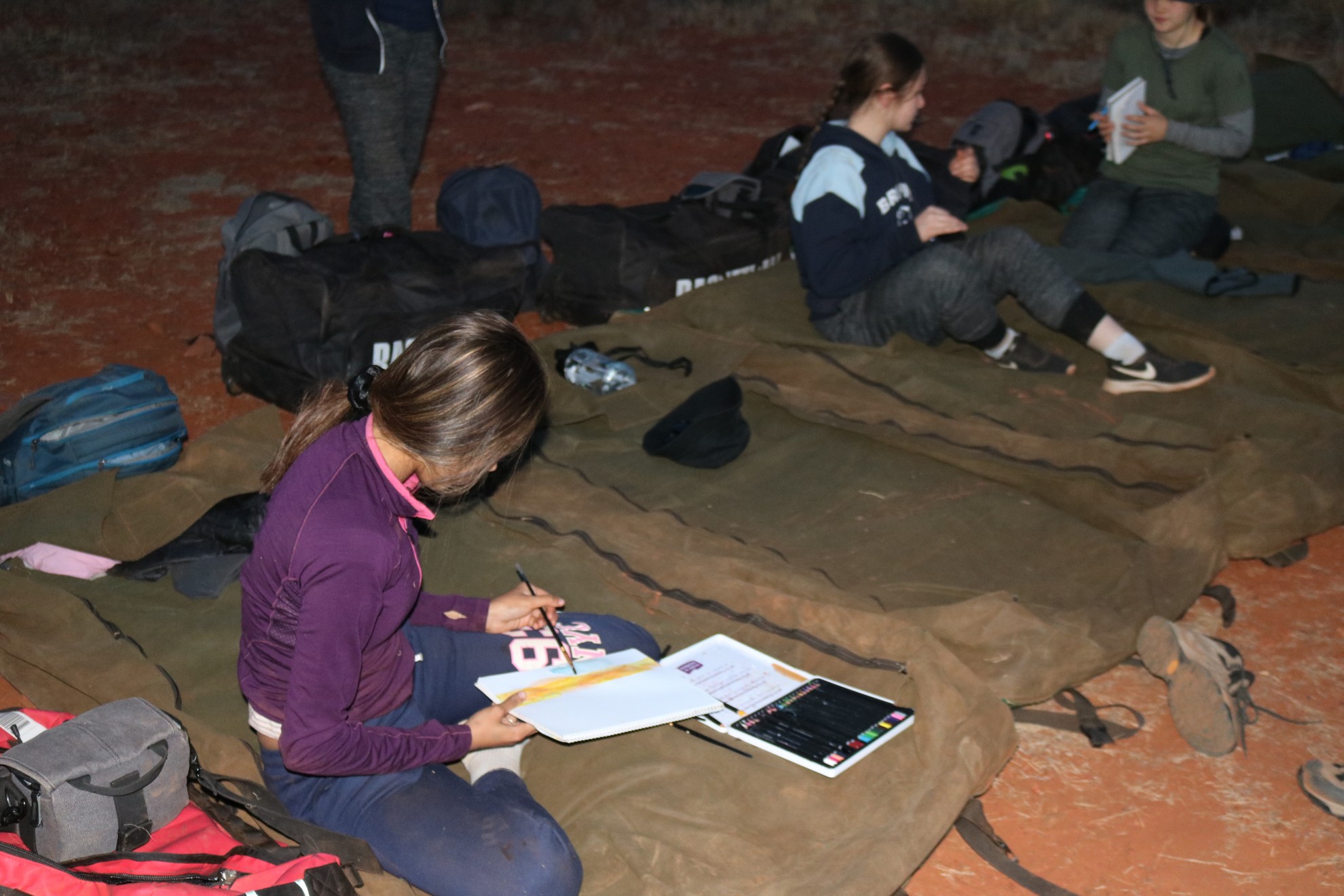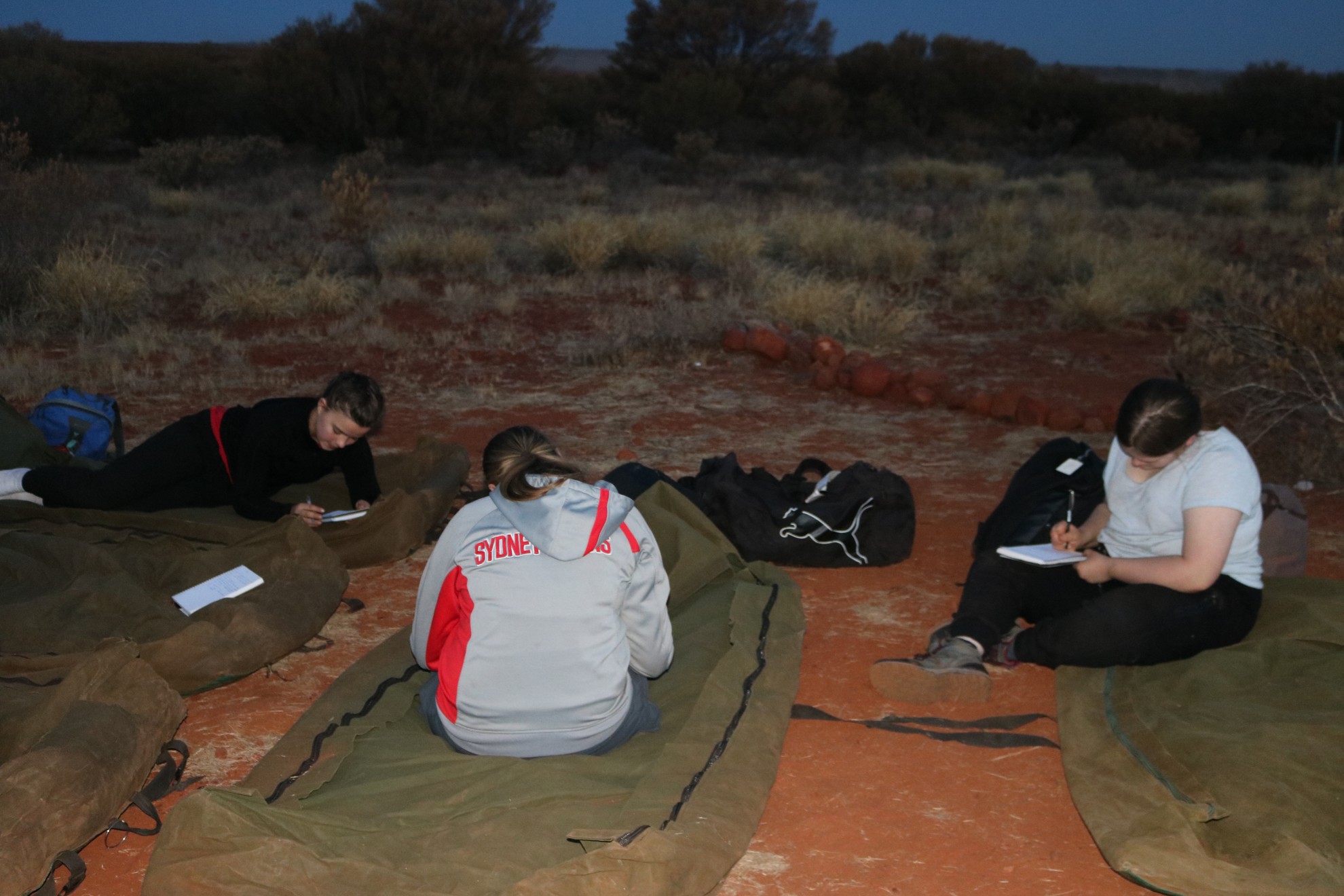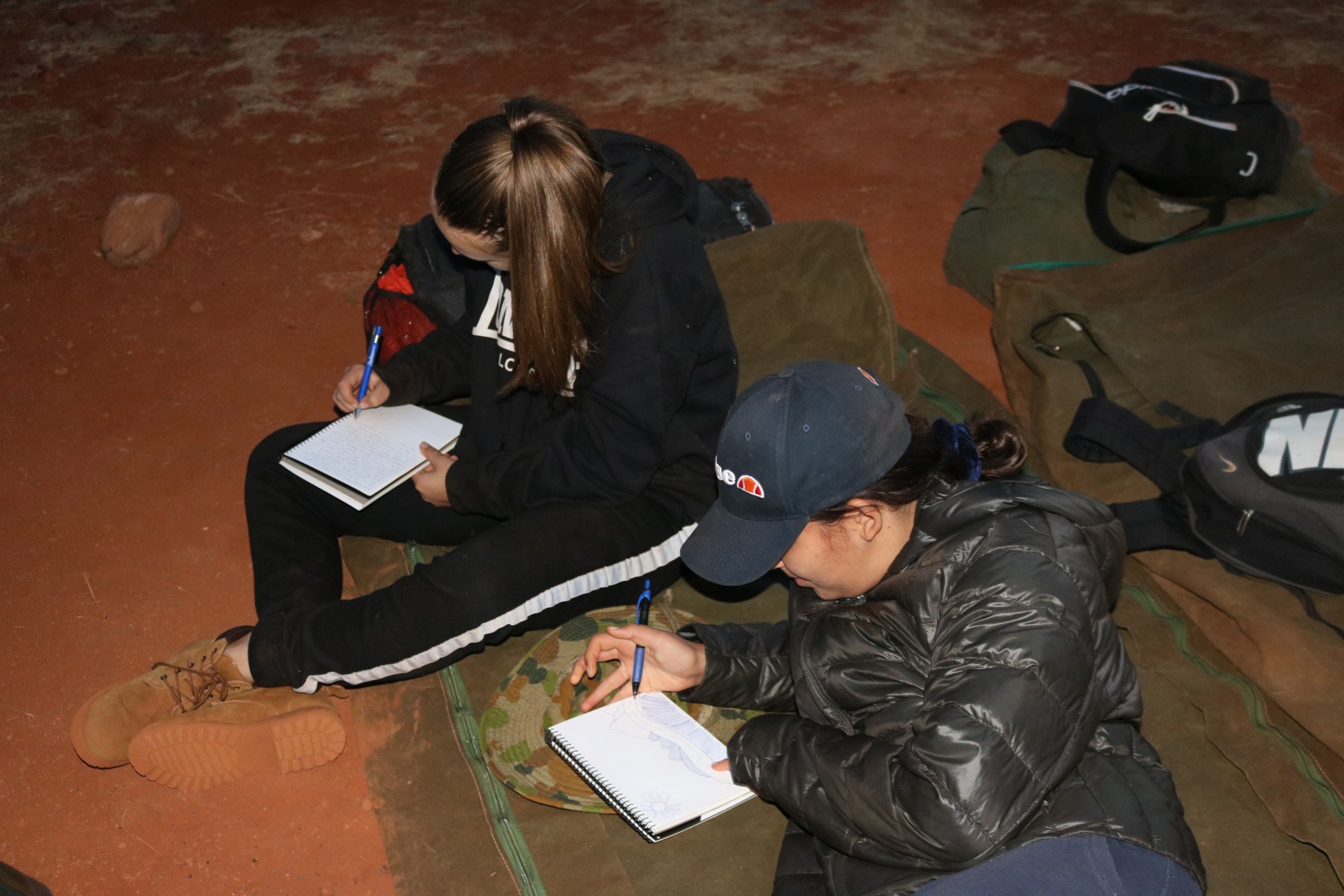 Day 5
Last night we camped in the bush about 20km from Kata Tjuta, with a beautiful view of the sunrise as we woke up. After taking many pictures, we rushed to get ready and pack up camp so we had enough time to shower later in the day; this was an effective incentive. We took a quick stop at some real toilets! We also had some banana cake. When we arrived at Kata Tjuta, Lee showed us a painting, and Monica told us how Uluru and Kata Tjuta were formed, as well as some other geological information. 
Kata Tjuta is men's business, and although people are allowed to walk through, the only information anyone can know is the translation of Kata Tjuta, meaning "Many Heads". We returned to the bus and made our way to Ayers Rock Resort and had a lunch of "rabbit" burritos (yum!). We all had showers then made our way through the resort and to the shops where we bought food and souvenirs. After that, we were on the bus again to travel to Cave Hill, a 200km drive from Yulara. We left a bit later than expected, so we had to stop in the bush to eat dinner, where we watched a mesmerising sunset with deep red colours. Fine dining with a view that money could not buy! 
After dinner, Brett came and talked to us about our opportunity and how privileged we are to be able to have this experience and to learn about the culture at Cave Hill. It is very difficult to get a permit and to be able to enter into this land and almost 95% of all permit requests are rejected. The land that we are travelling into and camping on is on the song lines of the Seven Sisters and is incredibly significant and sacred. The rest of the bus ride was quiet and reflective as we thought about the things Brett had said, and we look forward to seeing a lesser known part of the culture in the APY lands.
Ellen and Catherine 
Day 6
At the beginning of our day Lee taught us about Aboriginal kinship. Aboriginal lives travel in circles which represent their way of life. A rule in the Aboriginal law is that there is a North side and a South side. You are not allowed to marry from the opposite side, as it is taboo in Aboriginal culture. Another aspect of Aboriginal kinship that we learnt is how they are all connected compared to the western culture. In the western world there is a divide between siblings and children because they are labelled as uncles, aunties and cousins. Whereas in the Aboriginal culture they have multiple mothers, fathers and siblings. 
The key things we took away from Lee's lessons was that we shouldn't create a divide between our extended family. Instead we should see our cousins as our siblings, our uncles as our fathers and our aunties as our mothers. By doing this, our families are brought closer together. Stanley, one of the traditional owners of the Seven Sister's song line told us that the custodians of the stories pass down the stories from the elders to the younger generation. We learnt that it is important for older people to be respected and listened to by younger generations. 
Stanley and Lee took us on a walk into and up Cave Hill that followed the Seven Sisters' song line. During this walk we went inside the cave that was filled with ancient Aboriginal drawings, which Lee referred to as the library of Aboriginal books. Lee explained to us the importance of family and helping each other. In addition, Lee explained to us the prioritised materialism that exists in our Western society and encouraged us to value people that we care about above that. Lee said that things will not cry for us but people will. We also walked to the top of Cave Hill where we learnt part of the story of the journey of the Seven Sisters. We had some time to reflect on the stories and lessons that we learnt. 
Natalie and Sophia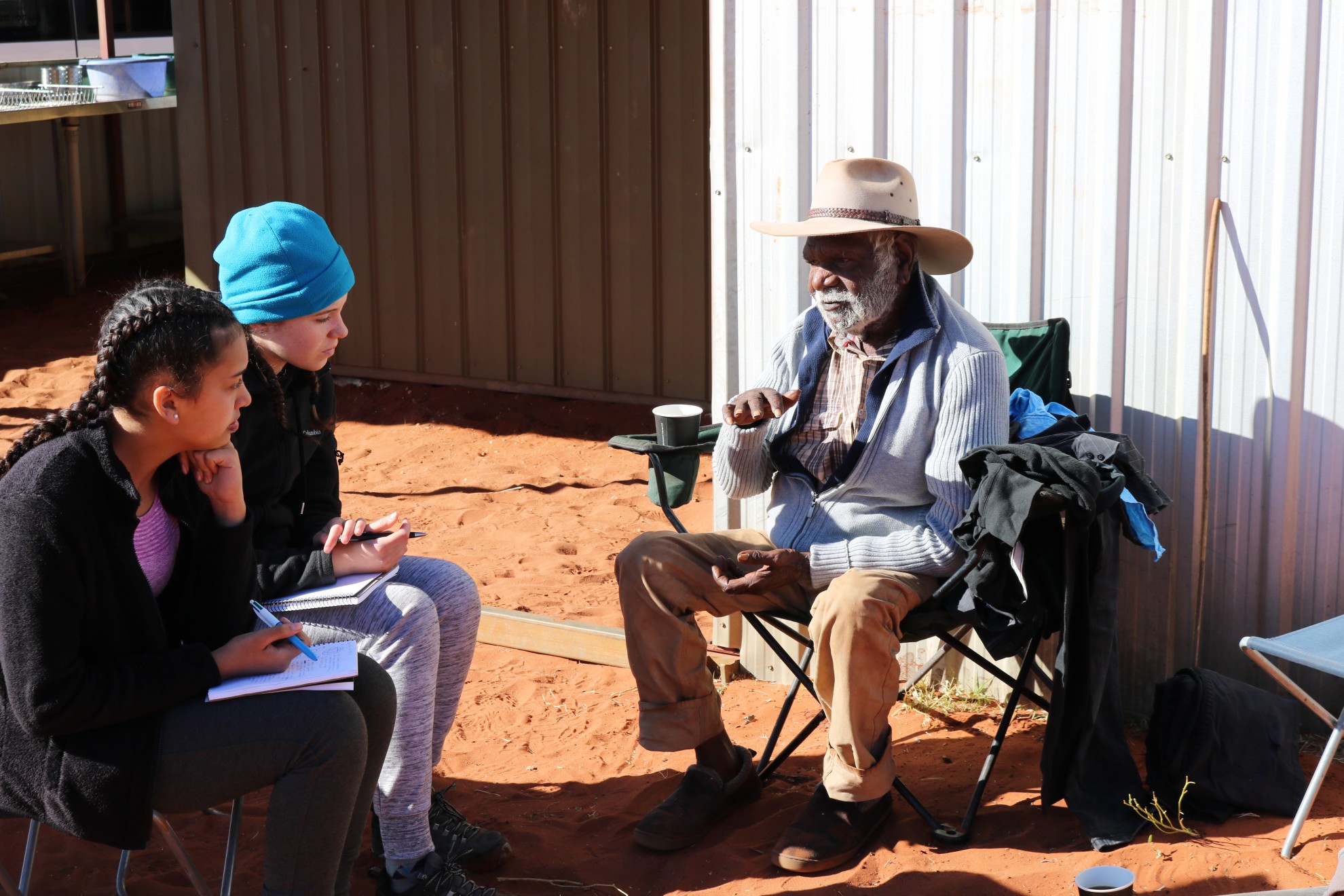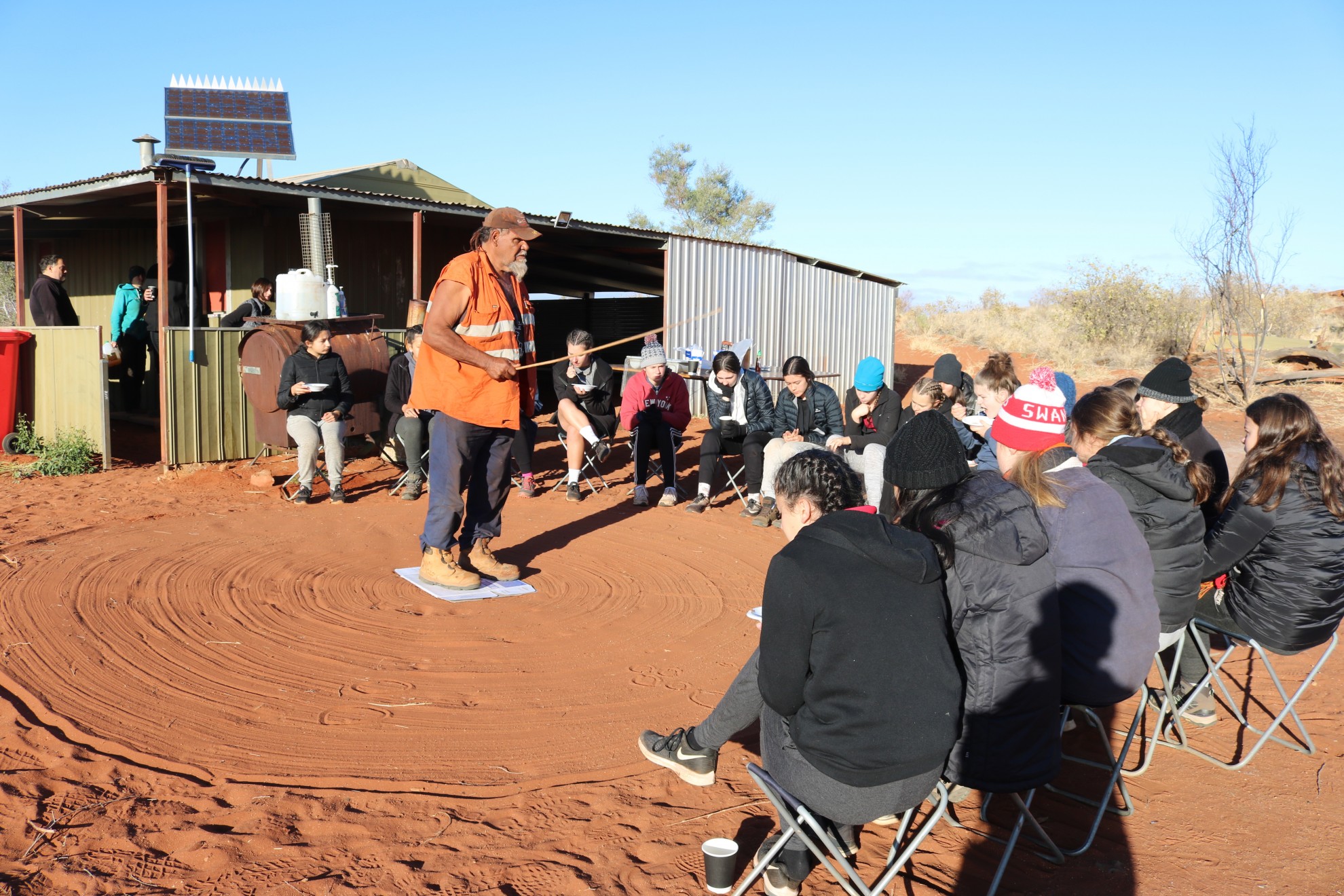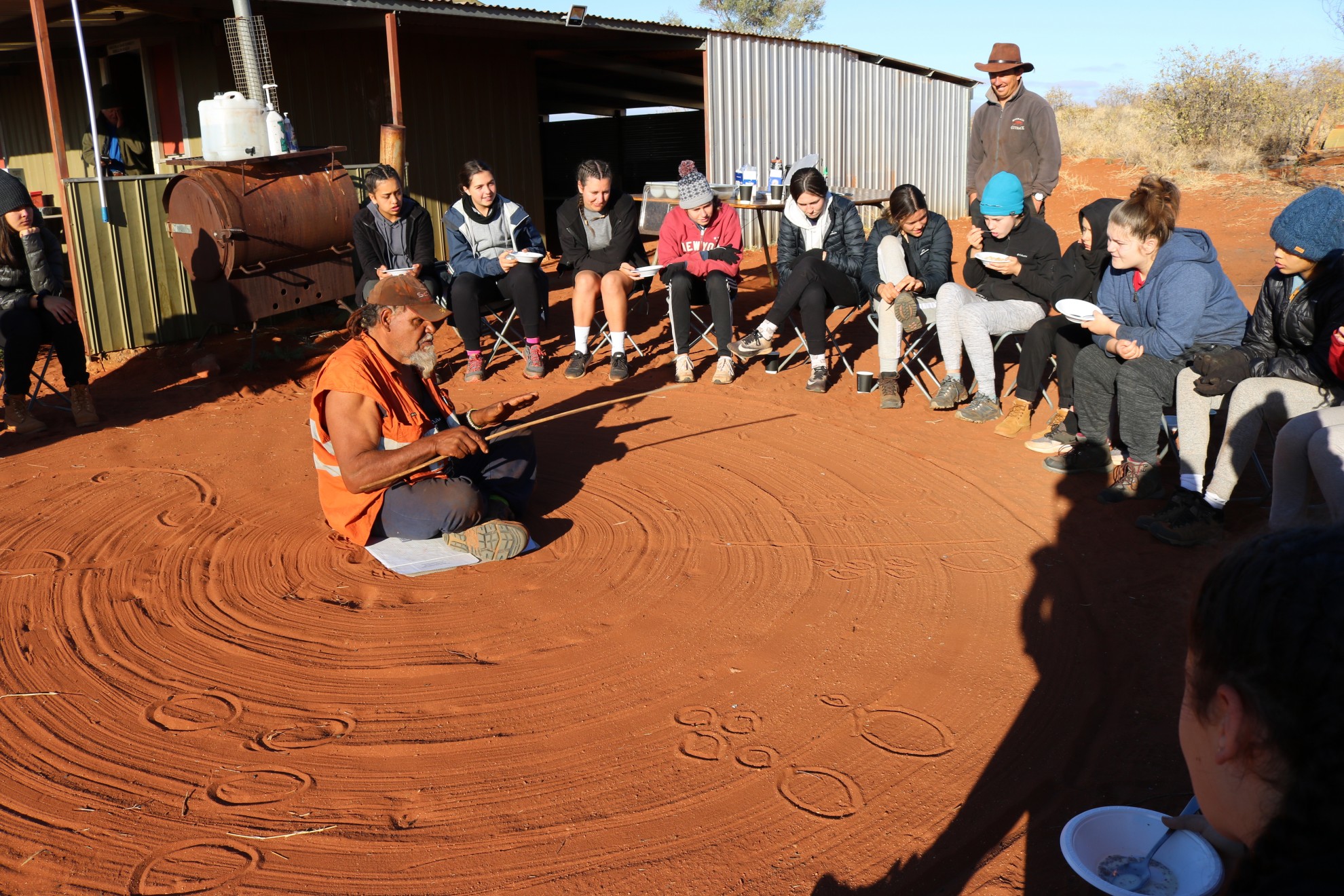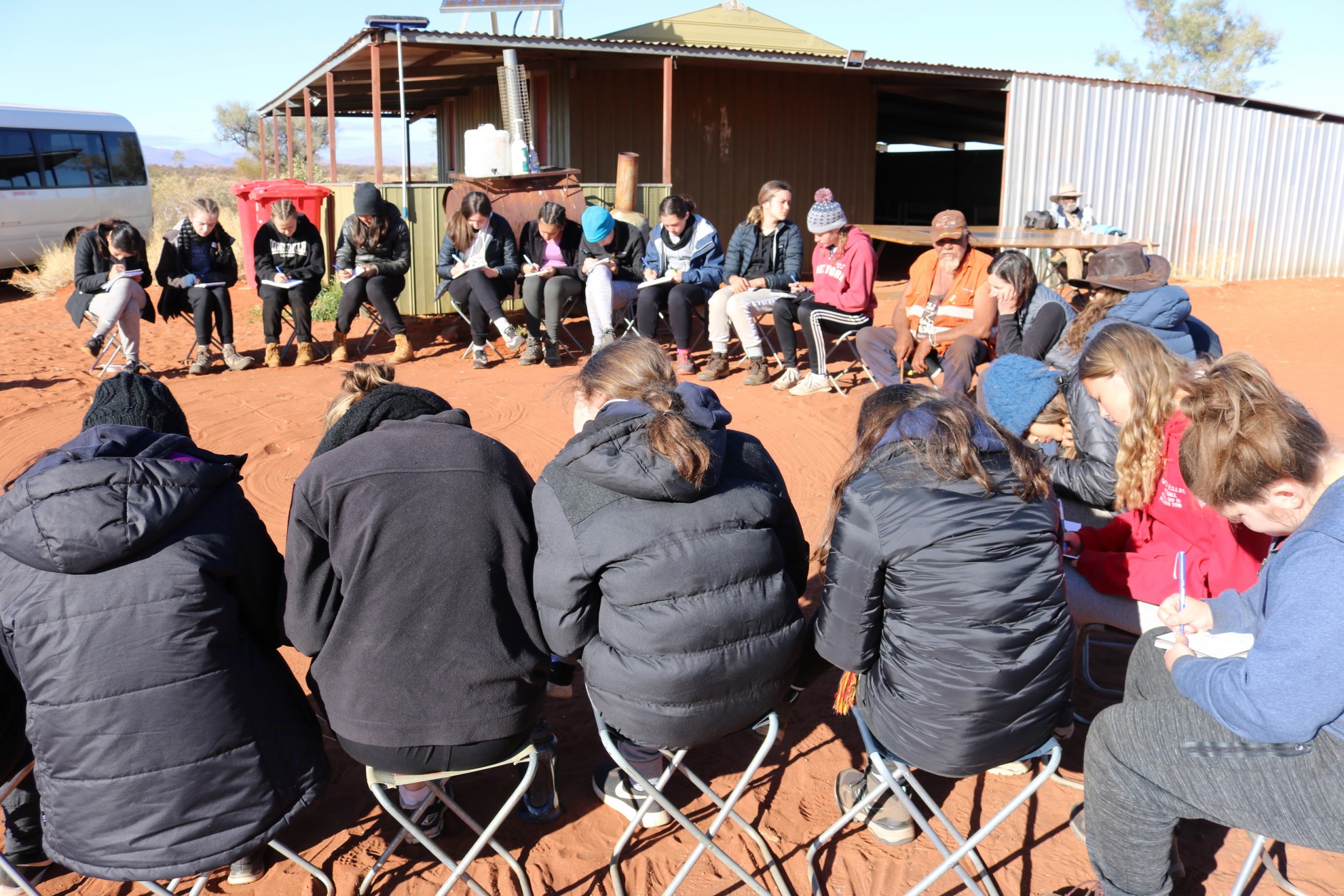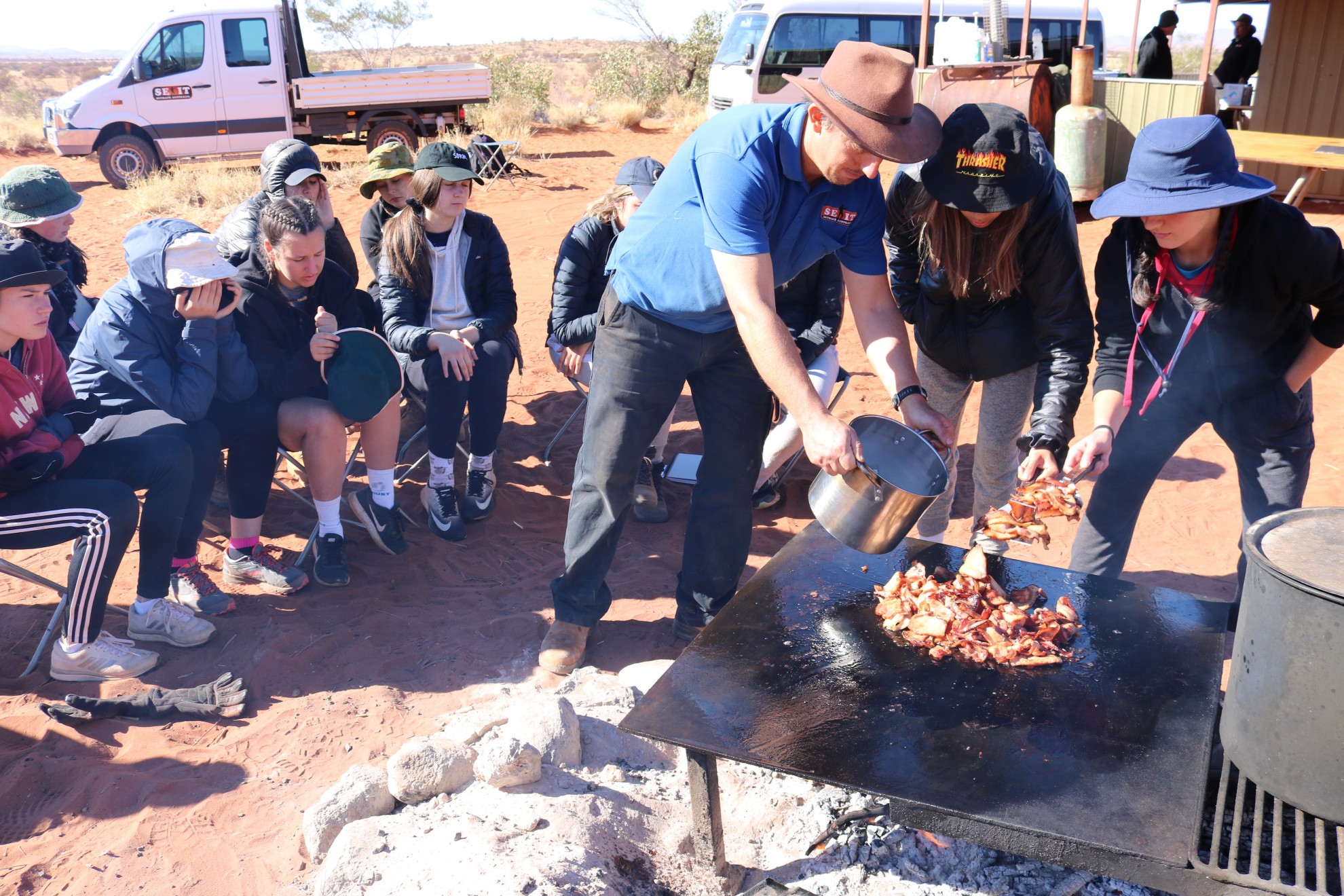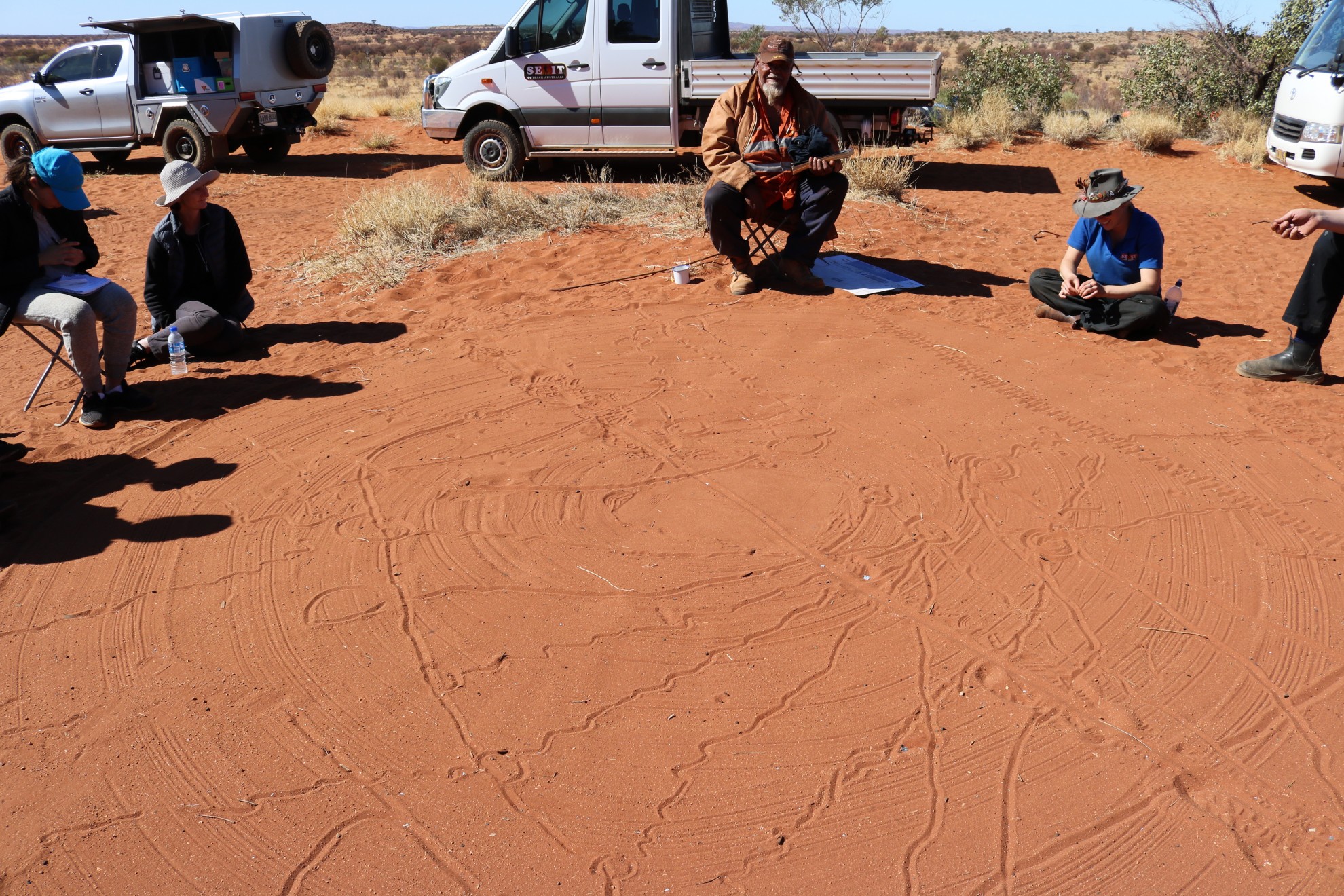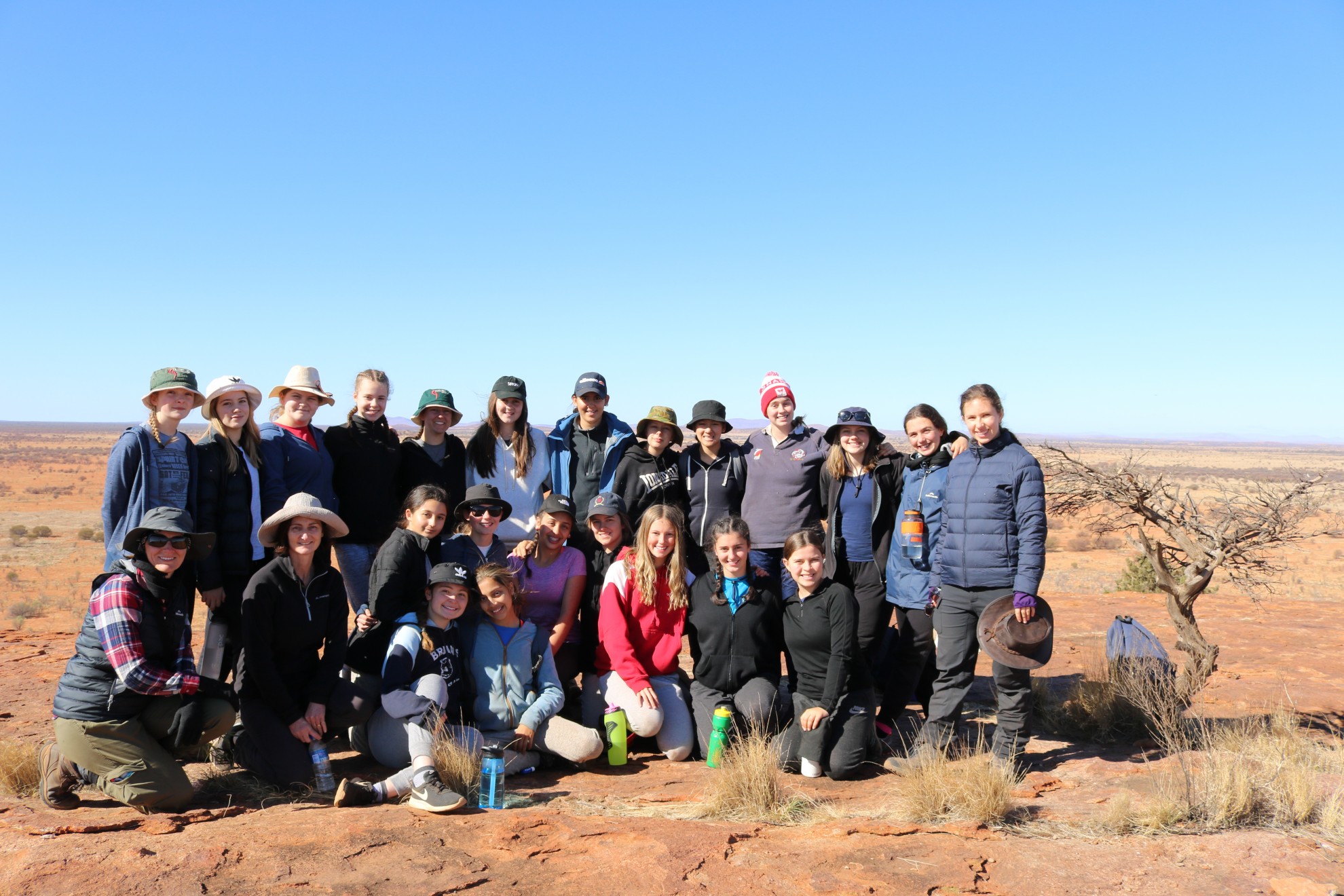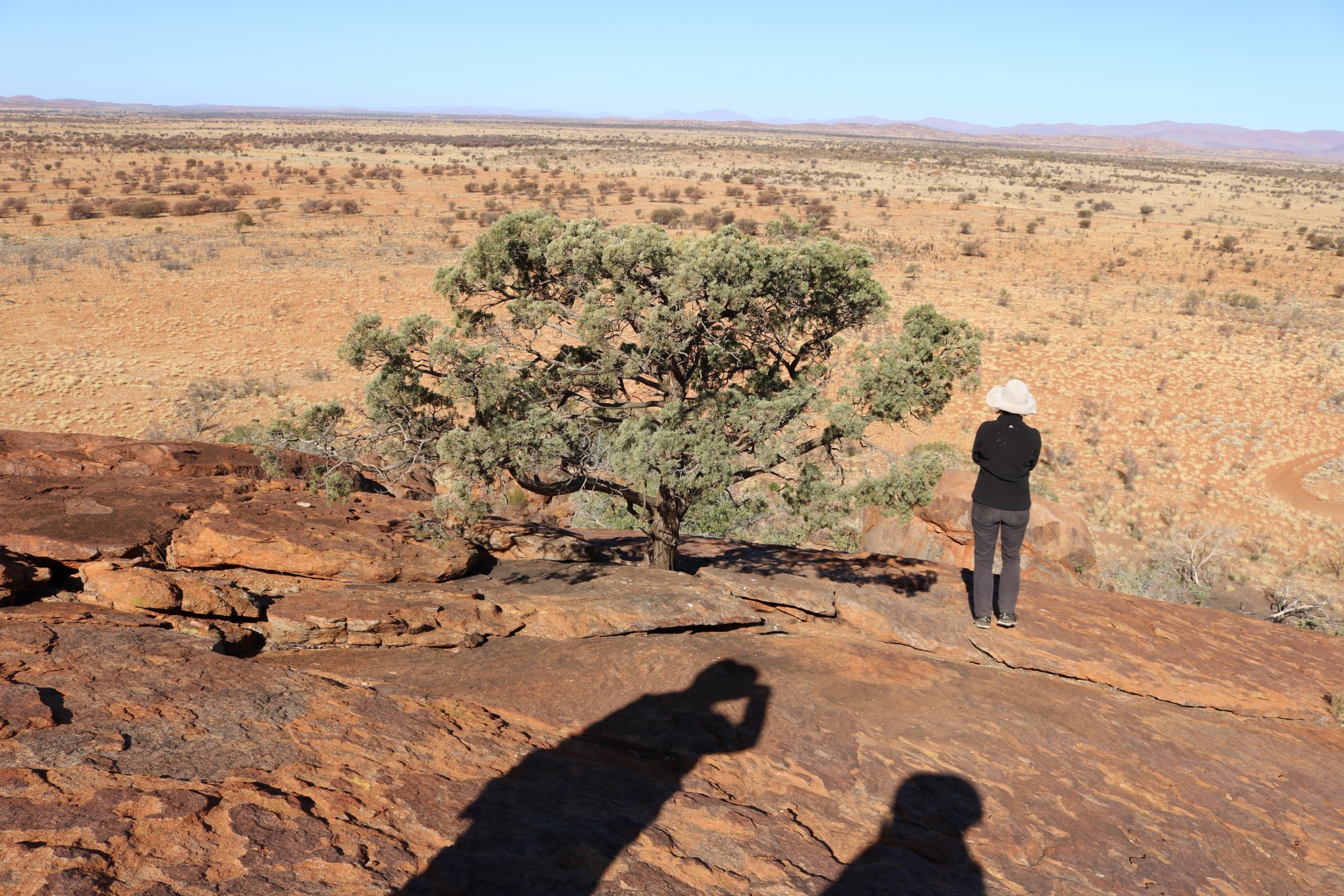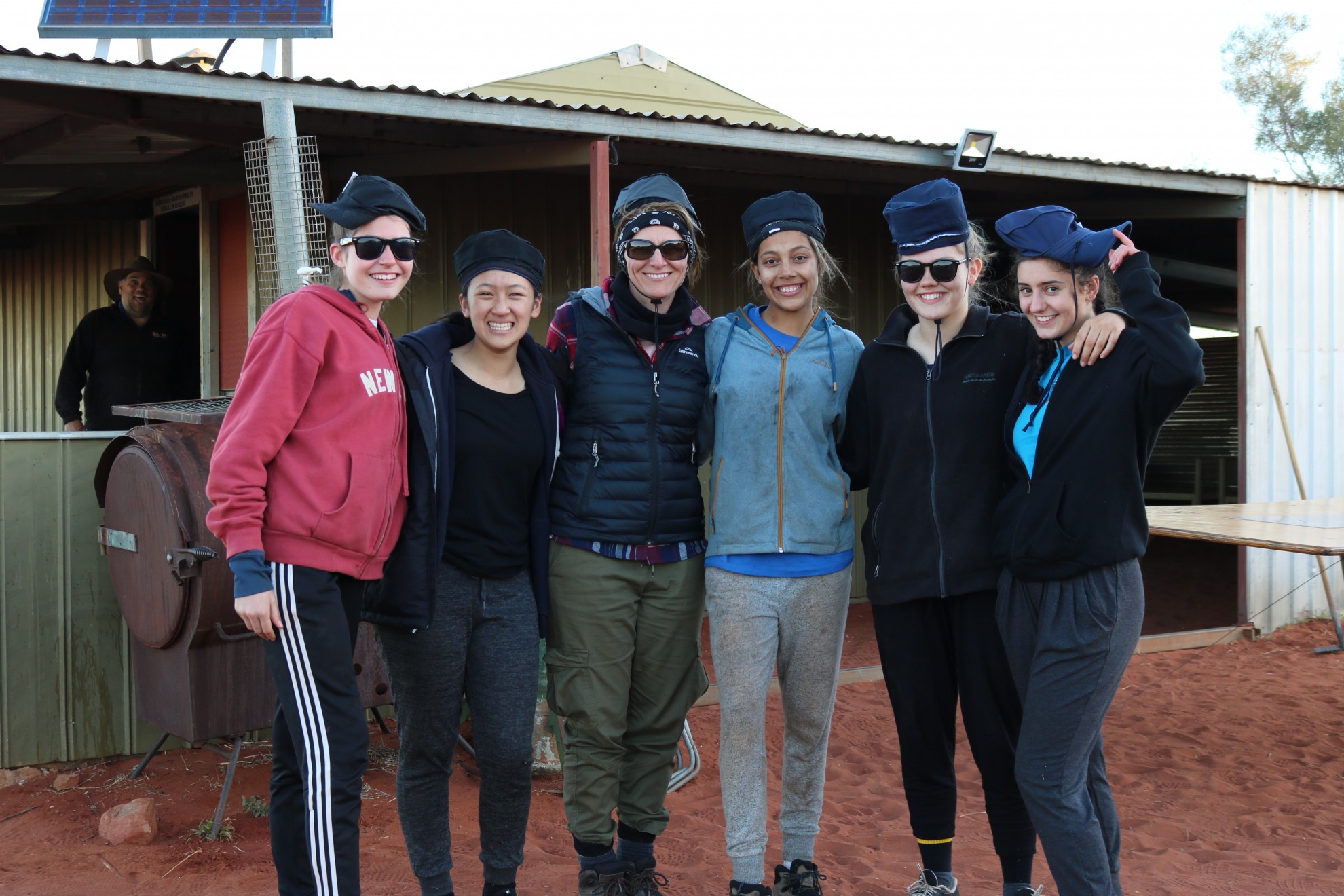 Day 7
Early this morning about 5:00am Lee gathered with us around our swags to share his teachings and knowledge of the seven sisters through the stars. We then watched the sun rise.
The morning continued by us getting out of our swags and all gathering amongst the fire whilst Brett from SEIT talked to us about the use of resources and high cost of transportation of those resources to the remote communities as well as Cave Hill, where we had been staying. We also talked about the tourists' use of the sacred site, where some see Uluru as something to tick off their bucket list without respecting the culture and history of the site. Today in Australia about 80% of the half a million tourists visiting Uluru climb it, despite being asked not to by the traditional owners. 
After preparing tea and breakfast for Lee and ourselves, we changed and readied ourselves for a big day ahead. It started off by travelling to Amata, a remote Aboriginal community in the APY lands in South Australia, where we were greeted by Tiffany (local police officer) and a joey in her care. It has now been sent to the Kangaroo Sanctuary in Alice Springs. You can follow her story at @theoutbackcop on Instagram. 
We continued travelling to the local Amata supermarket where we were able to see the groceries that the townspeople purchase. We explored the store and were shocked to see the prices compared to Sydney, this allowed us to gain a new perspective of how fortunate we are. We discovered the large price gap between certain products. A large packet of baby wipes costs $23.10 and a bottle of baby powder ranges from $6.50-$14.40. This allowed us to calculate how much transportation costs out here. Even small things like a packet of pasta costs over $4 and a small roll-on deodorant for $13.10. 
We gained a better understanding of why so many people in remote Aboriginal communities have diabetes because high sugar products are the cheapest. We have learnt that many people have decided to take action by reducing the amount of products in store and for example increasing the amount of sugar-free drinks. This is shown on the drink refrigerator – "No sugar, good for diabetics." We further noticed minimal fresh fruit and veg and all the meat was frozen, from this we know that there are only deliveries every few weeks. 
Then we headed off to the Wallany homeland to get Lee a bull bar for his car. Together we all had ham sandwiches and sat together with Lee and listened to more of his stories while eating bagels. His stories allowed us to fully immerse ourselves in Aboriginal culture. 
On our way home after the homeland we came across Amata swimming pool, which can only be used if you go to school, Amata primary school as well as Stanley's house. B2 and Bill gathered us around and gave us knowledge on the processionary caterpillars. Afterwards they also showed us the path made by these caterpillars. We now continued our journey home. 
We then were given rockmelon and cookies to eat for afternoon whilst Angela and Paige helped Lee put the bull bar up. After we finished all that Monica took us back to the cave we visited yesterday. This cave is called the seven sisters where the storyline is painted across the roof in red, yellow, white and grey colours. This allowed us to open up about new teachings. 
After visiting the cave we climbed up the same mountain as yesterday where we were able to reflect on our day and look out onto the view including watching the sunset. 
Later on as a group we all gathered together around the fire to not only listen to Lee but to also help cook dinner. Paige and Anya cooked the corn which was served with butter. Tonight we were lucky enough to have a three course meal: corn on a cob, potatoes and steak with some other vegetables. Dinner ended with singing songs and other stories. To finish our night we all shared why we chose to come on the immersion and embark on this journey. Then we fell asleep under the stars.
 This allowed us to immerse ourselves into the Australian experience.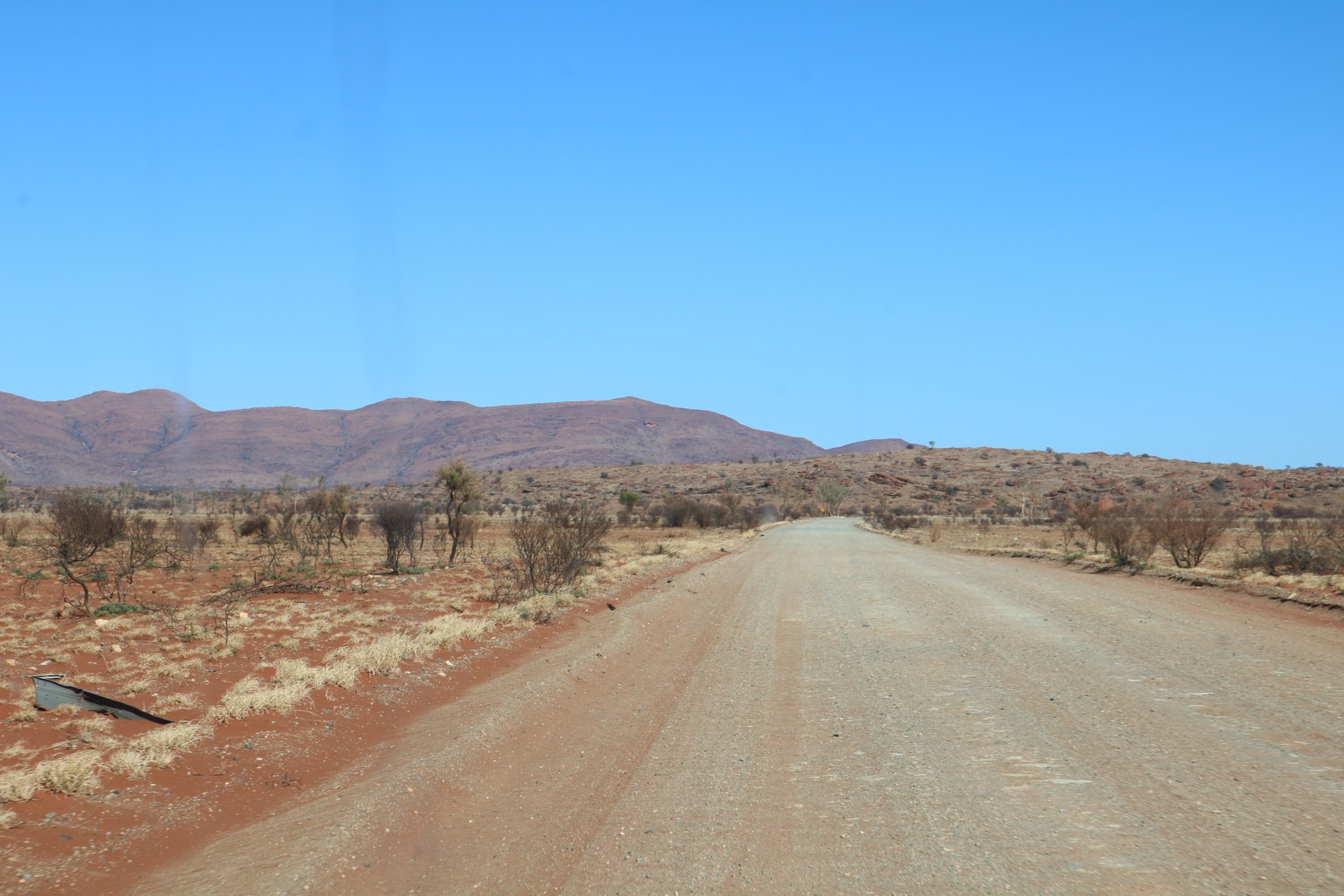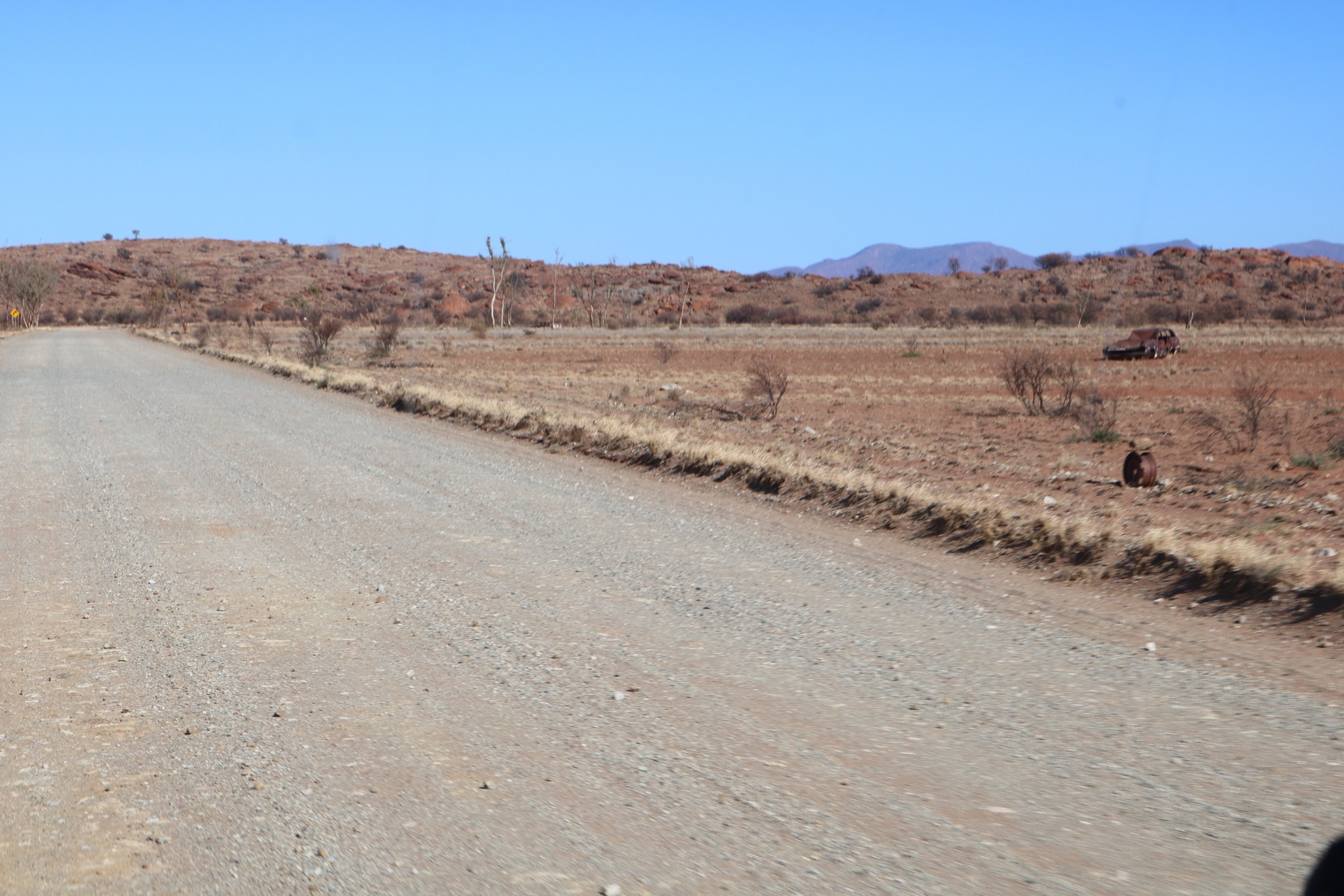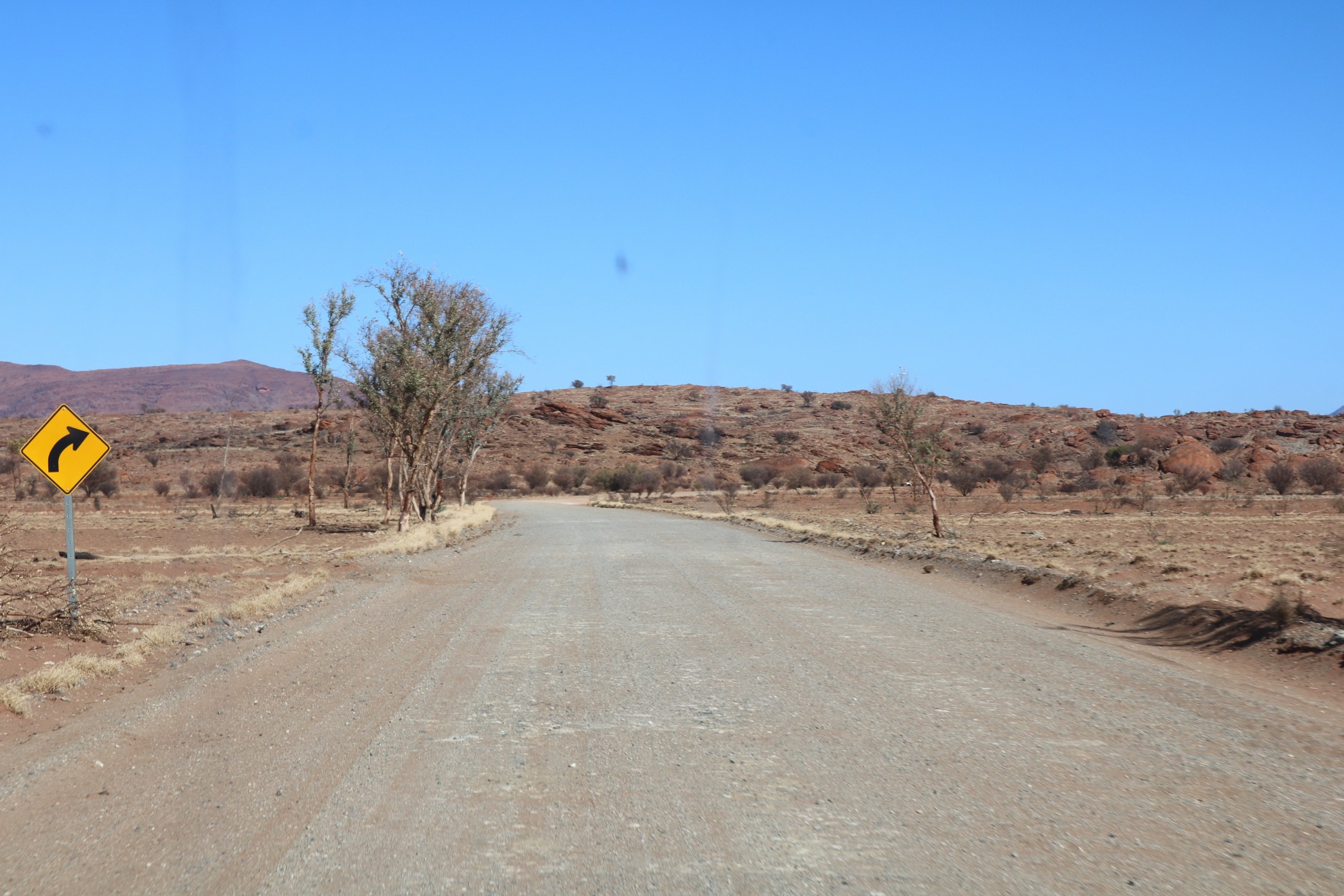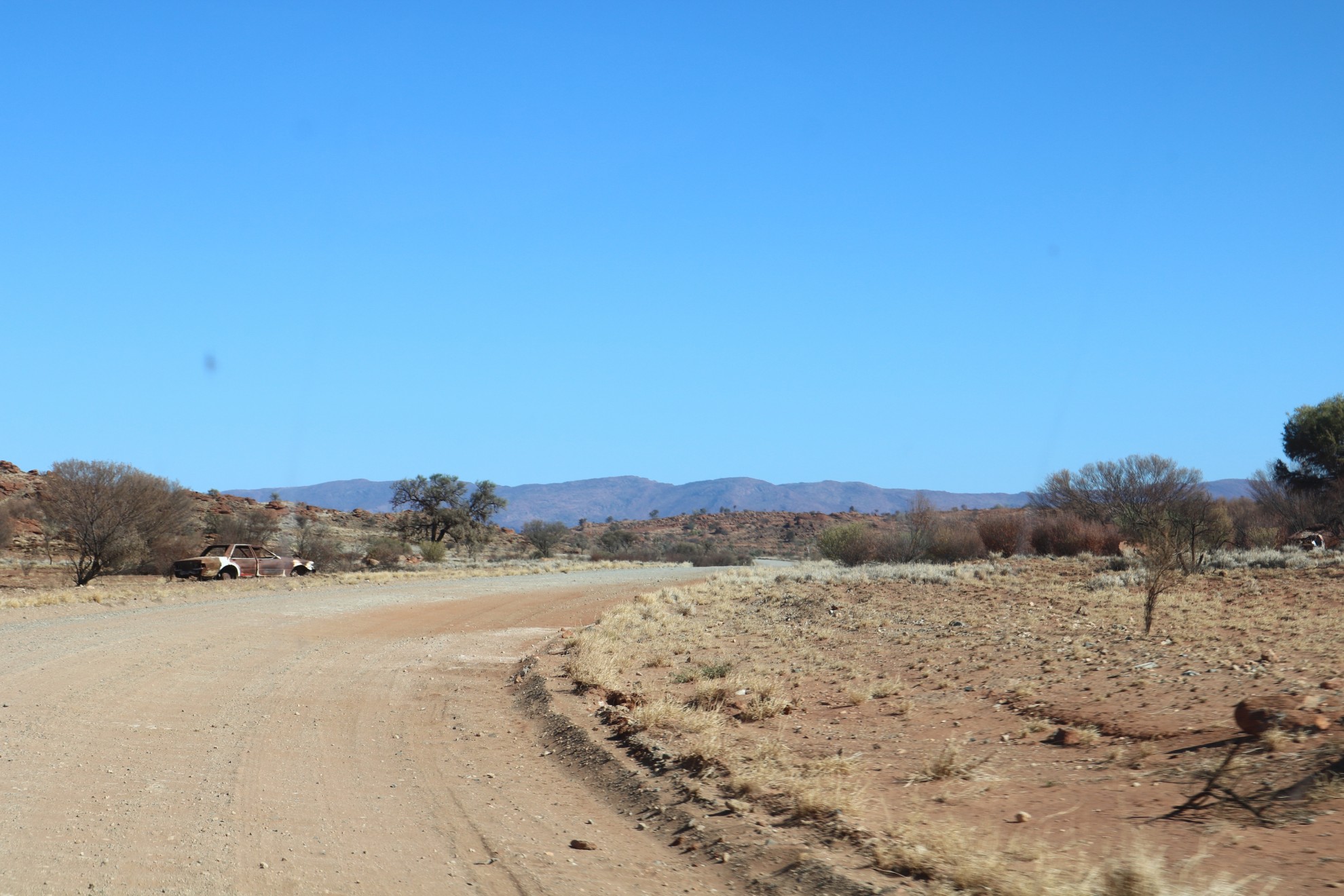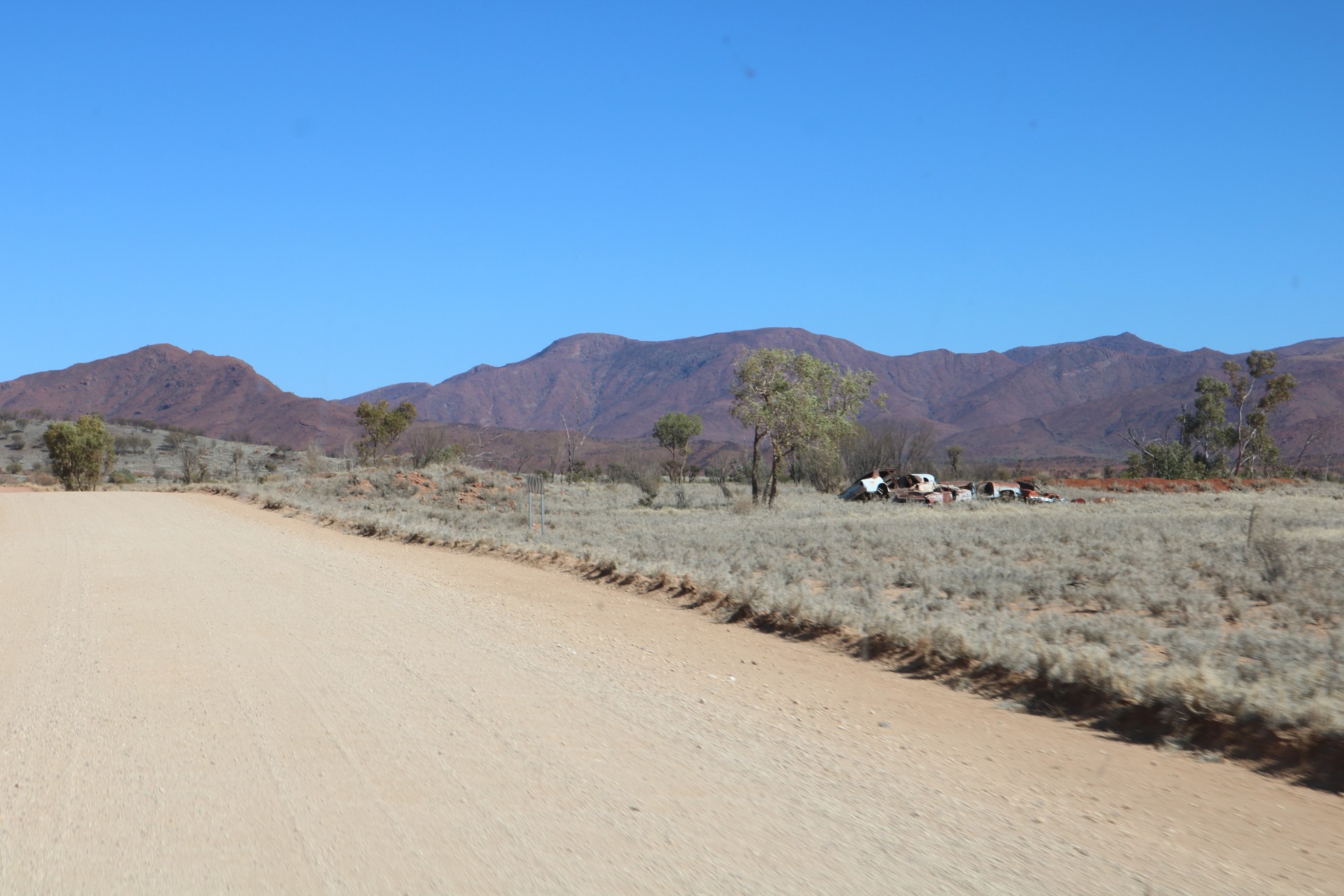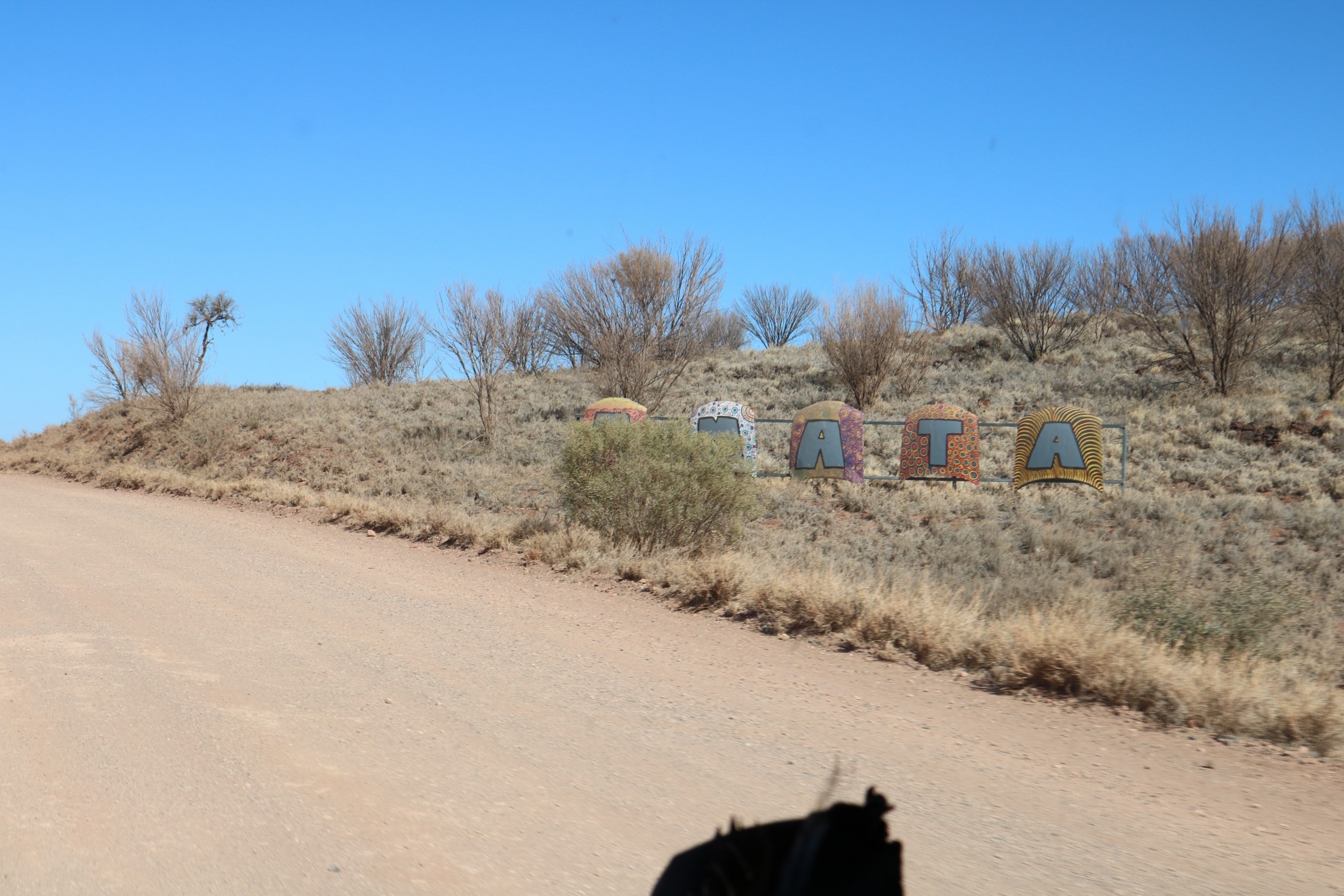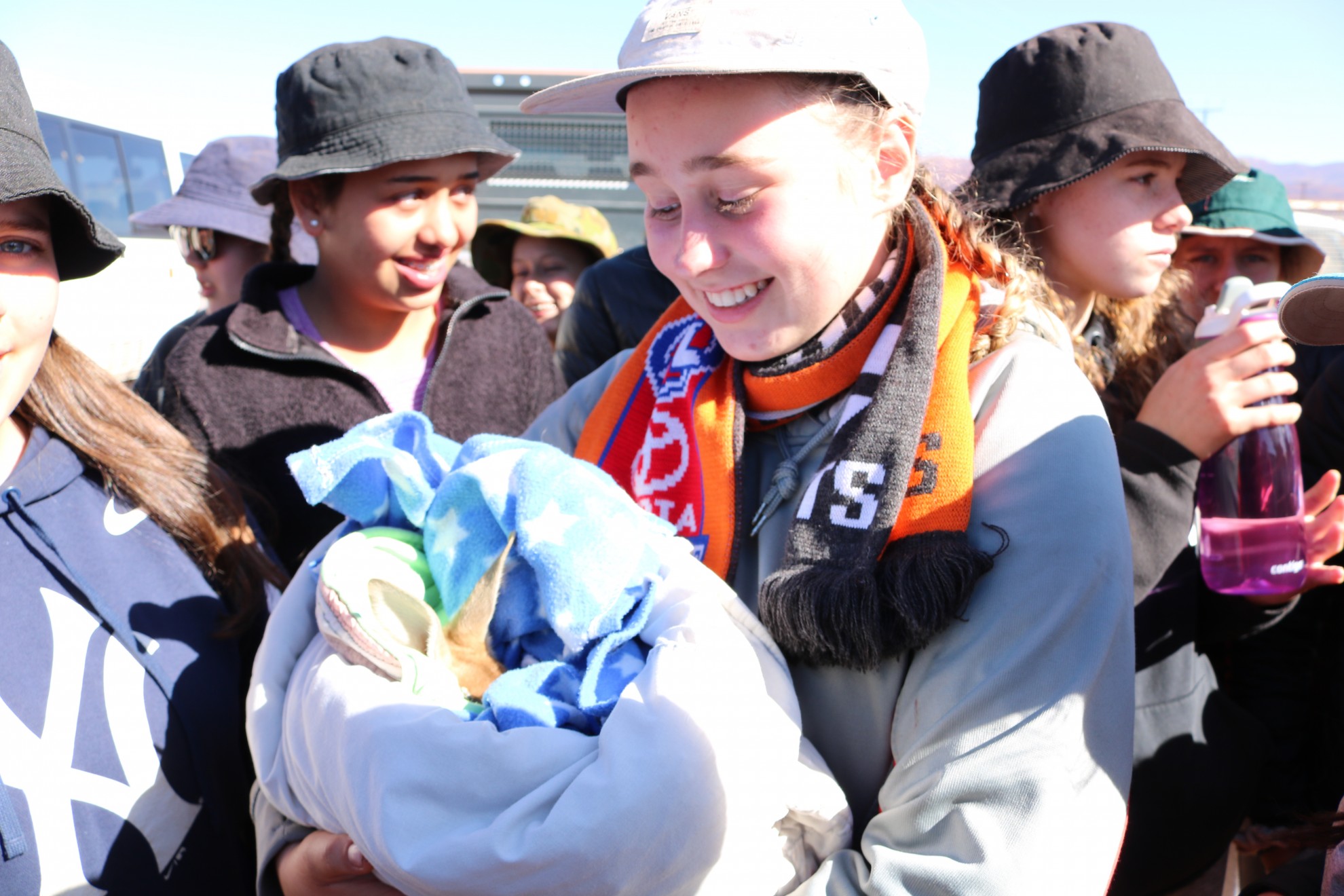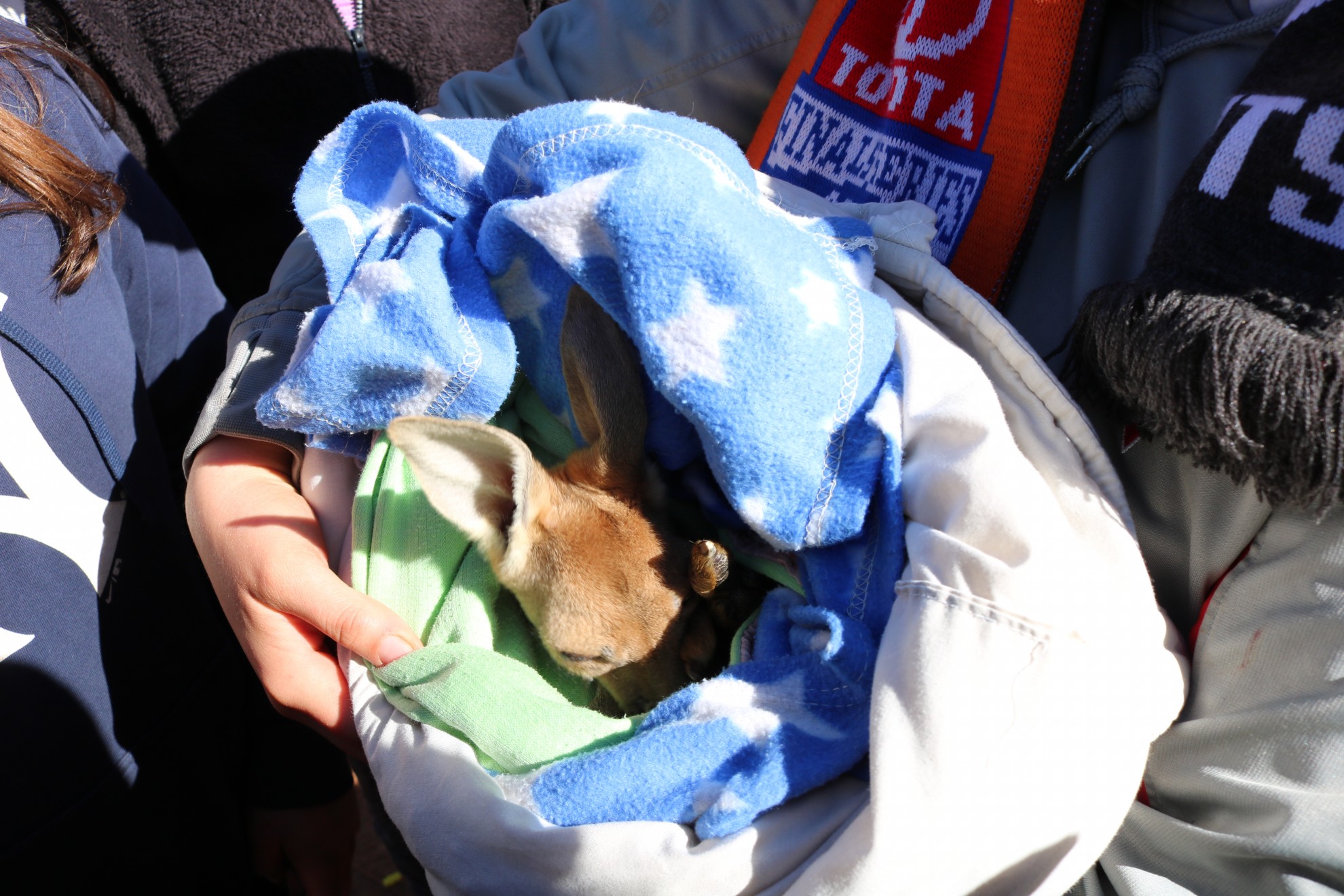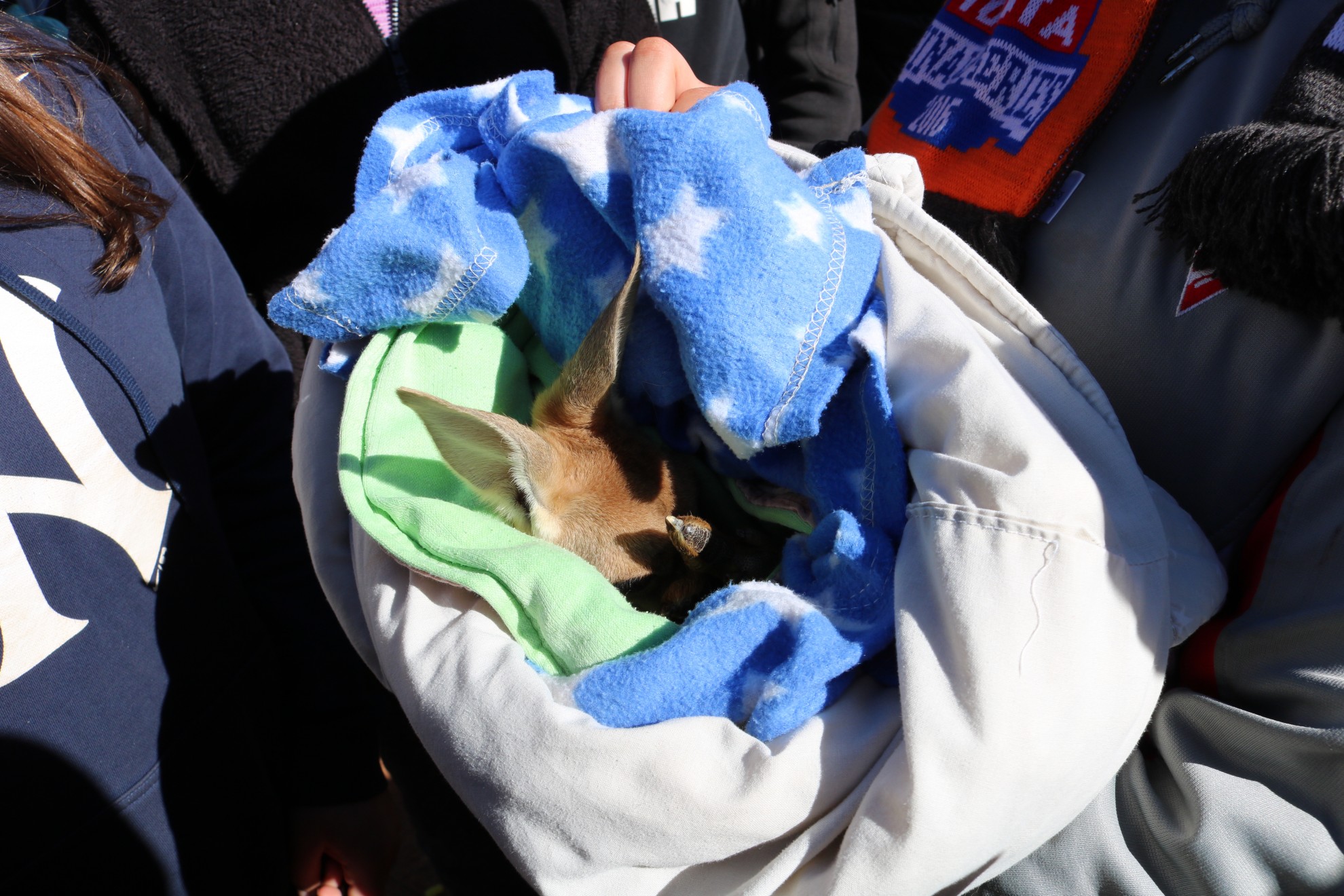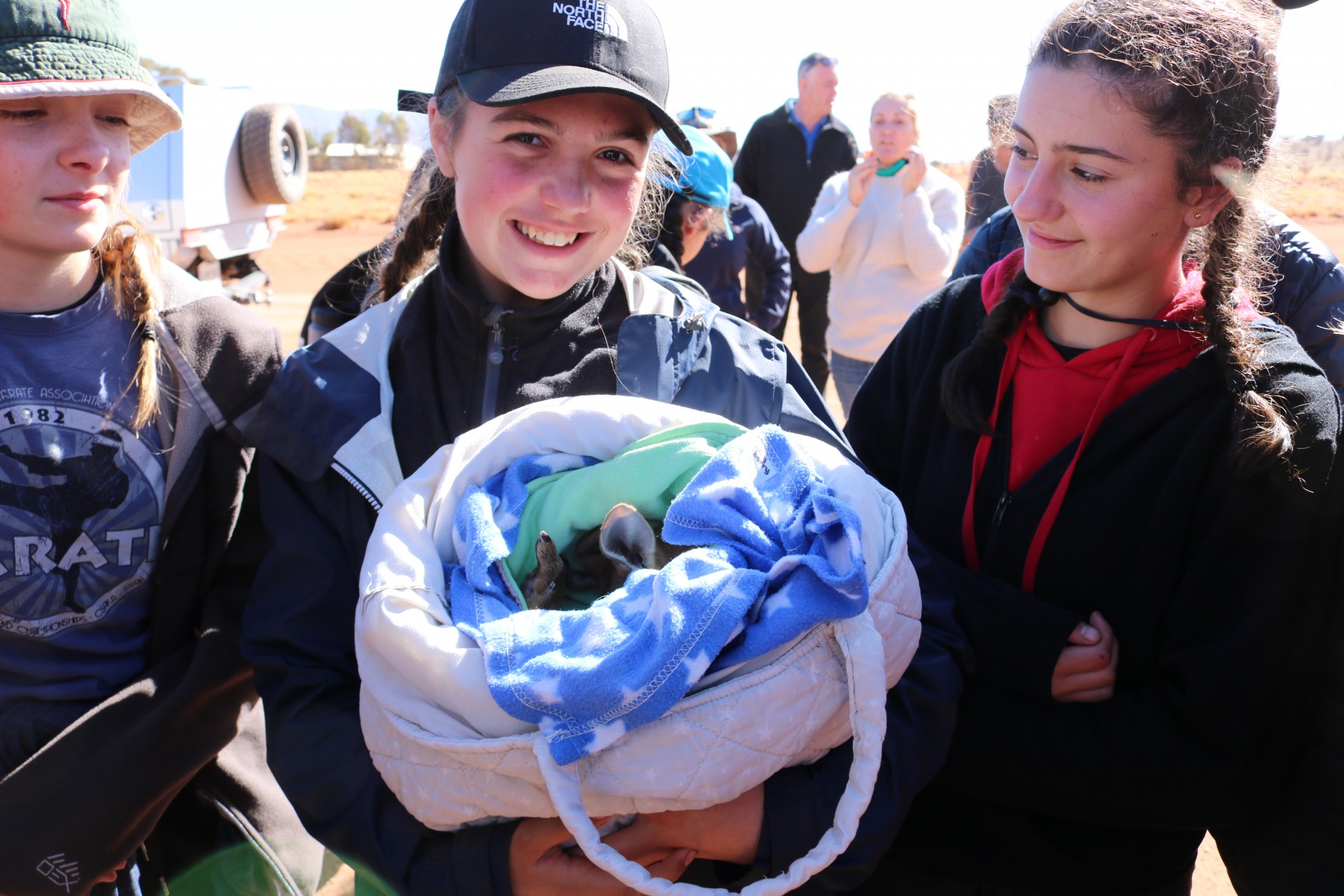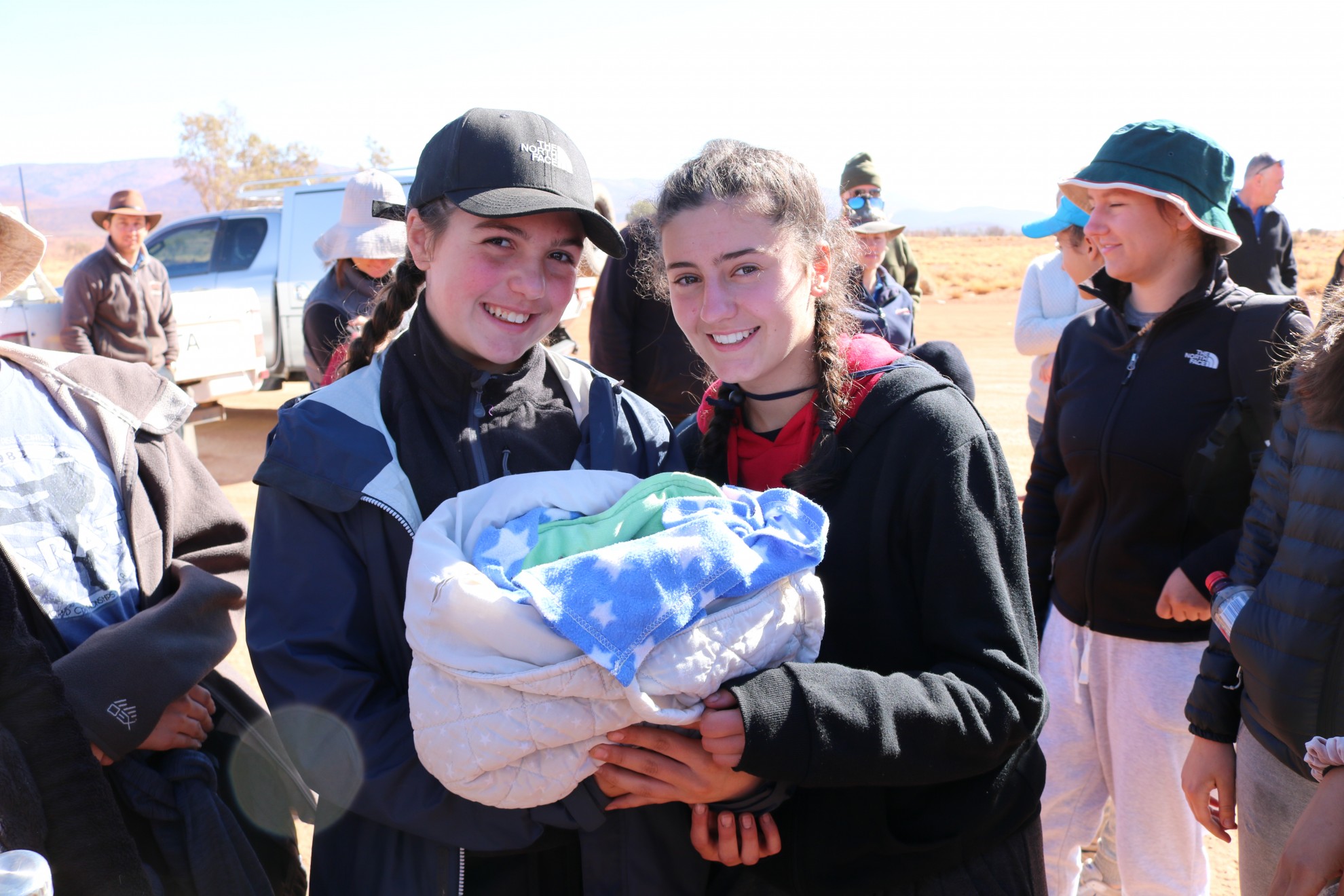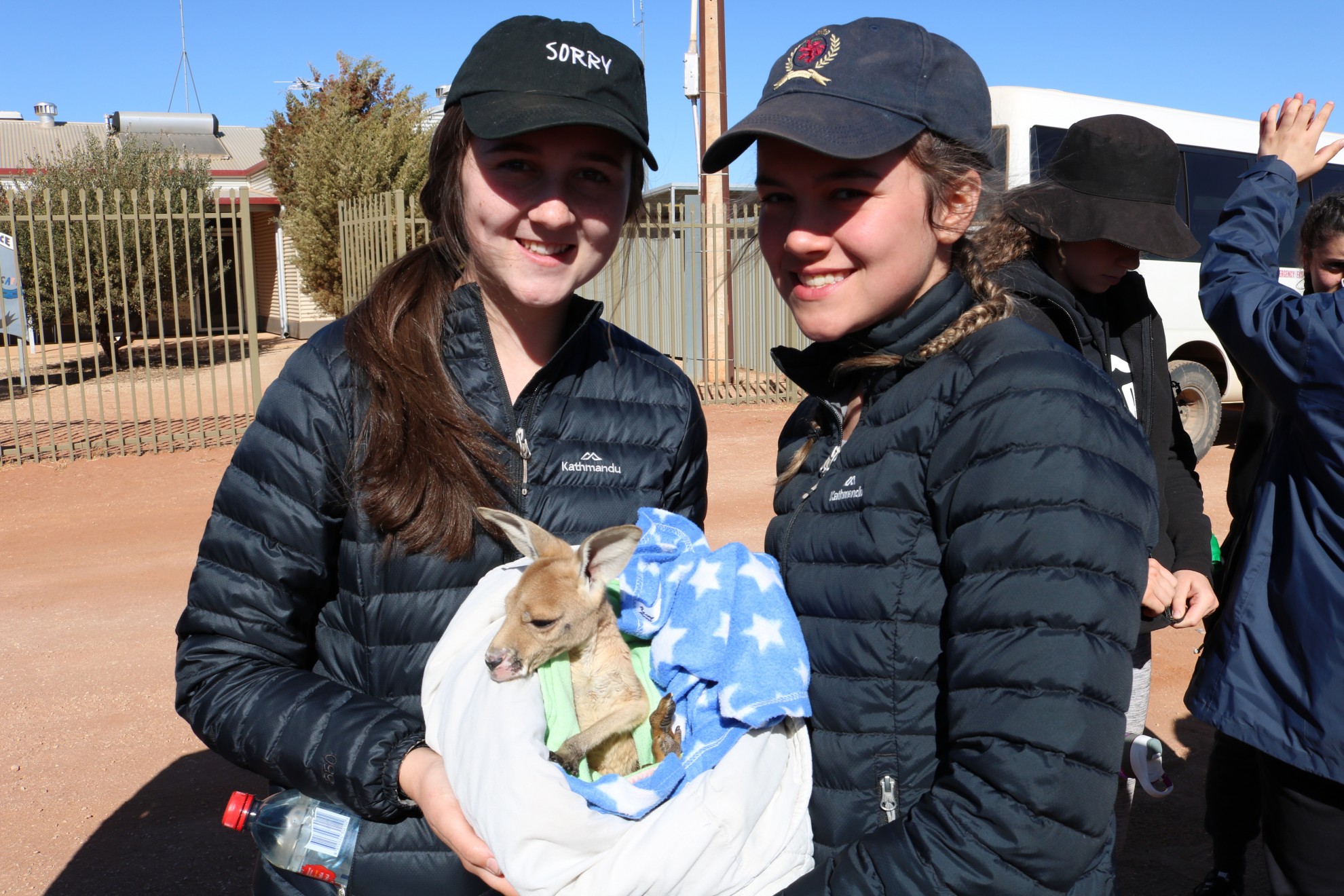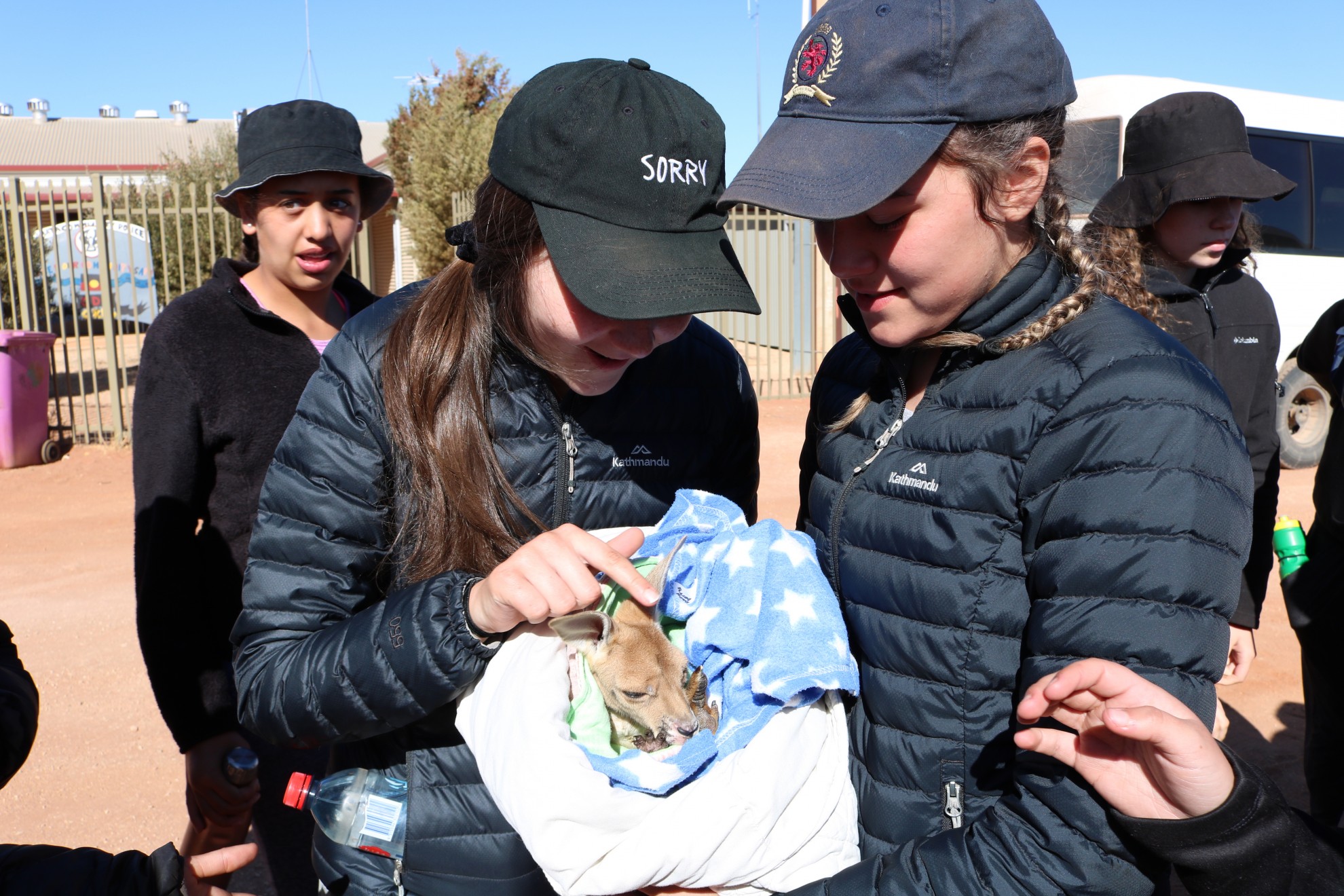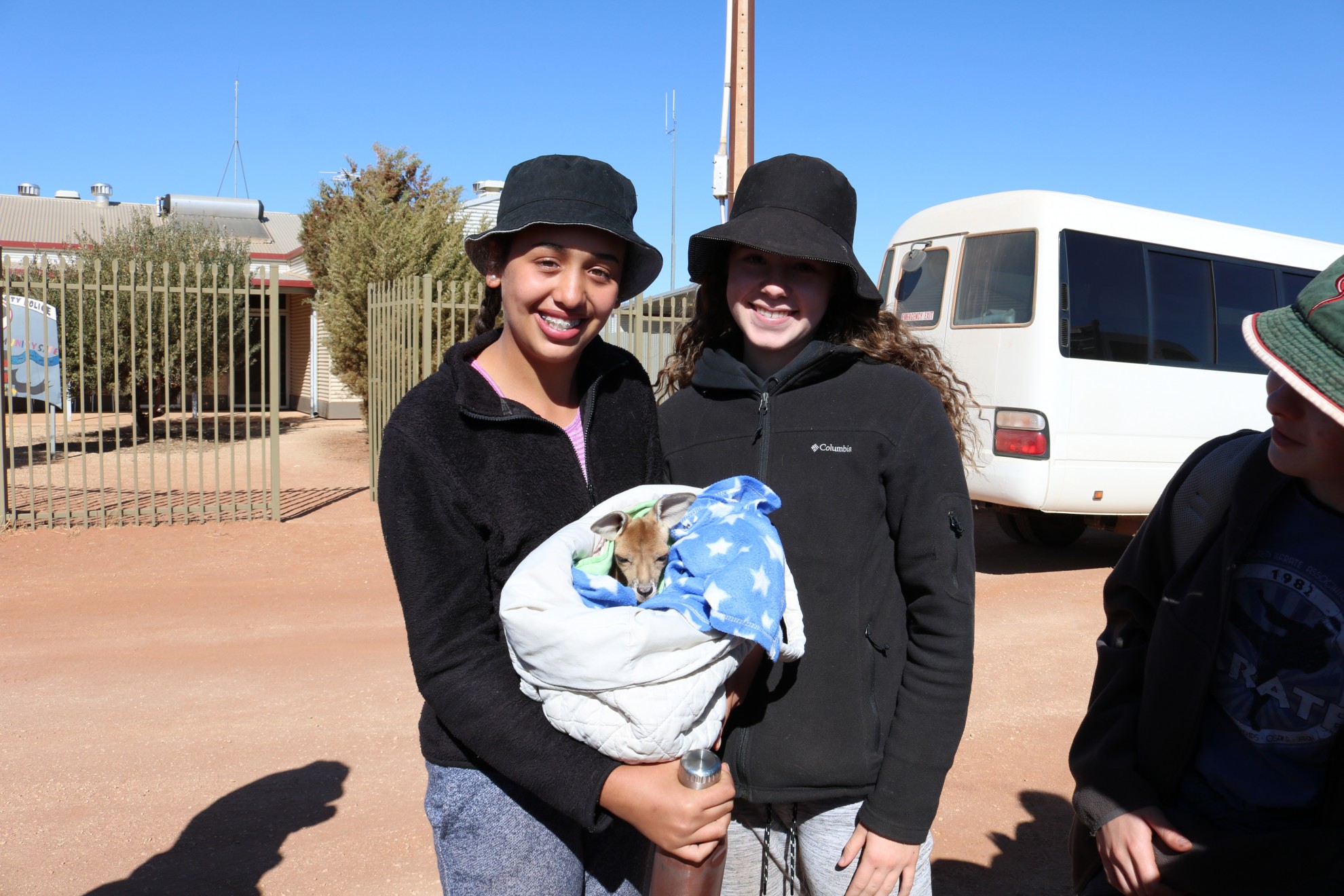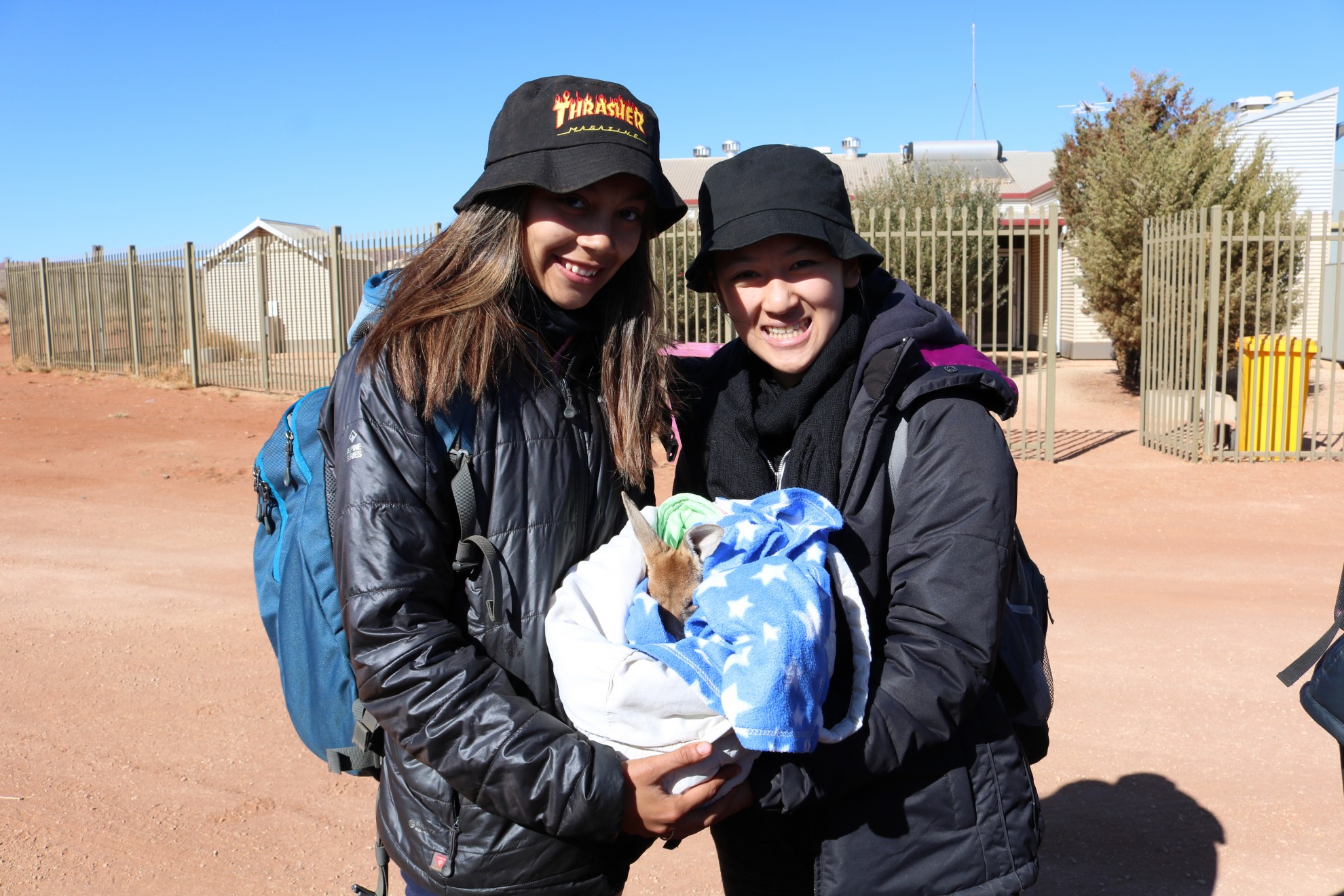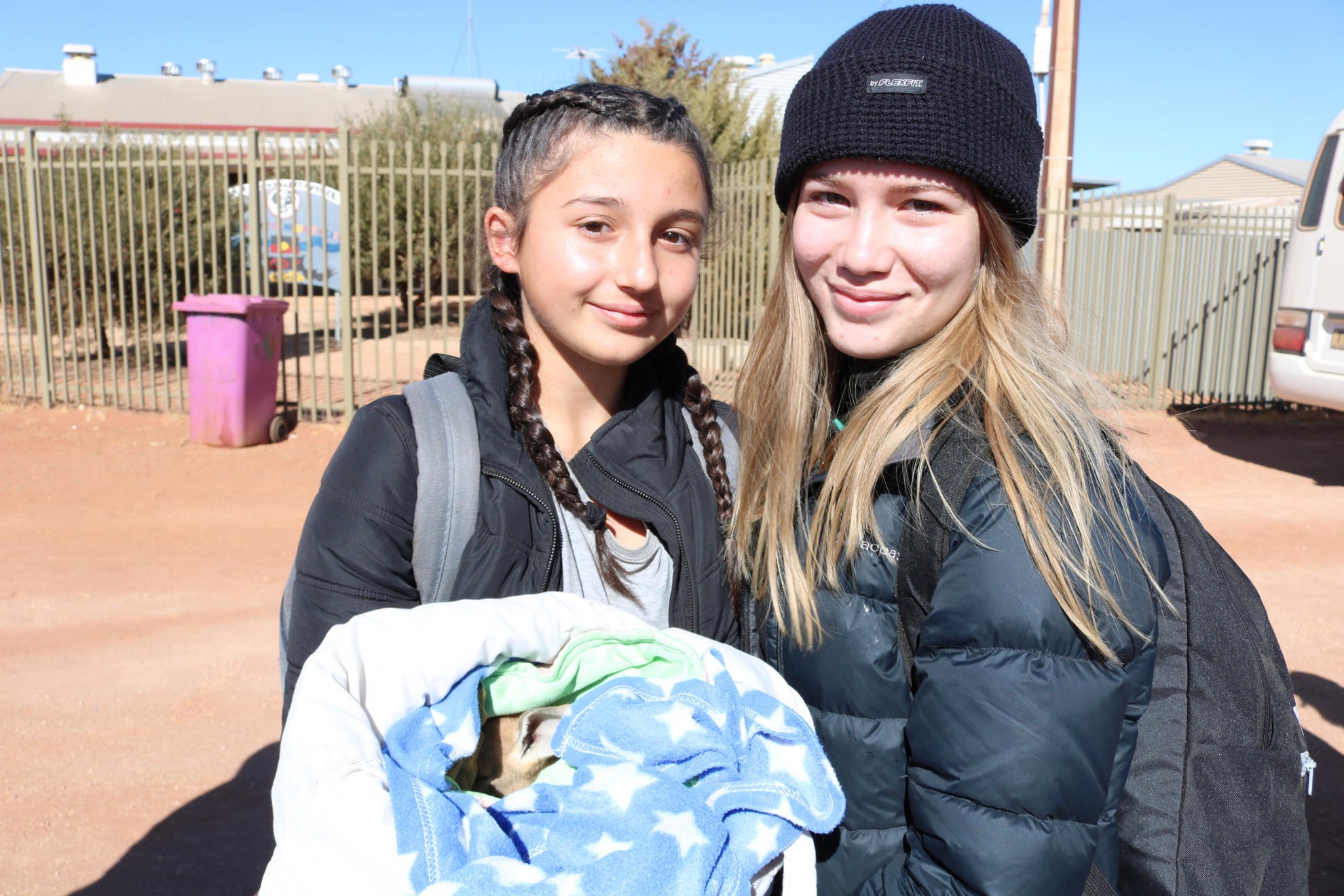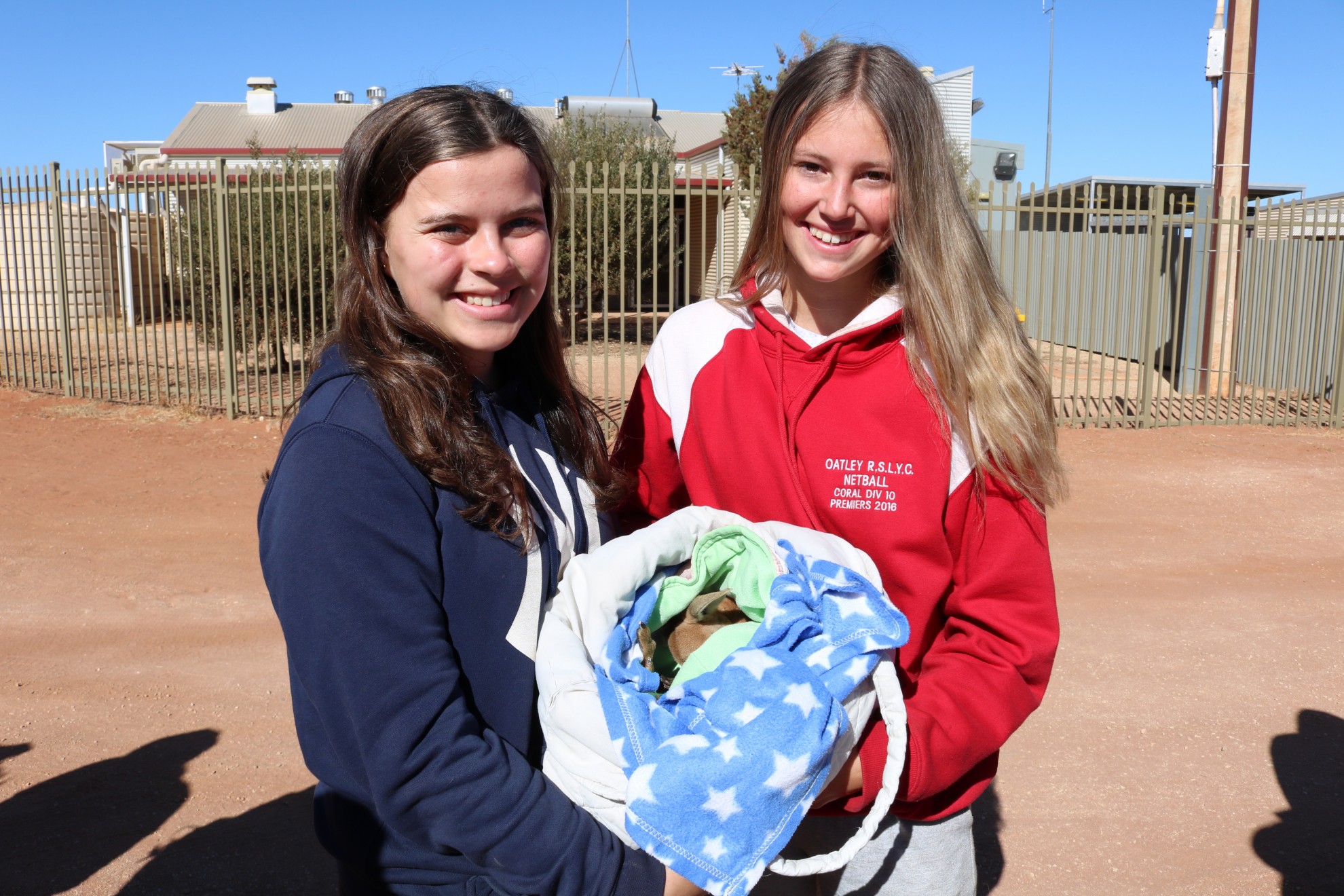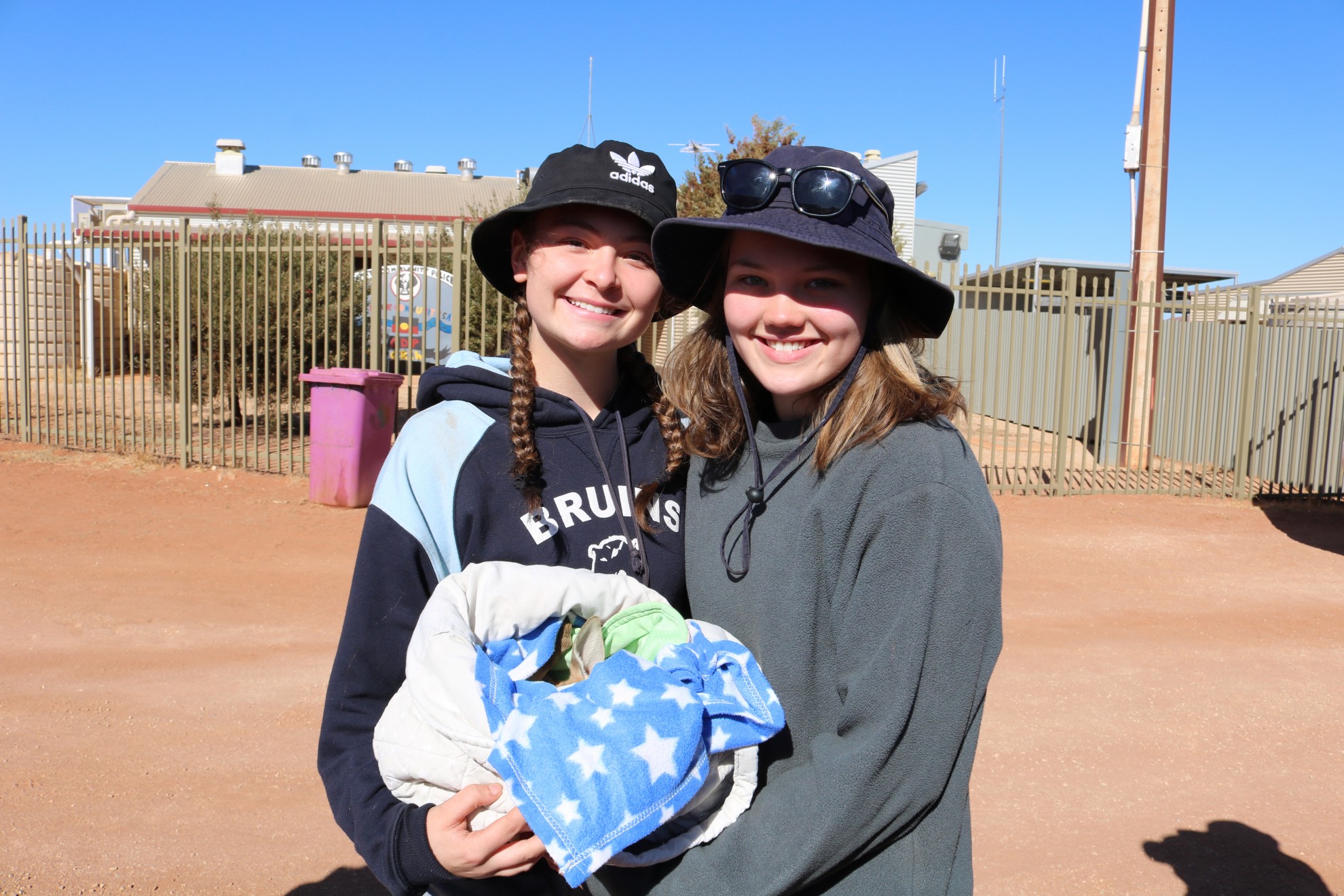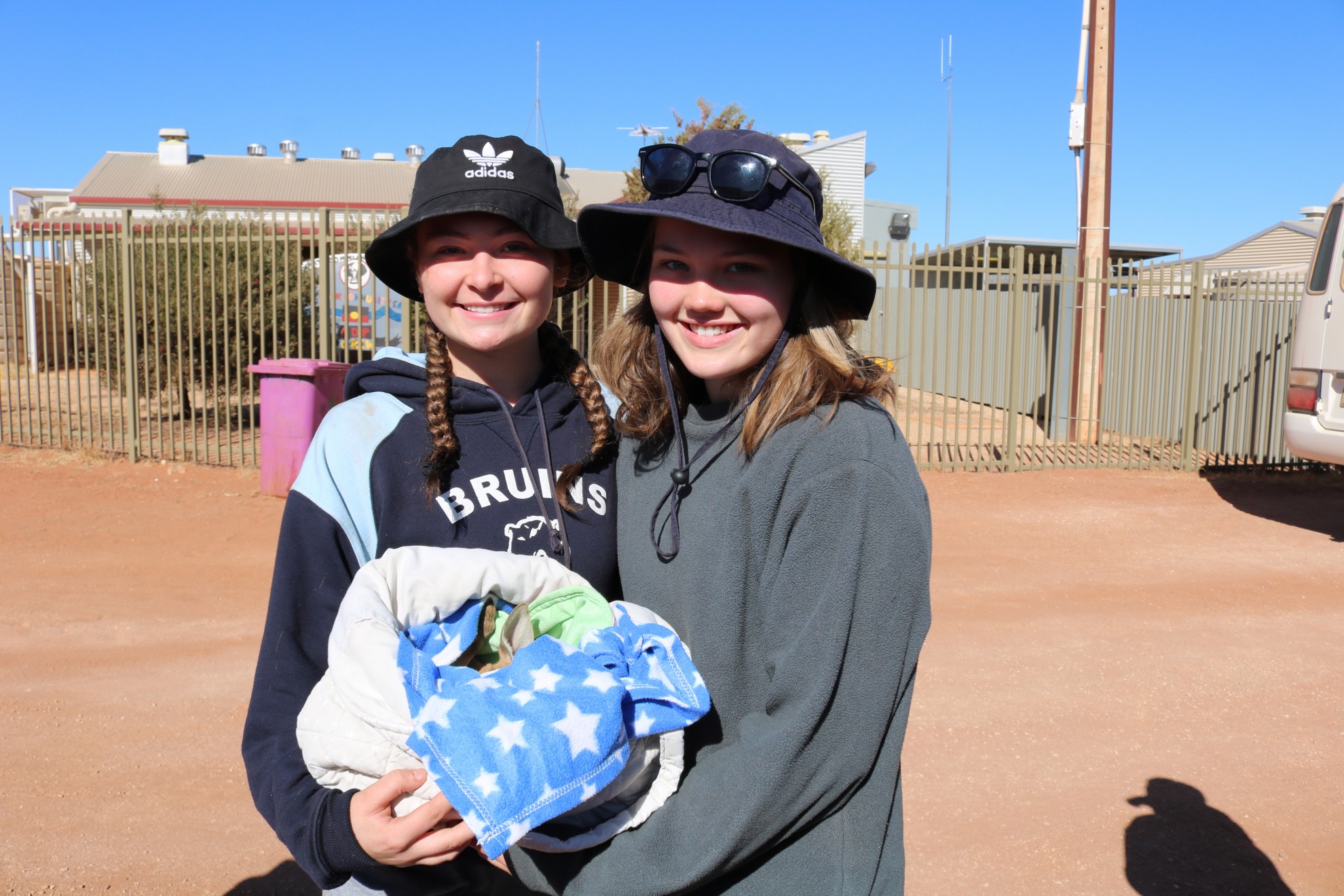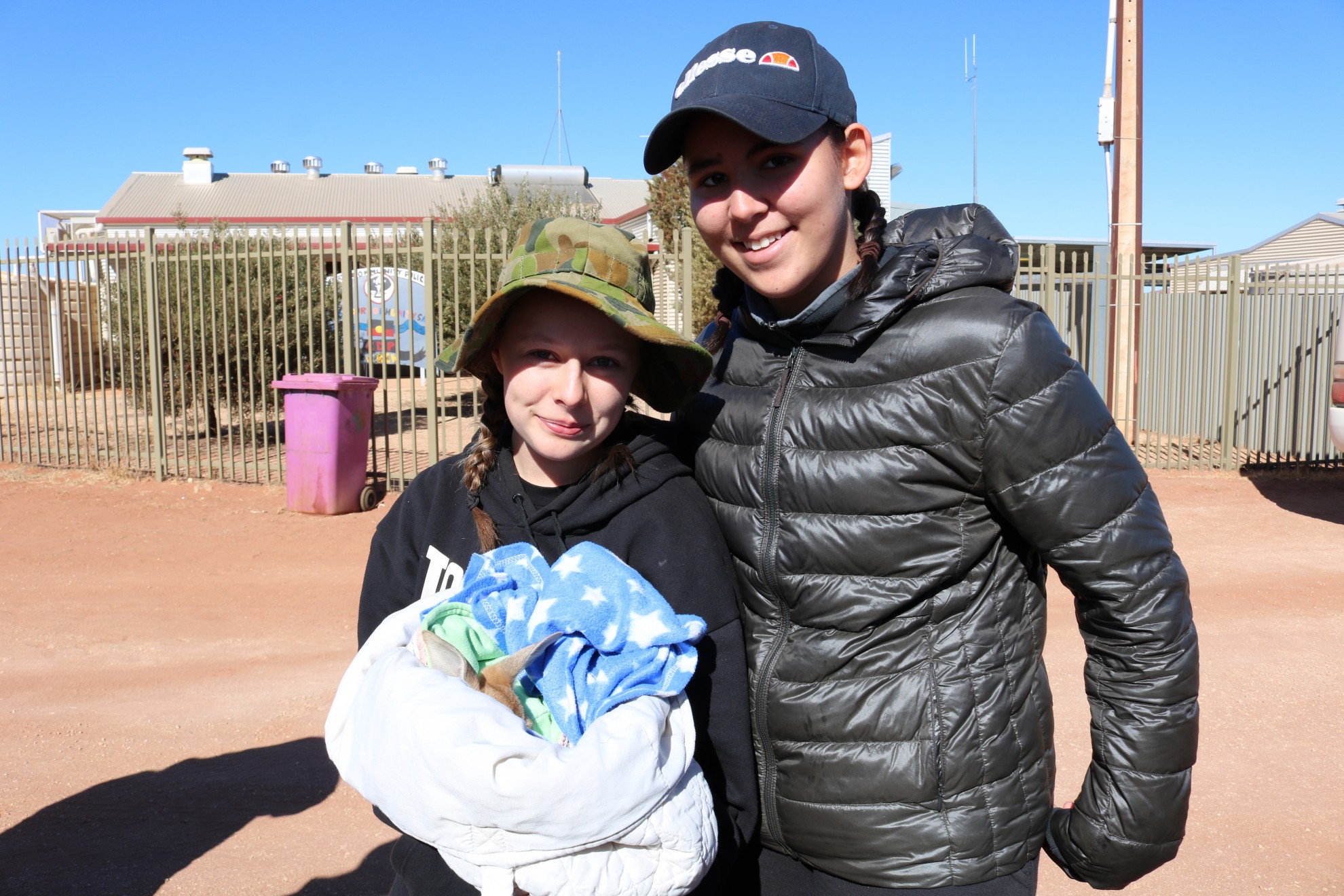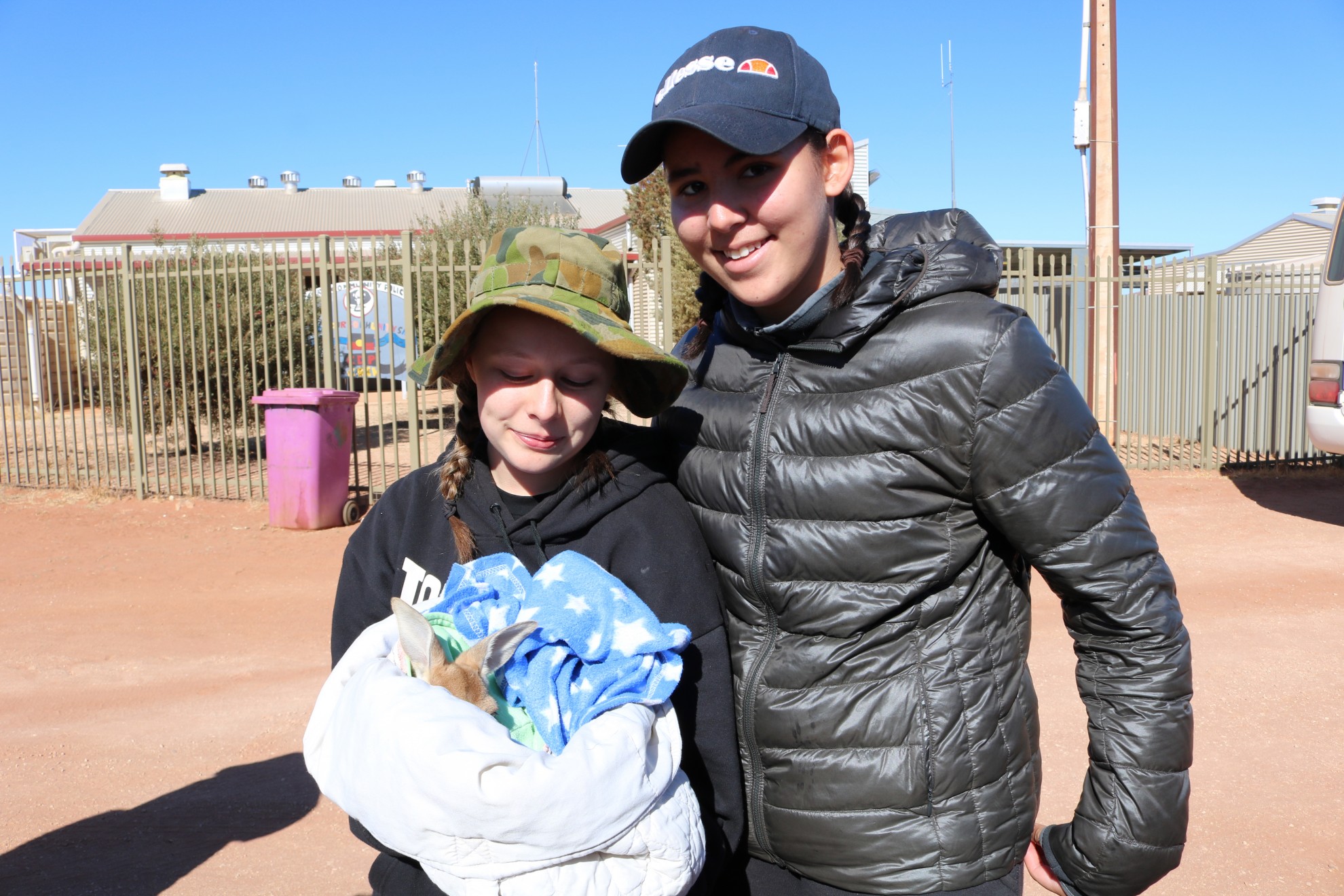 Day 8
Palya, 
We woke up the very last time at Cave Hill, just in time to watch the sunrise over the mountains. As we got up, we found frost on our swags and shivered as we put on more layers. We packed up camp at Cave Hill and travelled to Yulara. We were very sad to leave Cave Hill as it is such a special place and we may not get the chance to travel back again. We learnt so much and made so many memories there since it was where Lee and Stanley's family is from and they hold all the stories and knowledge of the land. 
As we drove along the highway we saw a caravan of camels and a kangaroo. To keep ourselves entertained we sang some of our favourite songs. We stopped for morning tea at Curtain Springs, where we saw an emu in an enclosure. We saw a lot of dogs and were very excited as this time we could pat them because they weren't wild. 
When we arrived at camp at Yulara, the crew prepared lunch for us which was Snags (Charlotte's favourite meal) After lunch we travelled to Ayers Rock. There we learnt stories, Tjutipa (the traditional law) and the lessons and morals it taught us. The rock was different from what we excepted, as it was much larger and the tourists had a lack of concern for the culture. We saw this through the thousands of people walking down the rock, cheering and taking photos of their "accomplishment". 
We found this highly disrespectful as after talking to Lee and Stanley we learnt the importance of the relationship with the land. Some people walk on the rock and blindly walk past the sign explicitly saying "Please Do Not Climb" from the Ananu people. This caused a rush of emotions between us all as on the last eight days we have begun to feel a real connection to the land so seeing people disrespect it like that caused a lot of distress. Along with this disrespect, the climb is extremely dangerous – it is steep and very ittle support is provided by the rails. The majority of people who do the walk are just regular tourists who are not trained to do a walk of this calibre. Thirty-seven people have died on the rock, doing the walk, however there have also been many deaths in the 24 hours after completing the climb. We are looking forward to 26 October when The Ayers Rock climb will officially be closed, however it will take over 60 years for the rock to erode the paths that tourists have walked.
We fortunately got to witness the sunset over Kata Tjutia and Ayers Rock. We then went back to our campsite, where we set up our swags for the last time. We got the chance to all eat dinner around a table and discuss our day and experience at Ayers Rock. Then we packed our bags and prepared for the last night in Central Australia. 
Caitlin, Charlotte and Angelique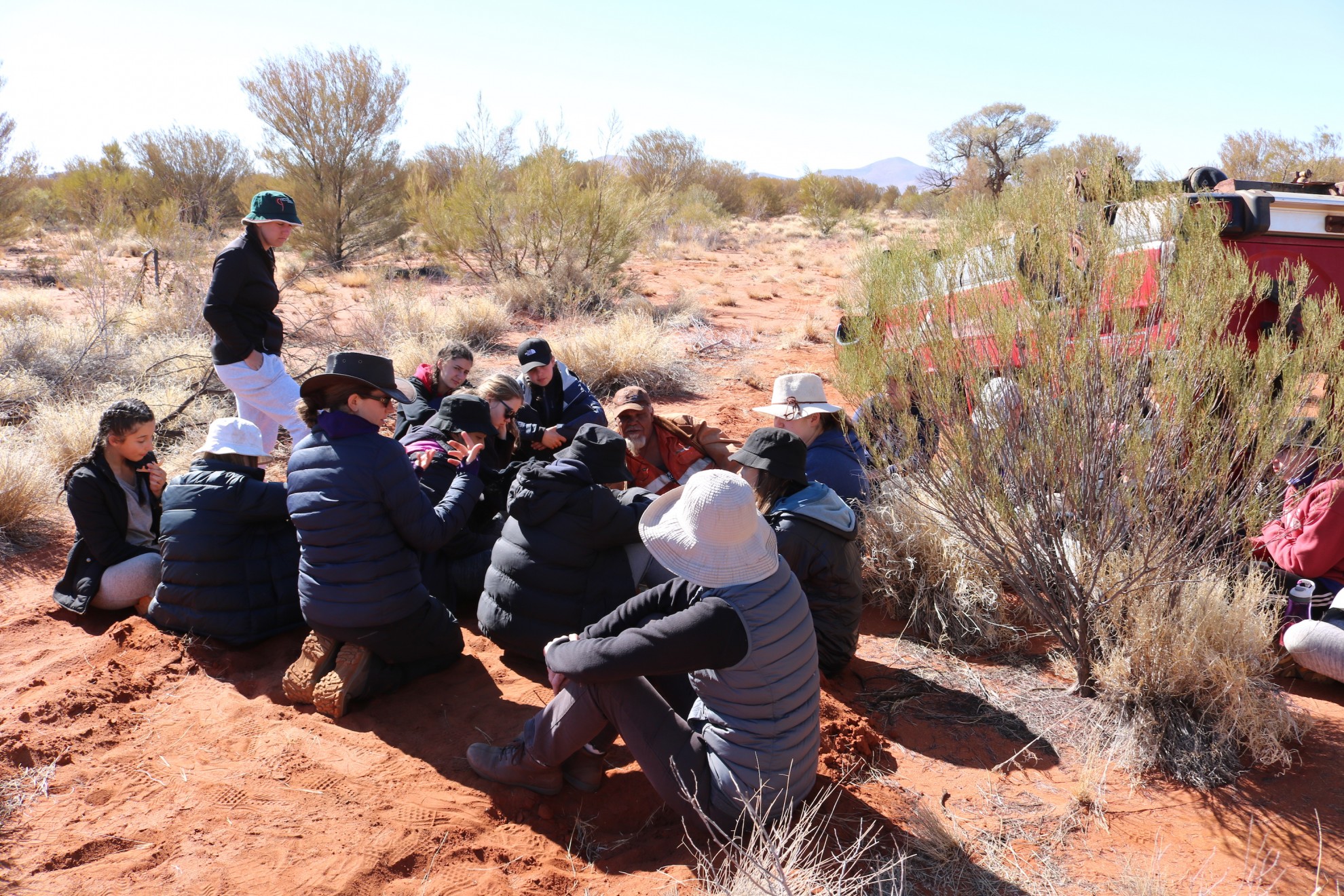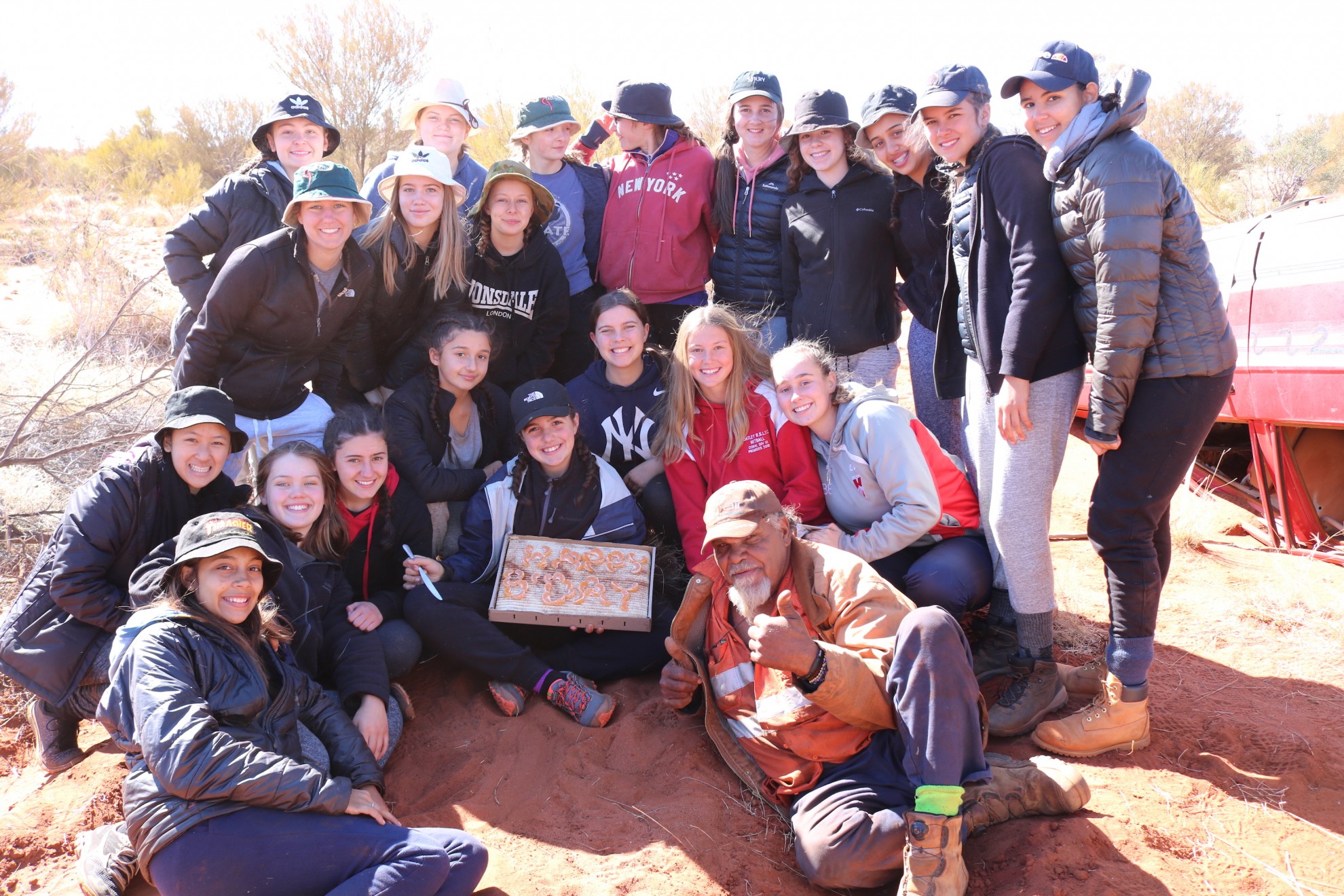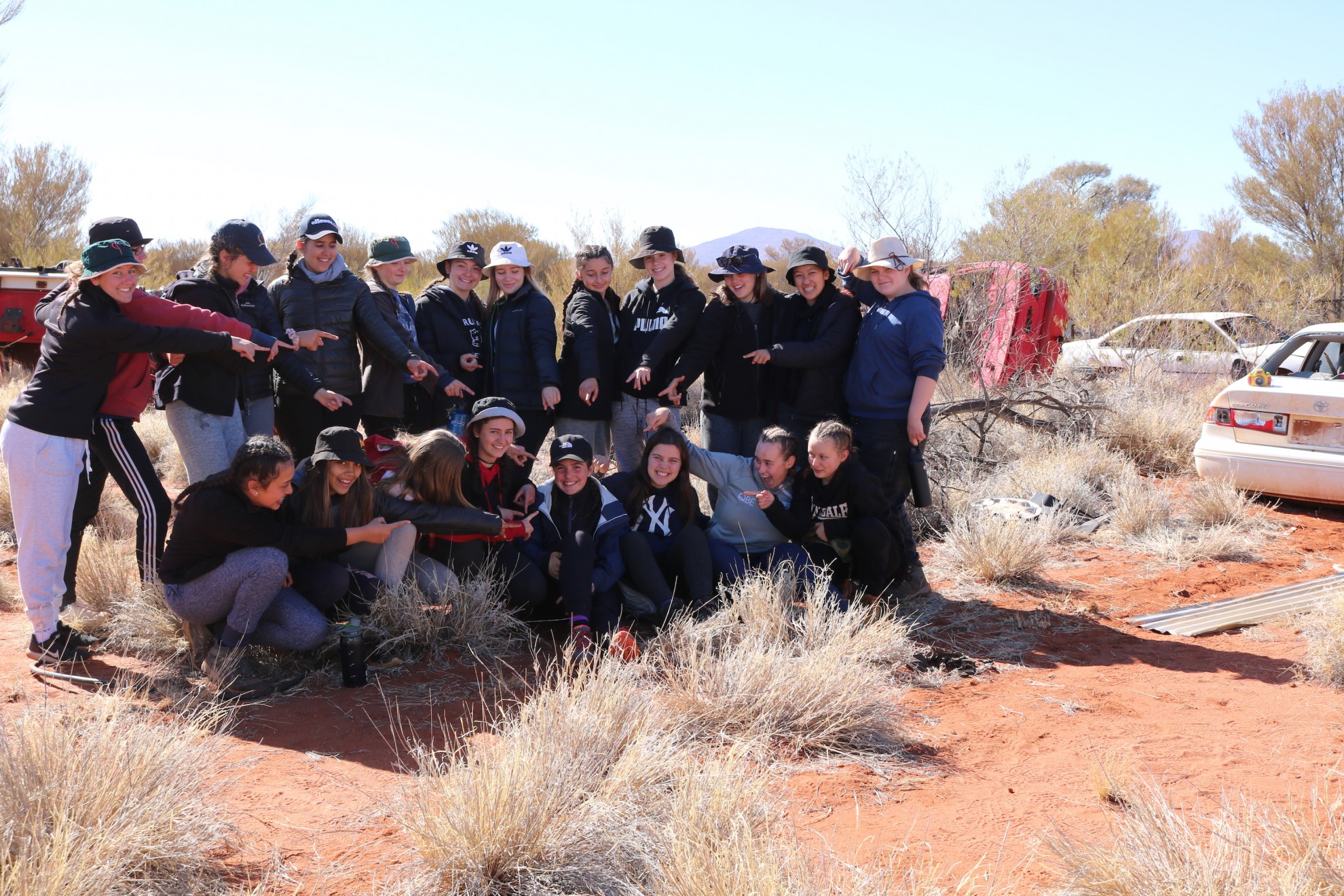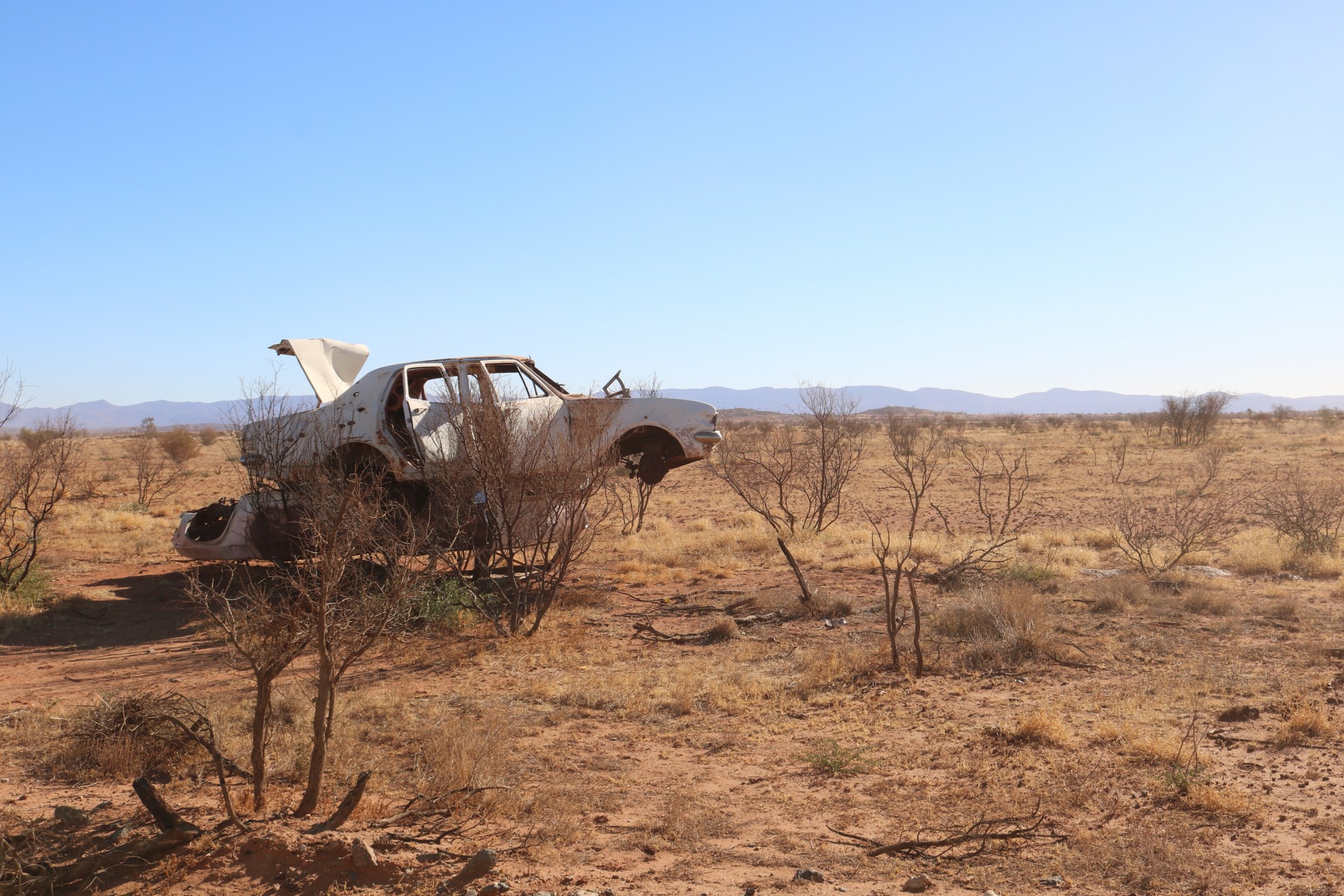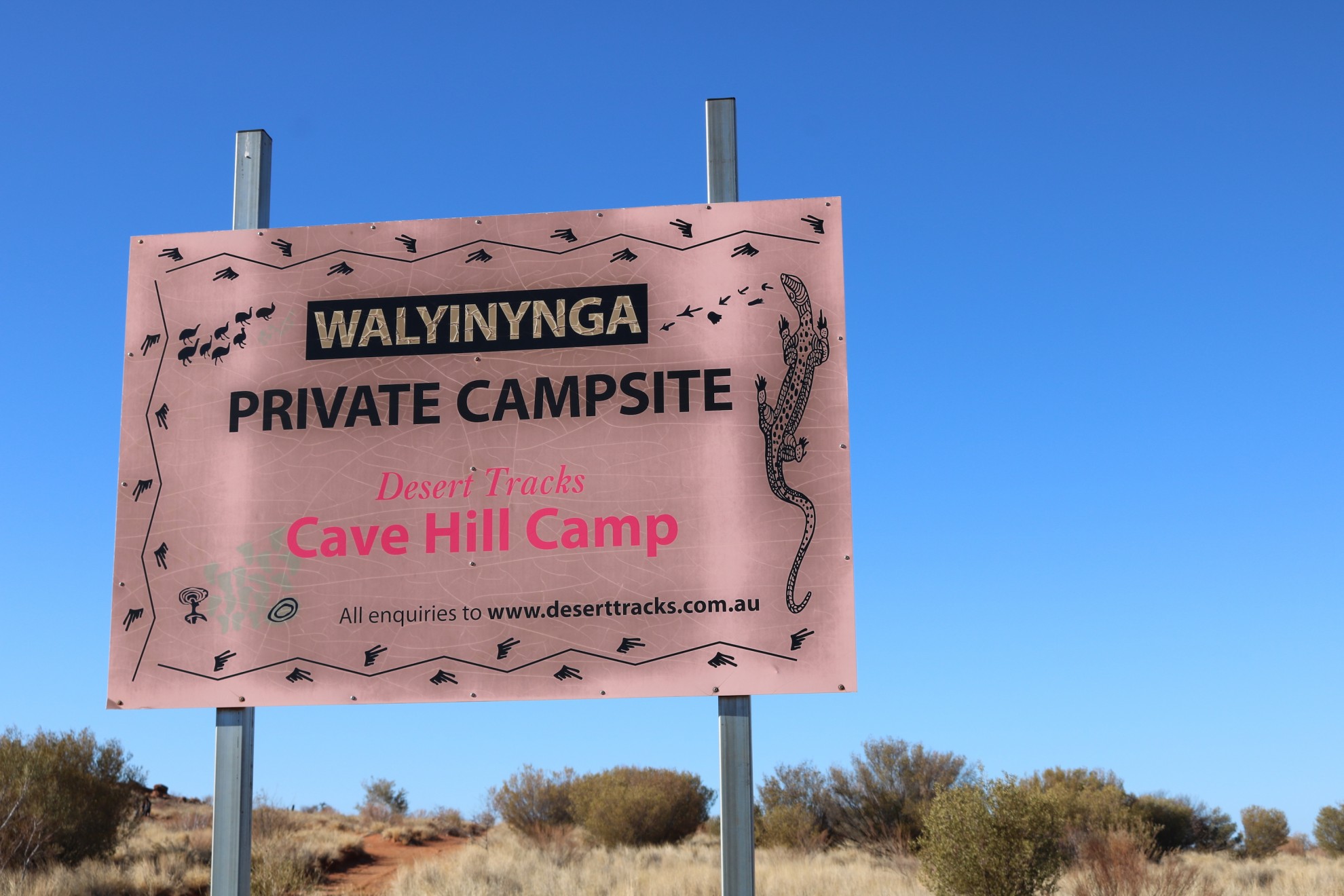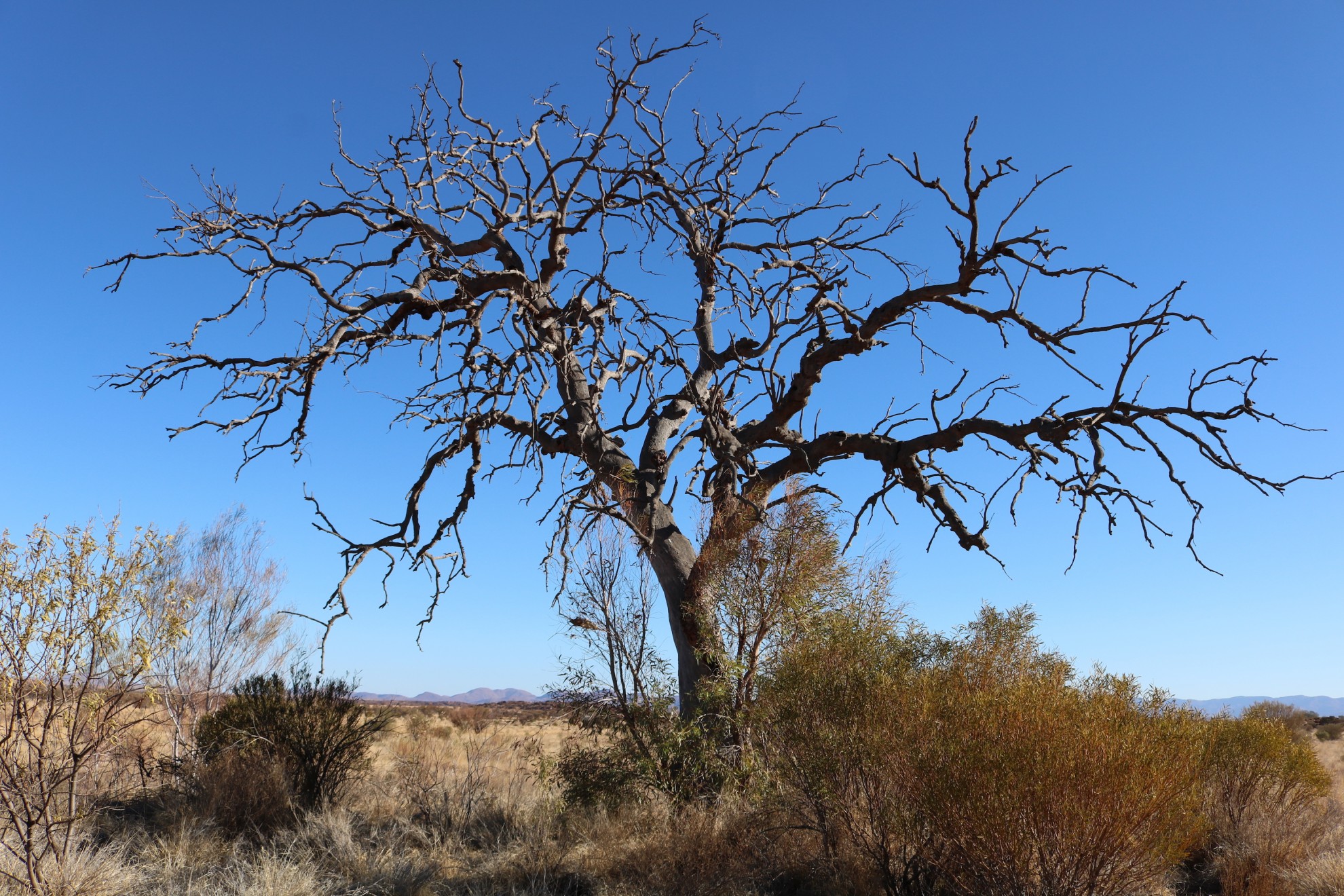 Day 9
We woke up early this morning to the sound of B2 waking us up for the sunrise. He led us through the campsite to the lookout. As we got there, the sunrise portrayed vibrant colours of pink and orange. We watched as the sun slowly rose, resulting in Uluru changing its colour. We then got ready for our last day here, packed up and ate our last breakfast. We then drove back to Uluru, and walked around another part of the rock, while listening to the stories connected to the different caves and water holes there. 
We drove around to the far side of Uluru and sat on a low part of the rock. Monica told us to lie down with our ear to the rock so that we could hear Uluru at the heart. This was when we parted with Uluru and drove to Walkatjara art centre which is owned by the Anangu people. There we walked around and looked at the beautiful paintings and carvings with Aboriginal symbols on them. 
It was then time to get back on the bus and drive to the airport. After we checked in we gathered in a circle with Lee, Stanley and our guides to say goodbye and thank you for the amazing experience we have had over the past nine days. After our final goodbyes and hugs we were all very emotional and teary as we did not want our immersion trip to end, however B1 told us a way that we can reconnect with the land when we are missing it and that is to go outside and hold our clapping stick high in the air and the red sand will hear our call.
Although our time in Central Australia has come to an end as Lee says, it's never "goodbye", it's always "see you soon".
Palya Central Australia 
Lauren, Cate and Jasmine R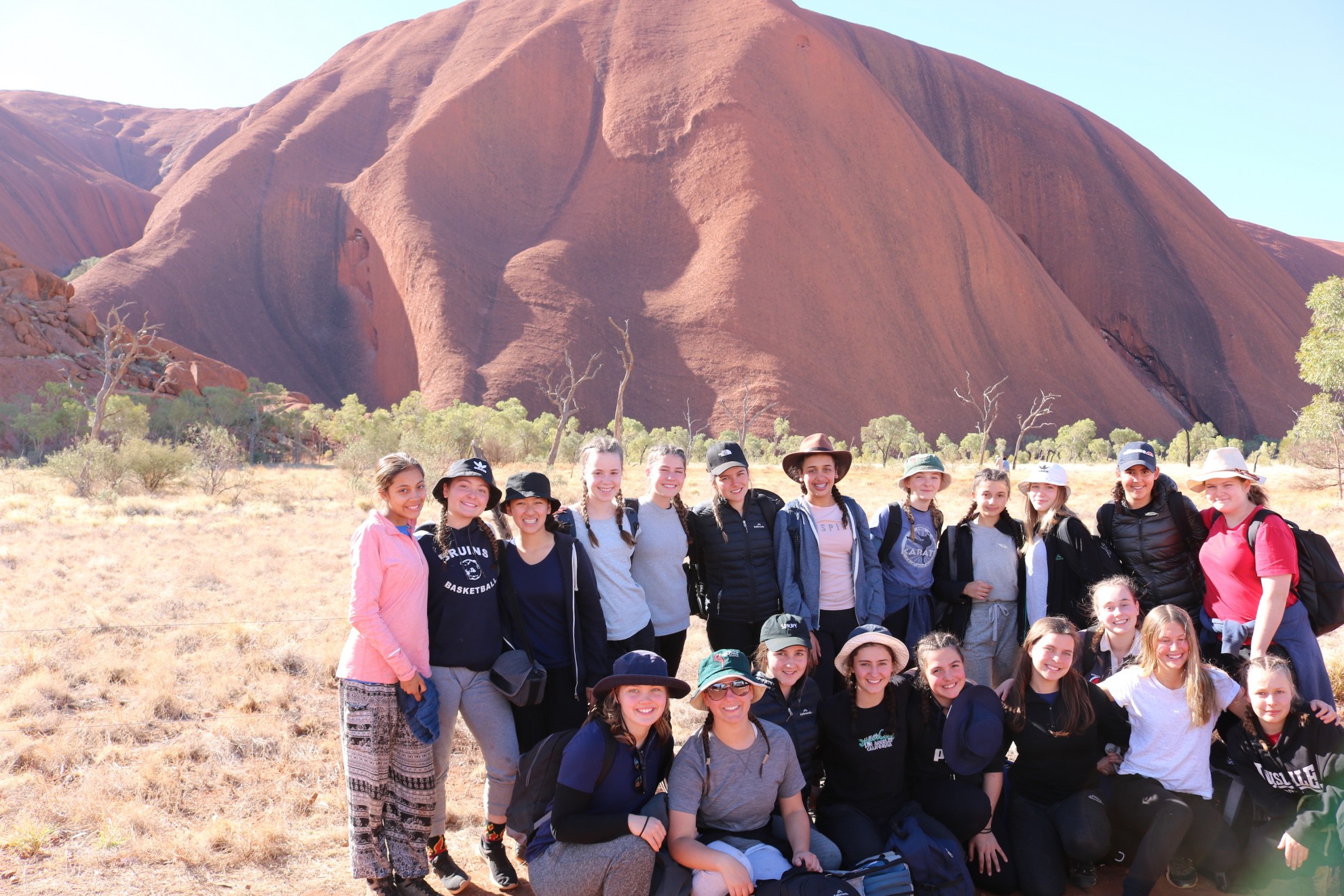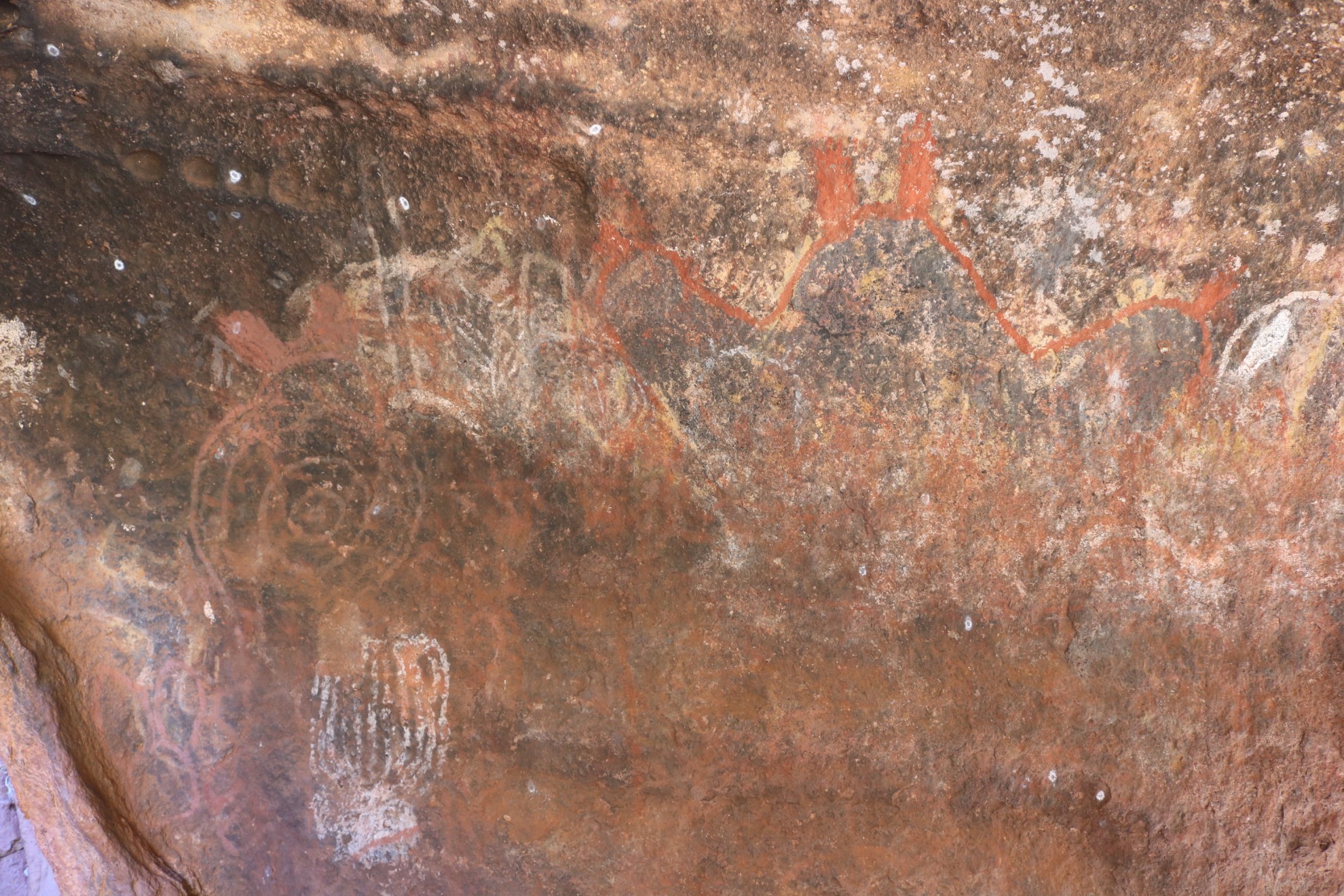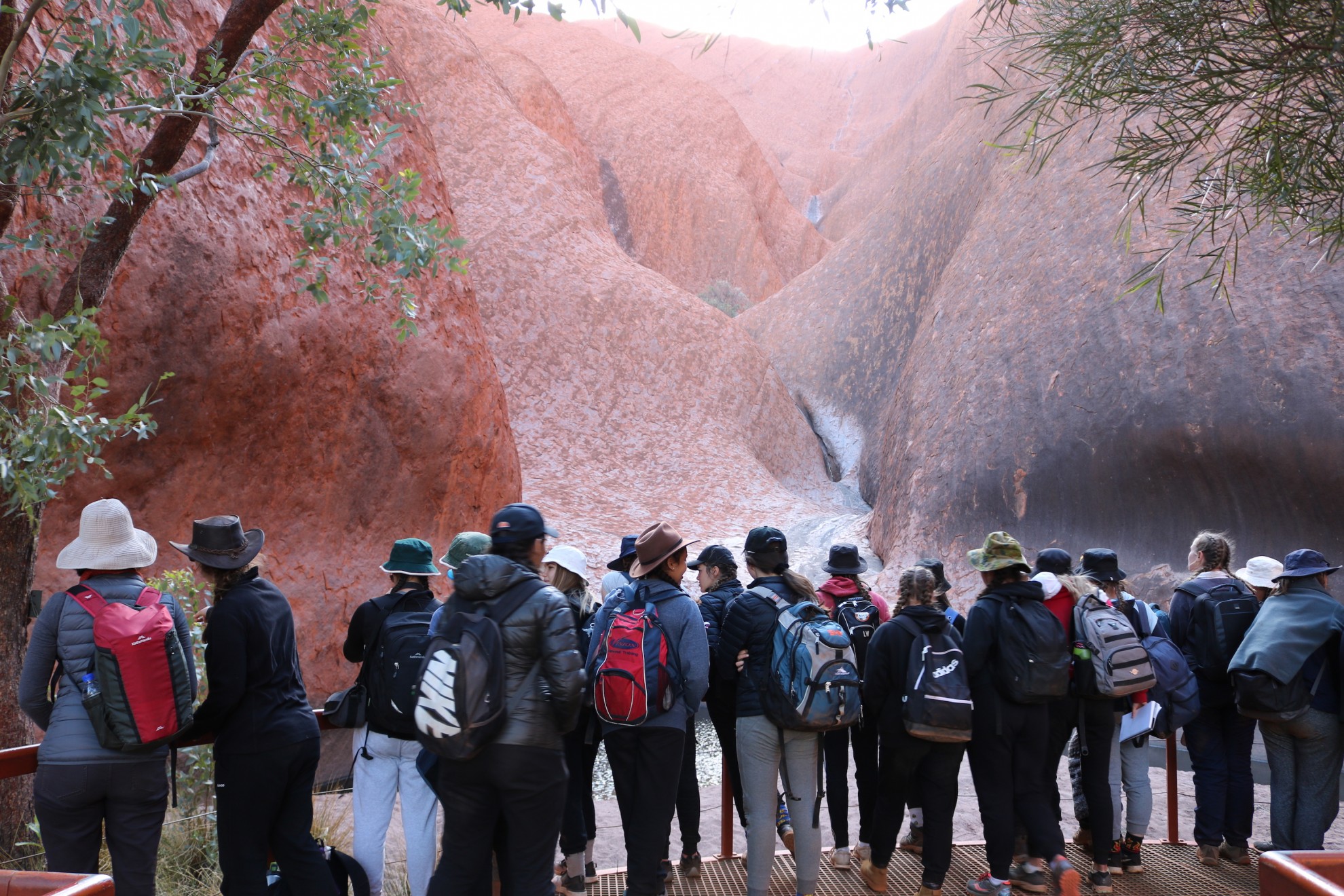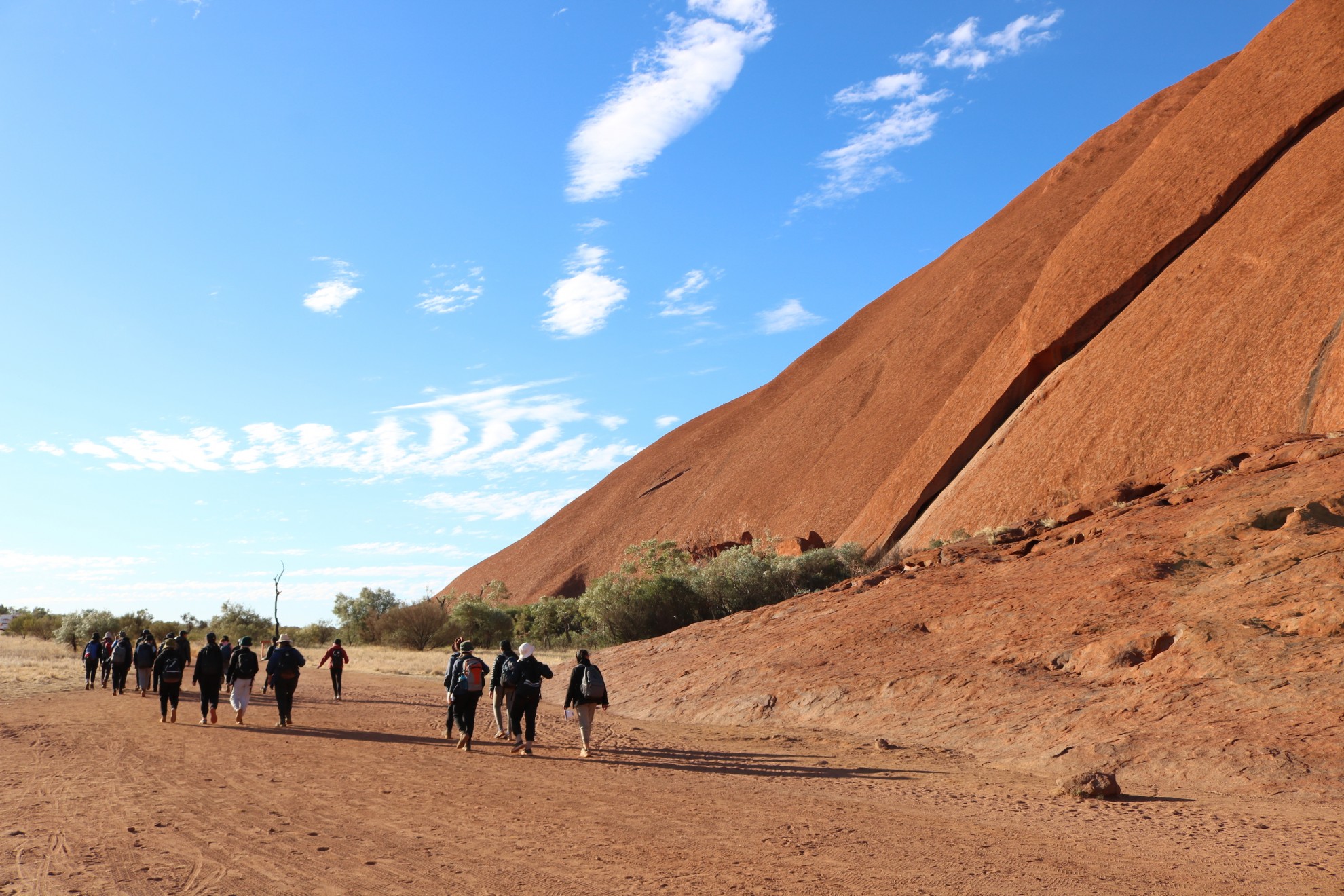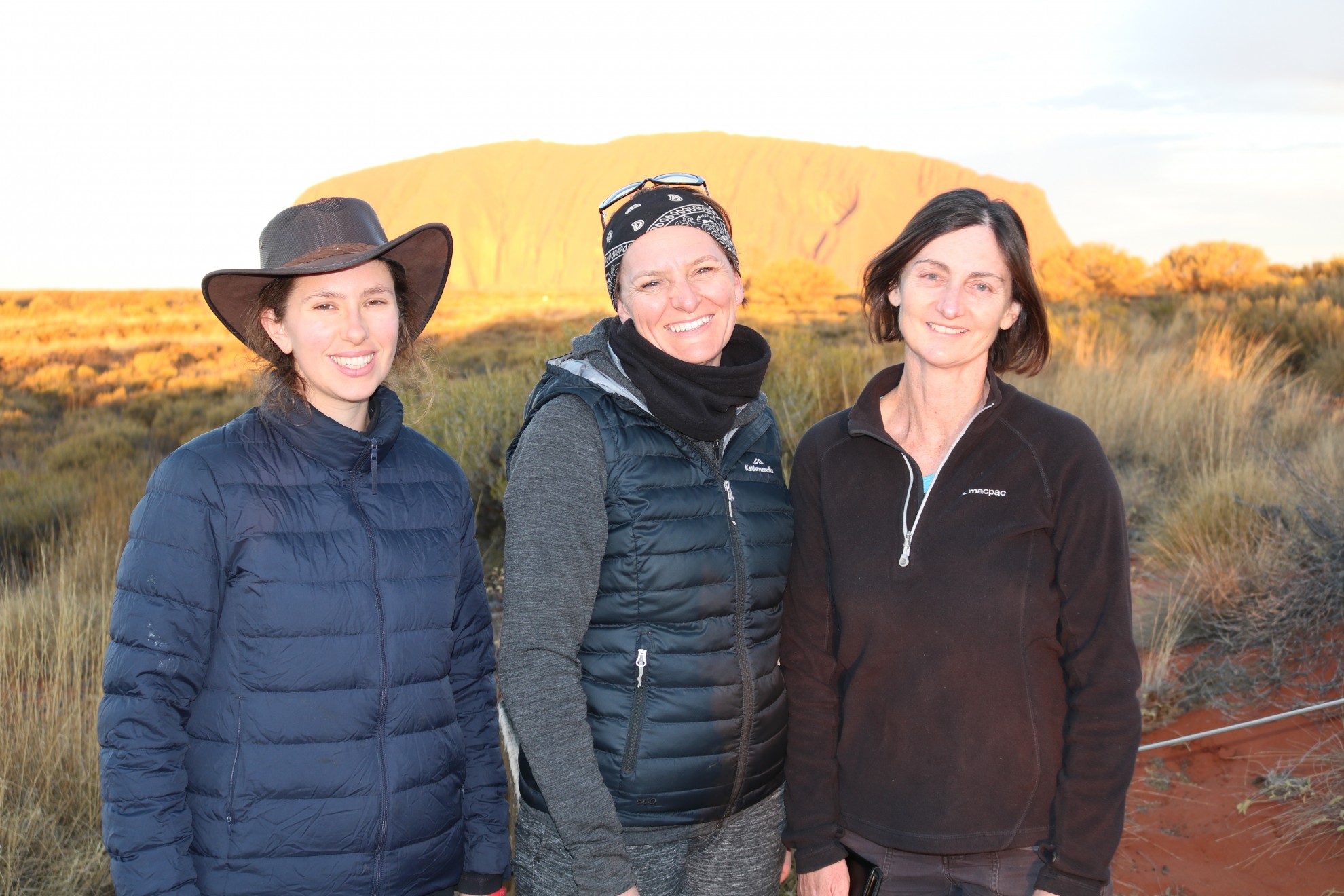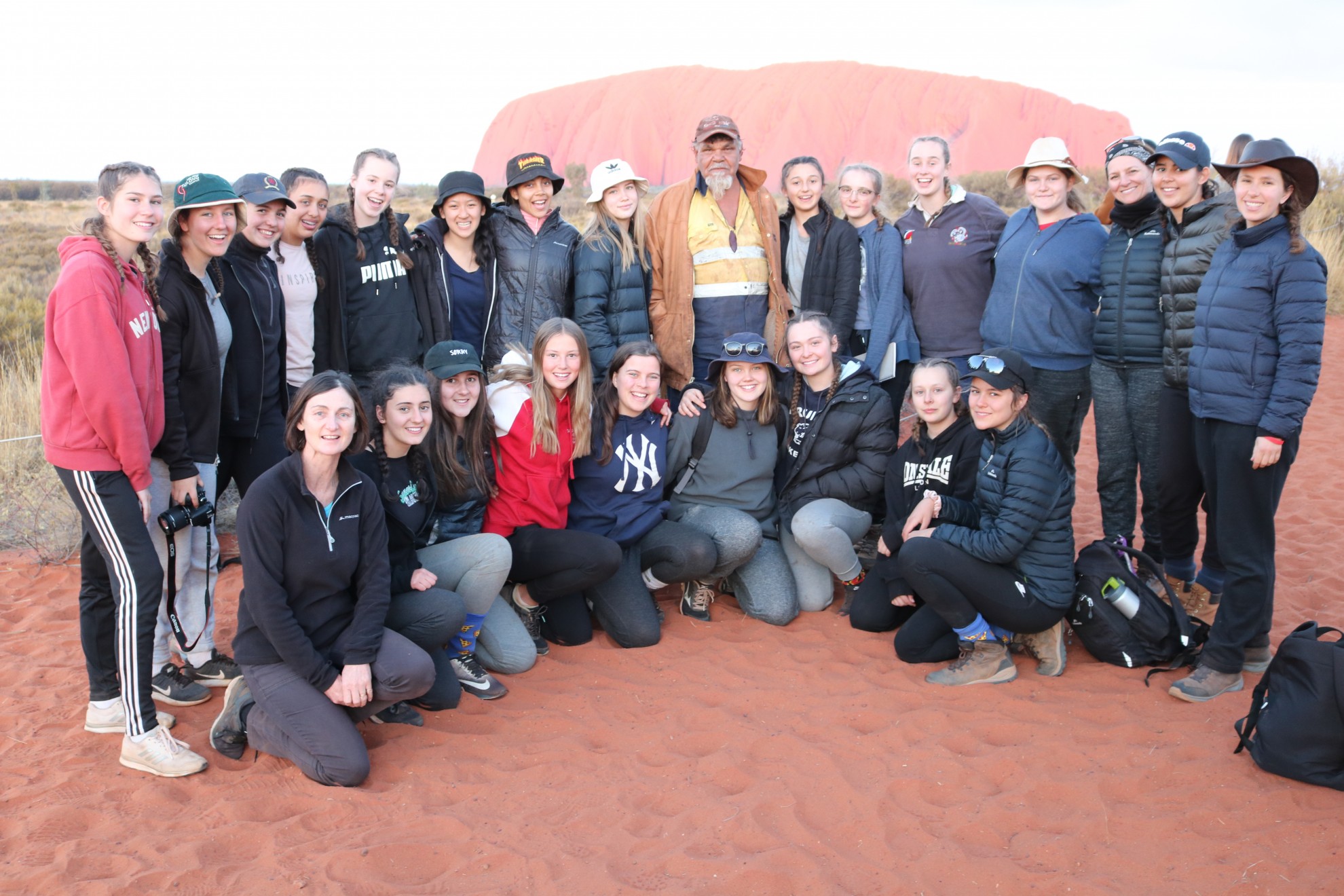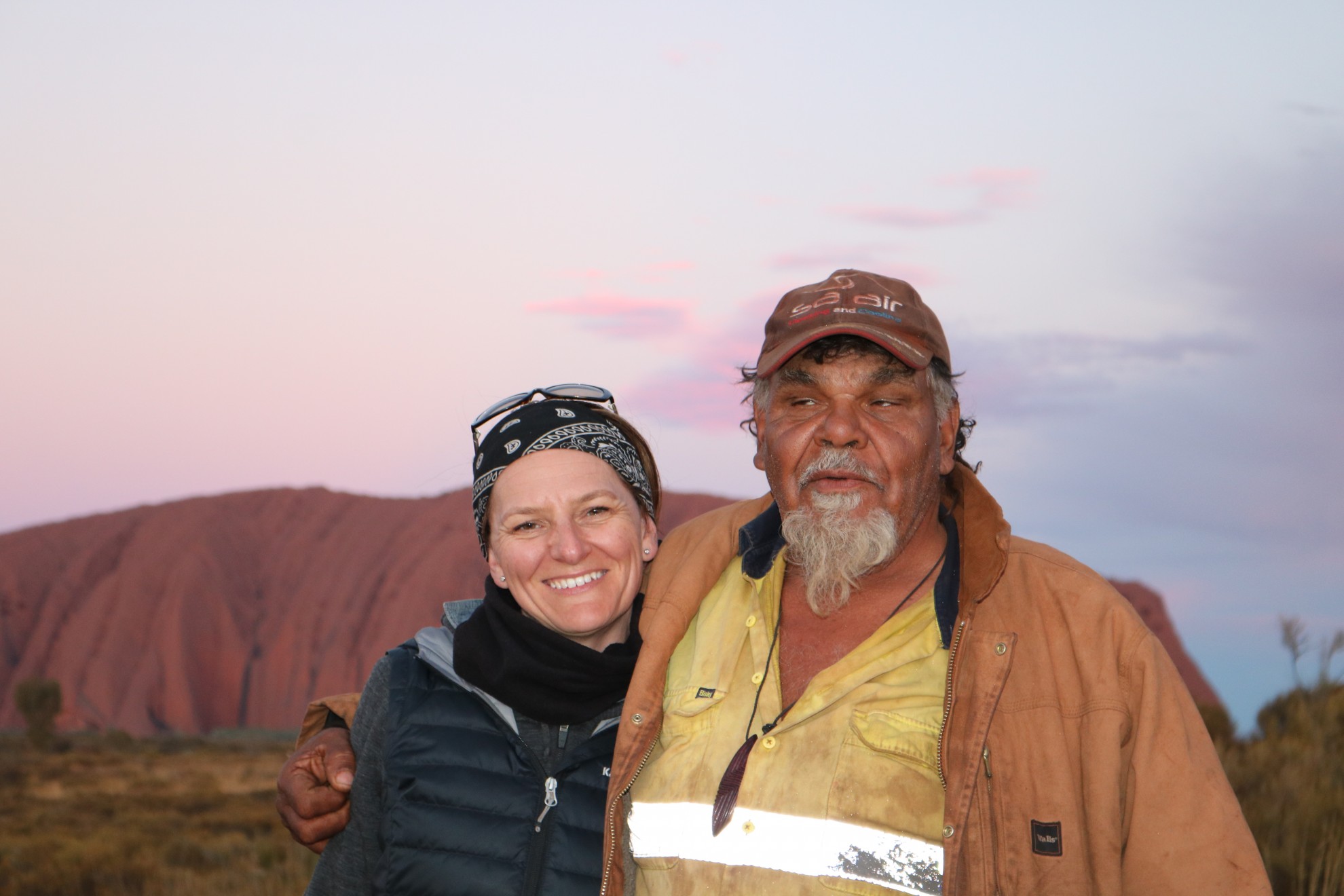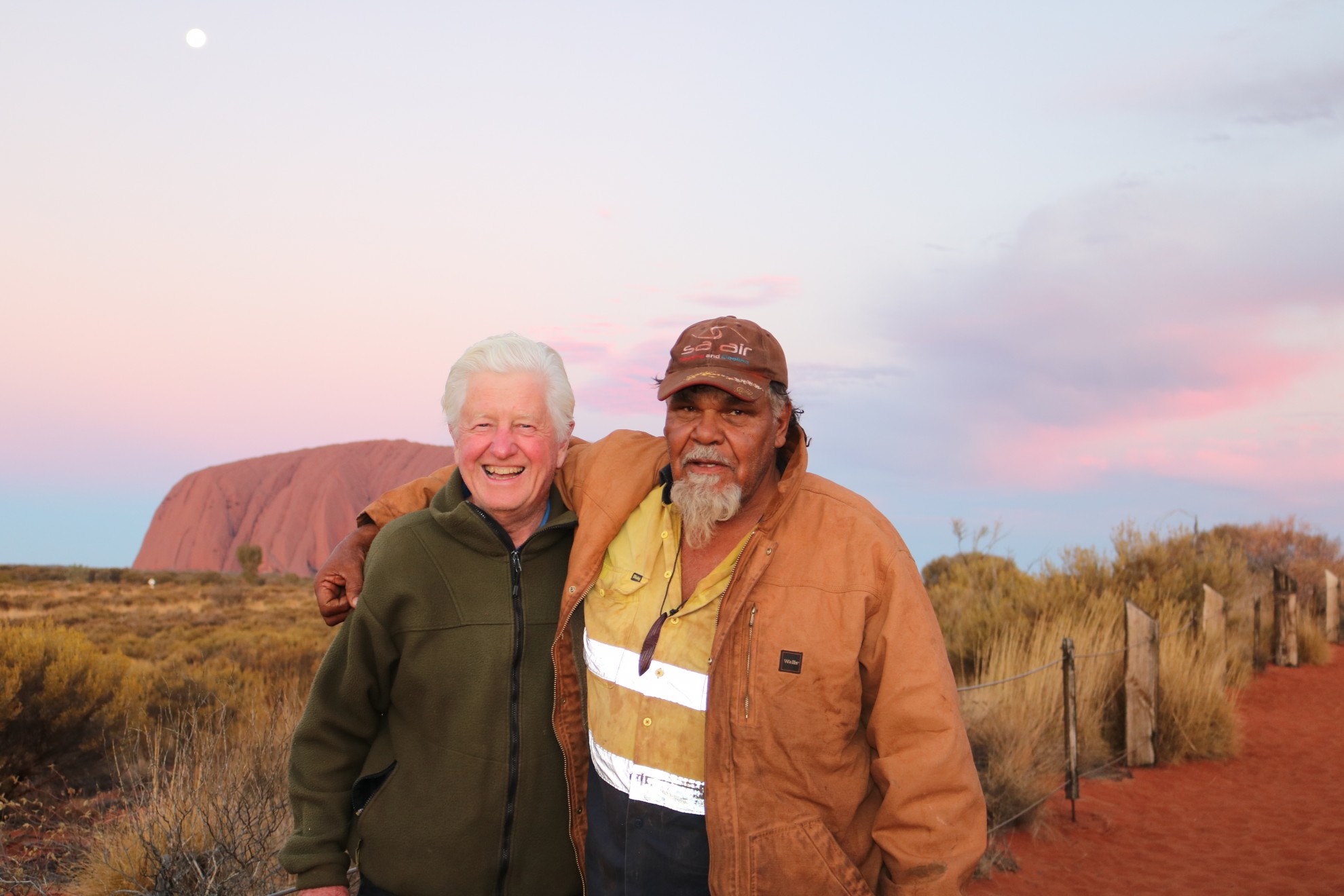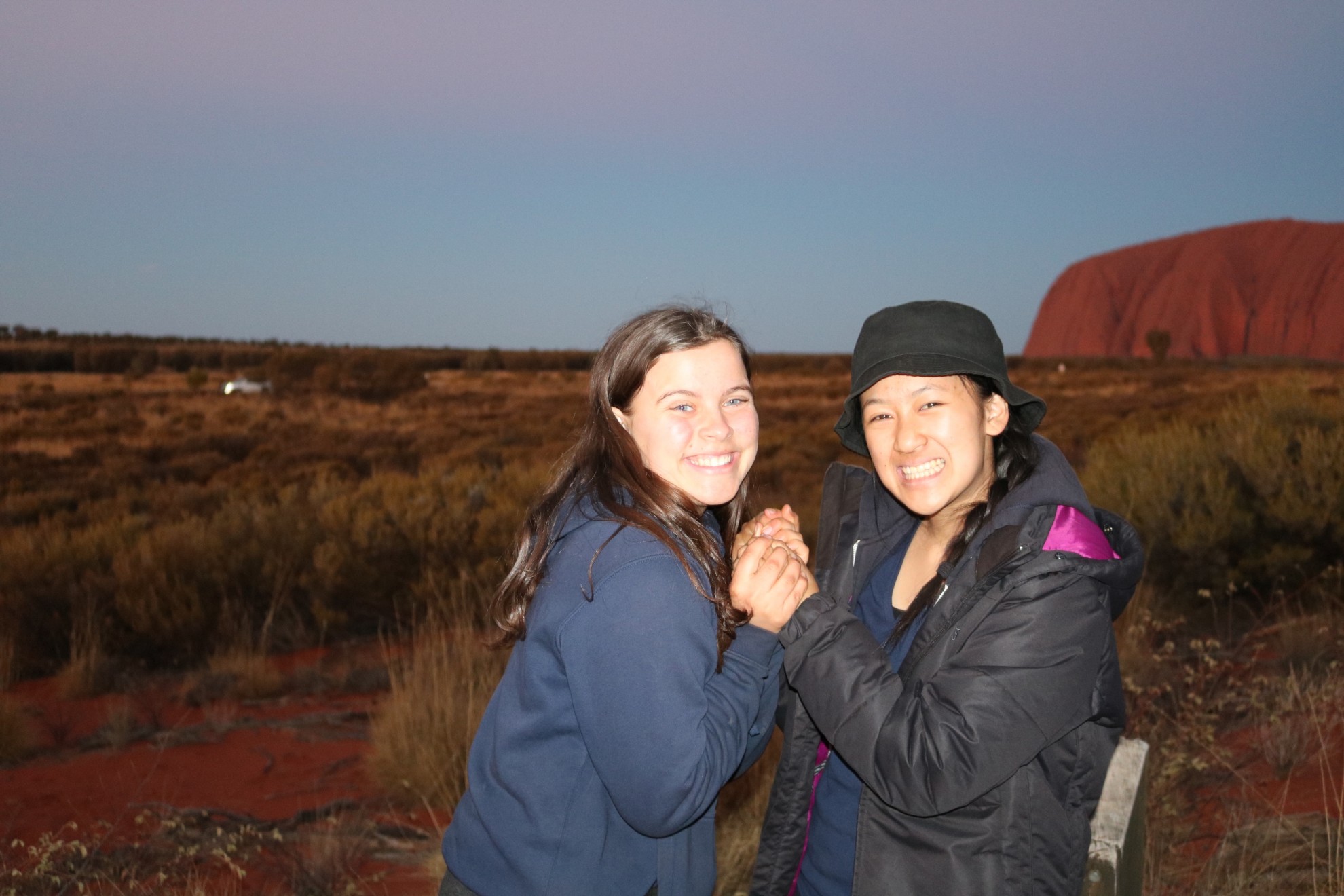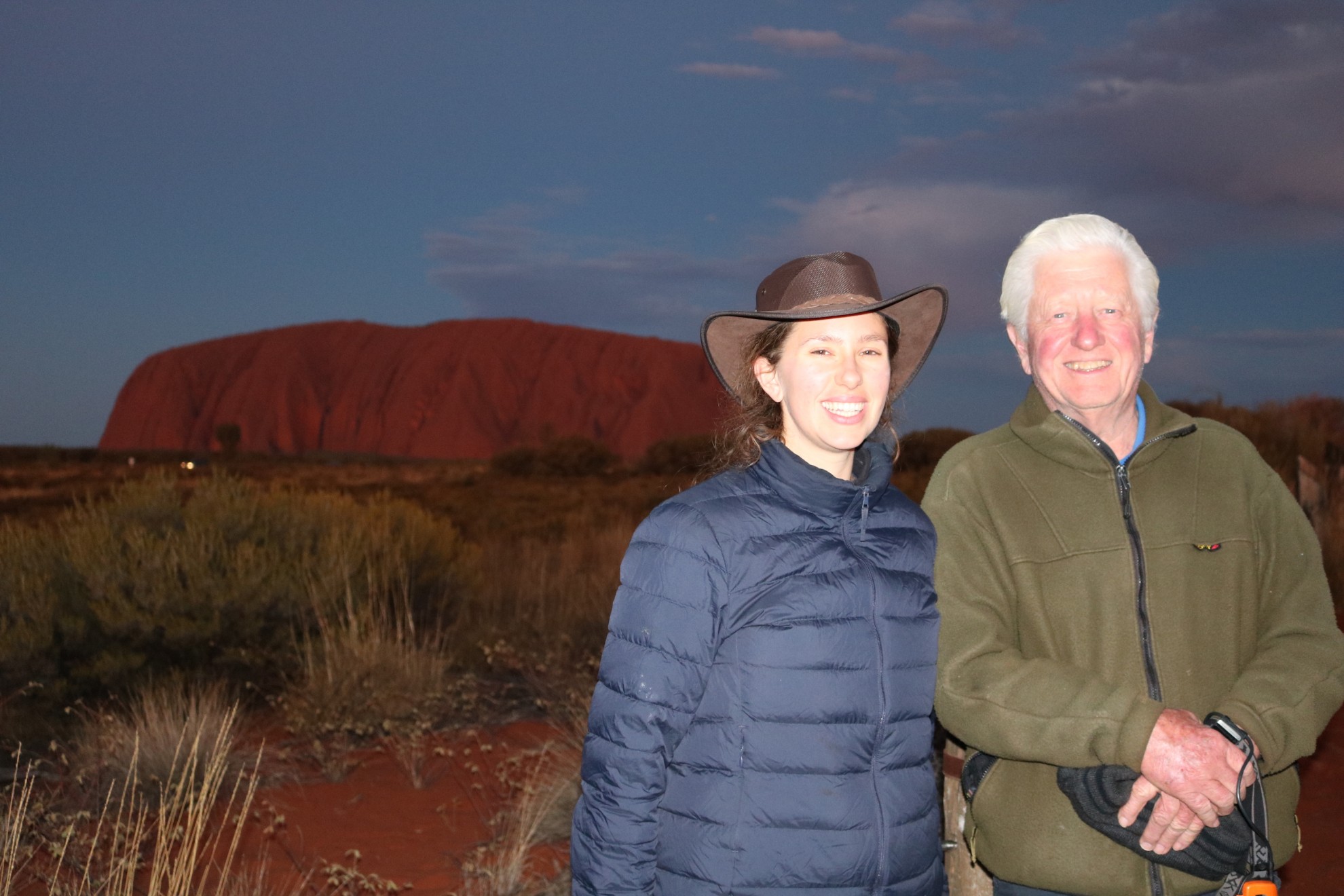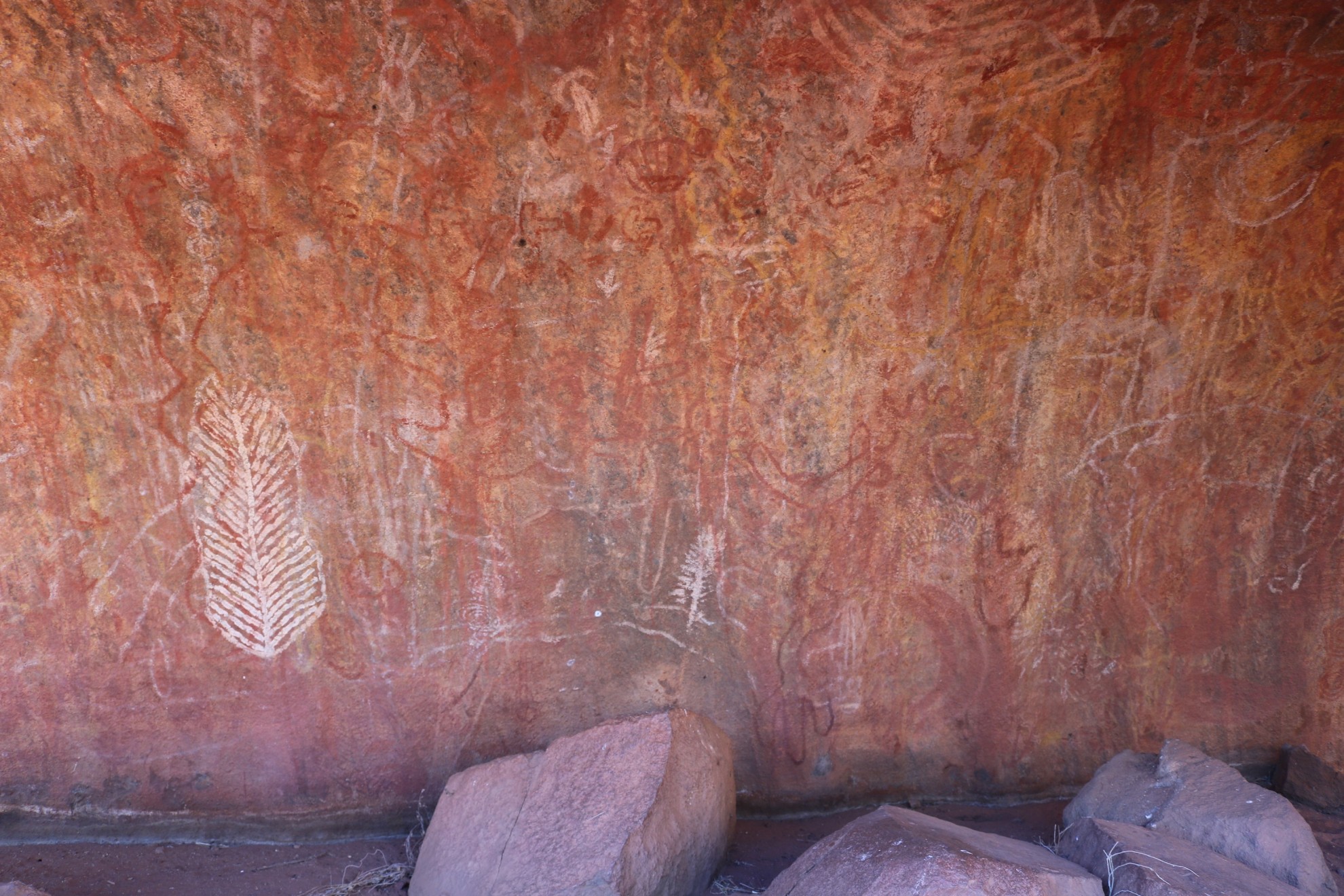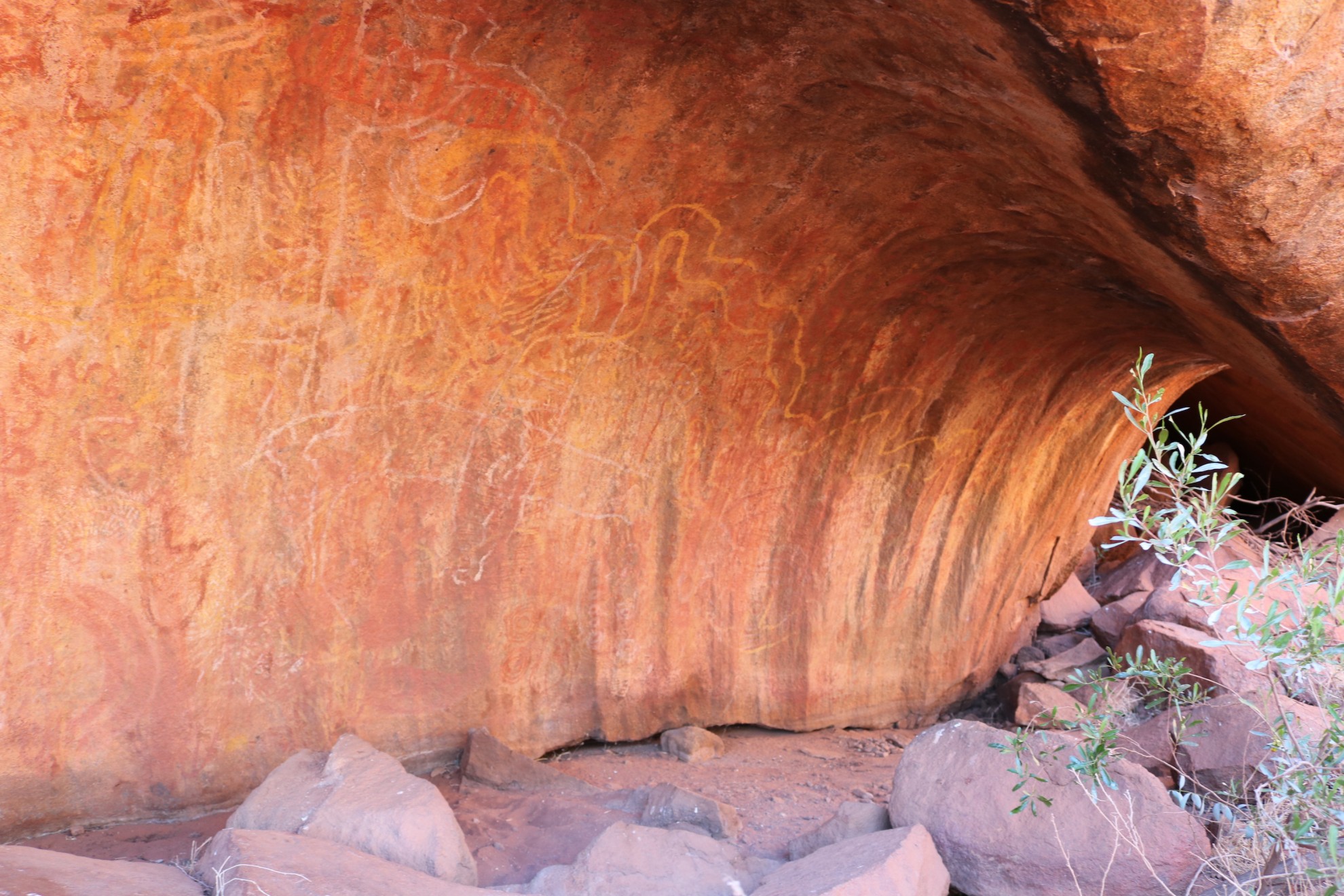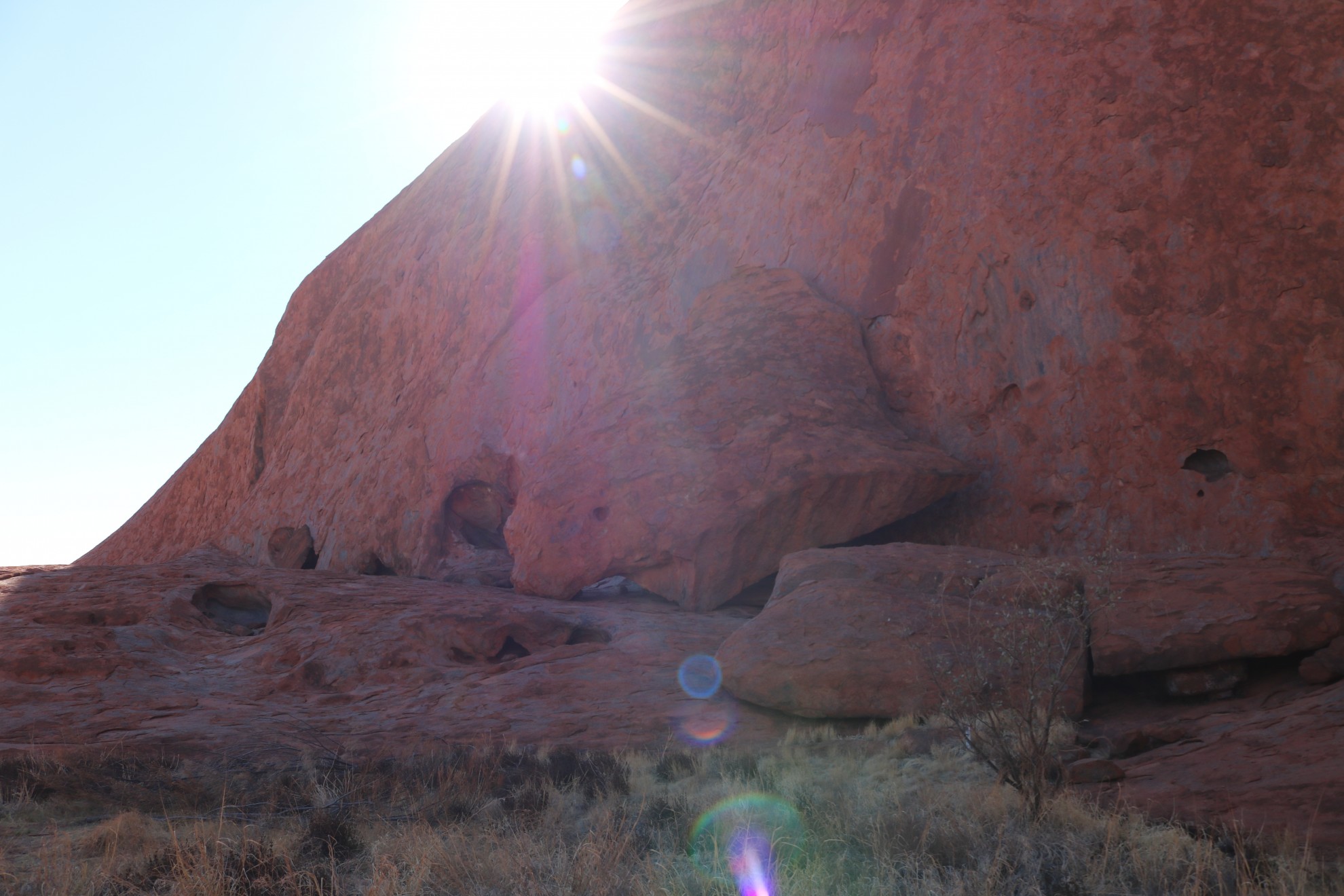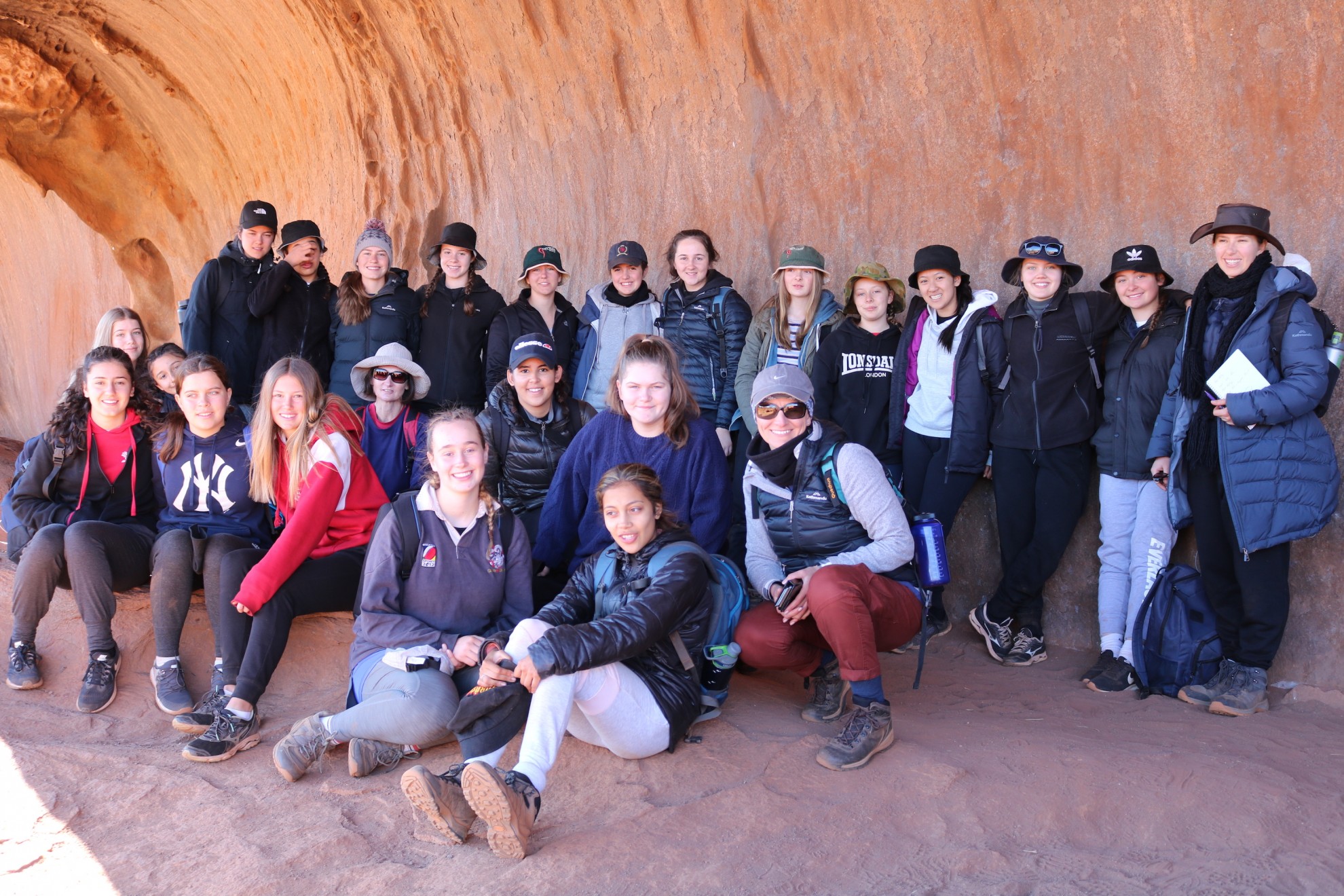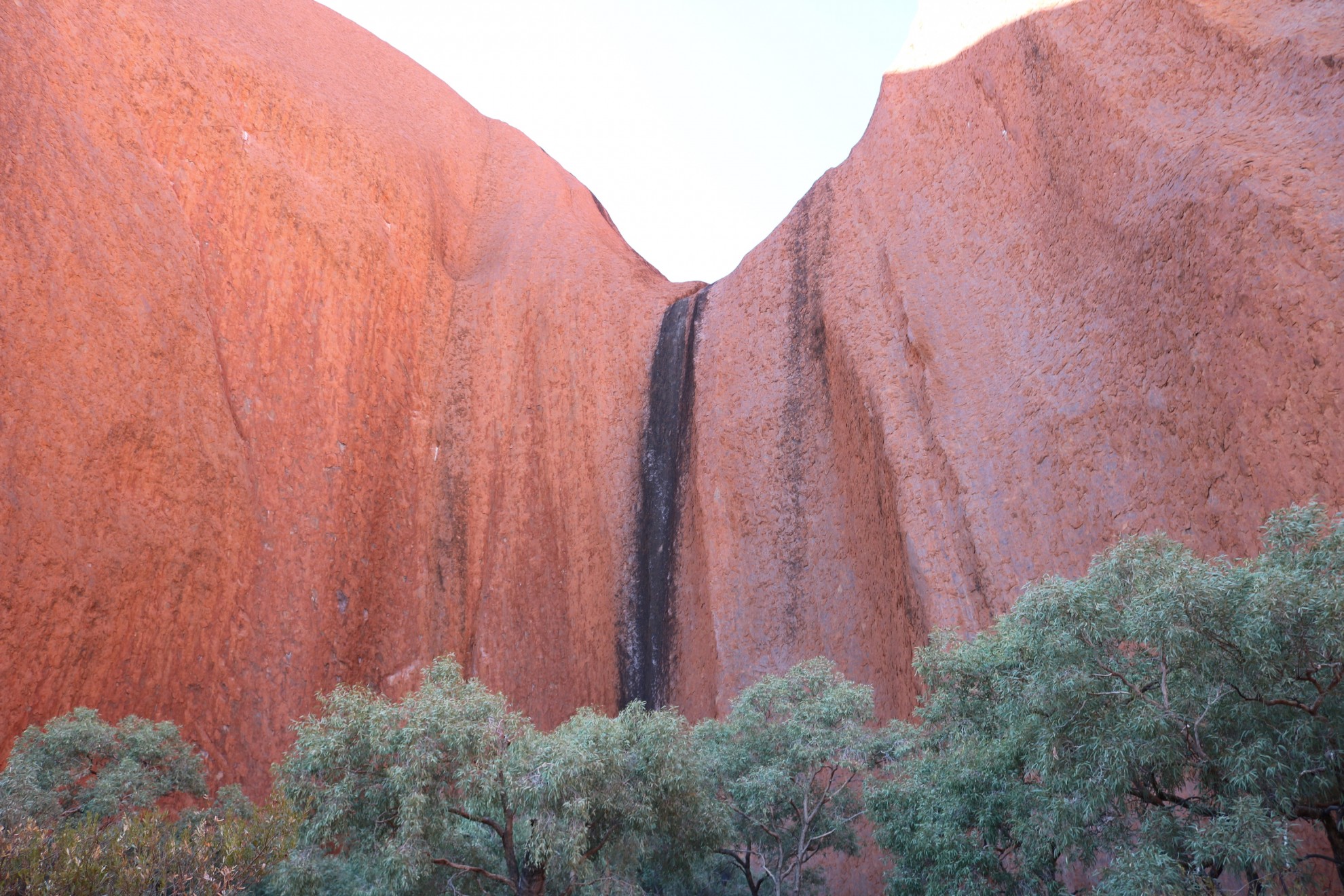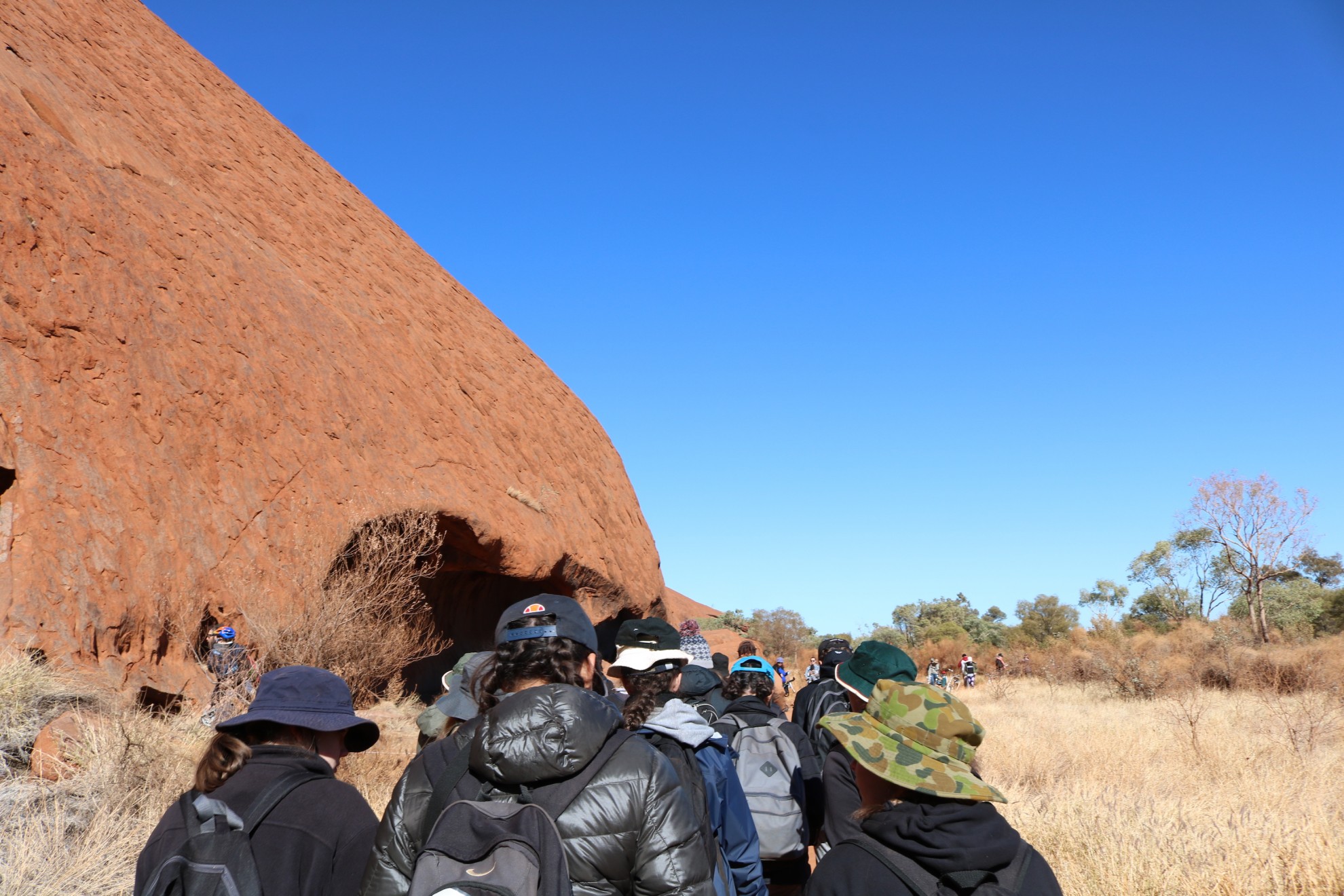 Day 10