The launch of Dominican Education Australia (DEA) will take place at Santa Sabina College on Thursday 18 August. In February Sister Judith Lawson OP wrote to families, staff and students explaining the establishment of DEA. I've included the following extract from that letter:
'Almost 150 years ago the first Dominican Sisters travelled to Australia from Ireland and England to begin their apostolate of education among the youth of this country at a time when Catholic schools were being established in cities and towns across the different states. Much has happened in the intervening years. The schools have grown and flourished while the Sisters have continued to respond with initiative and dedication to build on the early foundations. We have been supported by colleagues who have joined us in fostering our Dominican vision and goals.
Now a new era has arrived. Three Congregations, the Dominican Sisters of Holy Cross Congregation (Adelaide), the Dominican Sisters of North Adelaide and the Dominican Sisters of Eastern Australia have collaborated to petition the Holy See in Rome to establish a new entity, Dominican Education Australia. DEA will take leadership of the governance of the educational ministries currently the responsibility of the Trustees of the Dominican Sisters. Our Sisters recognise the importance of this new beginning and are confident that the values and ethos of our Dominican schools will continue to be fostered and enhanced through the new Trustees, our School Boards and dedicated staff'.
This Thursday's launch marks the formal handover of the governance of Santa Sabina College, St Lucy's School Wahroonga, and The Catherine Sullivan Centre to DEA, and will be marked by a liturgy with representatives from each of these entities.  I will also be attending the launch of the DEA at Siena College Melbourne next week. These launches usher in a new phase in the story of Dominican Education in Australia and suggest a future where all of the Dominican ministries involved in DEA will be drawn towards a closer unity. We welcome visitors from St Mary's College Adelaide to Santa Sabina College this Friday.
It is with great pleasure that I announce the new College Leaders for 2016-17, and acknowledge all of those students who were nominated, and who have demonstrated great leadership capacity. The new College leader is Karina Tjeuw, and Deputy College Leader, Bernadette Calavassy. The new SRC leaders are Mia Brooks and Kaitlan Merhi. Congratulations to our incoming new leaders. We have an ongoing process for the election of elected House leaders and Committee leaders, and will announce them over the next couple of weeks. We look forward to acknowledging the dedication and service of our outgoing leaders at the College Assembly on 8 September.
National Science Week has been celebrated in a very special way at Santa Sabina with our inaugural STEM (Science, Technology, Engineering, Mathematics) Conference. The Year 10 STEM@SANTA for a better future conference was an opportunity for our students to understand the importance of being scientifically literate and curious about how their world works. The day was highlighted by keynote expert speakers including Dr Alex Bannigan, Women in Engineering Manager UNSW, Dr Christie McMonigal, Faculty of Science UTS, and Dr Jennifer MacRitchie UWS who spoke about how Music and Science actually work together. Our students were involved in workshops where they made a bionic hand, solved traffic flow problems, worked with robots, artificial hearts and other biomedical devices and even worked as part of a team in the forensic workshop to collect evidence from a crime scene. We had our very own Q & A that included past Santa Sabina students who are all involved in STEM careers; Margaret Lui (1998) Architect, Jacqueline Melvoid (2005) PhD in infectious disease and Ellese O'Sullivan (2003) Environment & Sustainability Manager.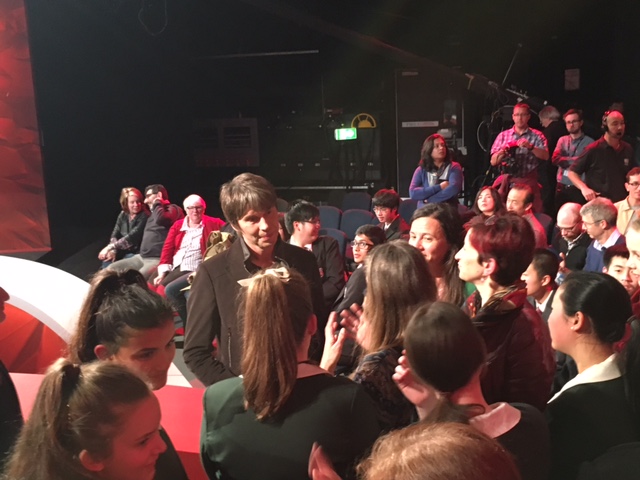 We then had a wonderful representation of Santa Students at the ABC's QandA program where Professor Brian Cox was one of the guest panellists. Three of our students – Anastasia Teese, Kaitlan Merhi, and Madeline Younes – asked intelligent probing questions of Professor Cox. As Ms Moira De Domeneghi, Head of Science, writes 'Our students had an amazing experience. Not only did they see and hear Science come alive but the opportunity to converse with Professor Brian Cox made their night a memorable one. We would like to sincerely thank Professor Brian Cox for his time, thoughtfulness and the encouragement that he offered our students. His words were very powerful and have struck a chord with our passionate Science students'.
It's important that students are confident about STEM from primary school onwards, so it is great to see our Year 5 students engaged in a unit of inquiry about robotics. In the students' own words, 'the purpose of this inquiry is to improve our knowledge of coding and our innovation skills. We have had to design and create a robot that either entertains people in an interesting and innovative way or improves the quality of life.' This Friday is Community Day at Primary School. It is an annual event which celebrates BookWeek, and brings learning and community together. The theme for 2016 encapsulates our sense of International Mindedness and global citizenship at the heart of both our College Mission and all IB Programmes. The community will gather to share stories of our indigenous heritage, our own family heritage and the heritage of others. Monty Boori Pryor, indigenous author and storyteller will also facilitate workshops with the students.
At this time of the Olympics in Rio, it is great to see outstanding sporting performances from Santa students. Congratulations to Stephanie Muirhead, Jessica Criss and Lara Muirhead who have each been selected to represent the NSW All Schools 15 Years and Under Volleyball Team that will be participating in the School Sport Australia Volleyball Championships 2016. We also have four Santa teams in the finals of the ERNA Netball competition. Good luck to all of those teams.
As we move forward as part of Dominican Education Australia, I offer this prayer for all members of our community – students, staff, parents and ex-students.
'When we get to the bottom of things,
reaching their very essence with our minds,
what we find is the inscrutable mystery of God's creative act…
Really to know something is to find ourselves tipped headlong
into a wonder far surpassing mere curiosity.' 
Simon Tugwell OP