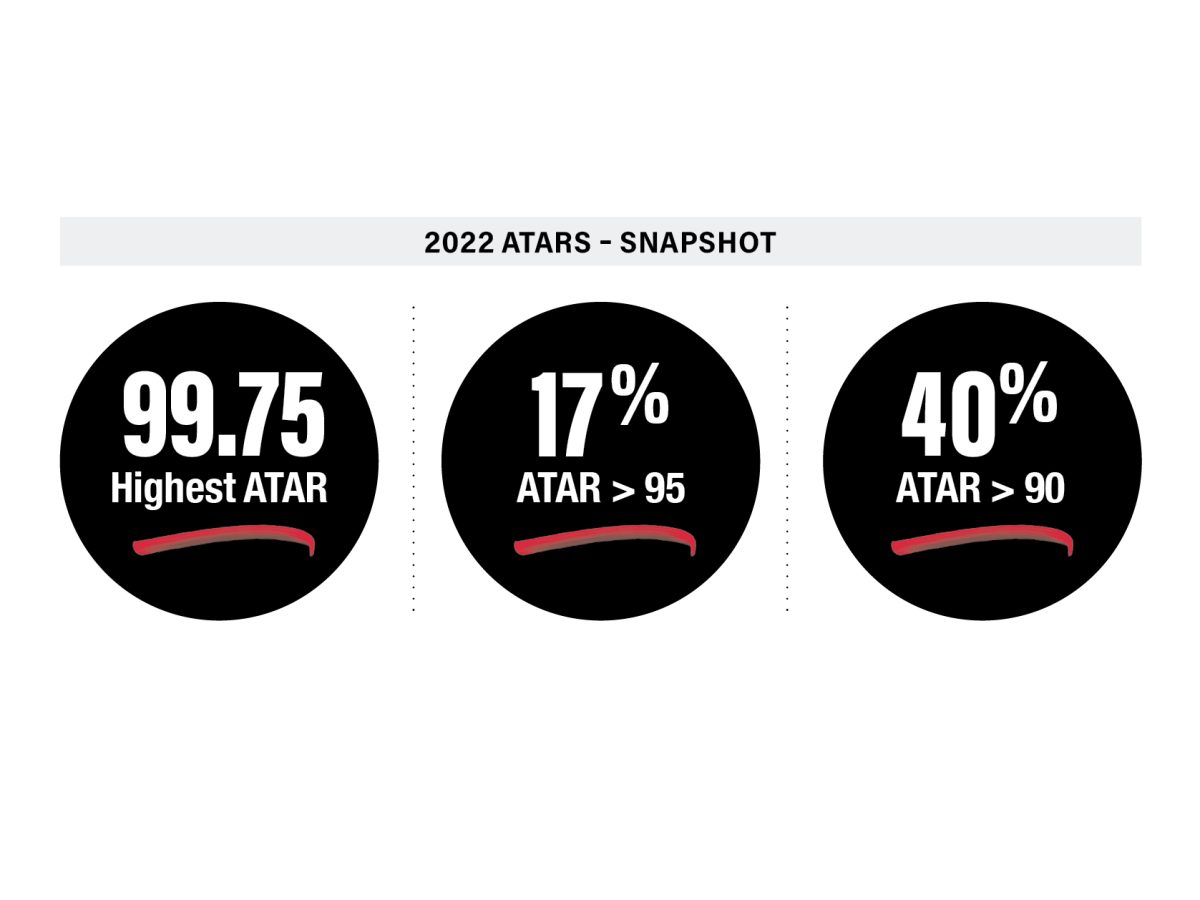 In 2022, 124 students from Santa Sabina completed the HSC and IB Diploma courses and in addition, 23 students studied individual subjects in a pathway or accelerated program. They have also shaped the world around them with their pursuits and passion for music, national and international sport, the arts, technology, sustainability, community and philanthropy.
We recognise the commitment these students made right up until their examinations. They worked collectively to support each other, sharing resources and participating in study groups and holiday workshops. For some of these students, the learning began 16 years ago in Mary Bailey House. They have been taught by many teachers over that time and it is important to recognise the impact the teaching and support staff have had on their growth and development. These students received an unprecedented number of university early entry offers this year. We are confident these students will go on to innovate, create and shake the world.
HSC
Santa Sabina students appeared 147 times on the NESA Distinguished Achievers lists in 32 courses, with many students being recognised for more than one subject.
● Santa Sabina was ranked 56th in the state by the SMH with a success rate of 23.7%. This is an improvement on last year's results. The mean ATAR increased in 2022 to 81.54.
● Sixty percent of the HSC cohort achieved at the highest levels with a Band 6 or an E4.
● Stand-out performances were recorded in our TAS and Music faculties with 100% of students achieving Band 5 or 6 results in six out of seven courses, and all students in Music Extension receiving an E4 result. In our Design and Technology classes, 72% of our girls achieved a Band 6 compared with 13% of the state and our Chemistry students challenged national trends for girls in Science with more than 89% achieving a Band 5 or 6 result in Chemistry.
● Our students also gained outstanding results in Visual Arts, Languages, Mathematics and the Humanities. We also saw continued excellence across a range of courses showcasing the diversity of our success.
● An increased number of students were nominated for showcases in HSC projects. In Design and Technology 10 students were nominated for SHAPE, in Music three students were nominated for Encore, in Dance one student was nominated in two different categories for Callback, in Visual Arts four students were nominated and three students were selected for ARTEXPRESS.
● In the HSC course at Santa Sabina we offer a diverse range of extension subjects for our students to dive deeper into the skills and knowledge of a discipline. For extension subjects, the highest rank is an E4. Exceptional results for our extension subjects included English 2 with 100% of students achieving an E3 or E4, Mathematics 2 with 100% of the cohort achieving an E3 or 4, Music Extension with all candidates achieving an E4, Japanese with 100% of the cohort achieving an E3 or 4, and History with 100% of the cohort achieving an E3 or 4.
● Fourteen courses saw an improvement in the school versus state average and 15 courses had an increase in the percentage of students achieving a Band 6 compared to 2021.
●  There was a marked improvement from 2021 in the number of Year 11 Accelerated students achieving a Band 6 in one or two of their subjects.
HSC Showcases
Selections and Nominations
SELECTED FOR ARTEXPRESS (Visual Arts)
Natalie Bridge
Lara Nero
Charlie Sofy
NOMINATED FOR ARTEXPRESS
NOMINATED FOR SHAPE (Design and Technology)
Francesca Banzon
Molly Barry
Paige Beynon
Saarah Dewhurst
Anya Francis
Brooklyn Hill
Isabella Incampo
Amelia Nicotina
Shantel Ouy
Luisa Uzelac
NOMINATED FOR ENCORE (Music)
Charlotte He
Victoria Kim
Julia McGann
NOMINATED FOR CALLBACK (Dance – studied externally)
Zara Renel – Core Performance
Zara Renel – Major Study Performance
IB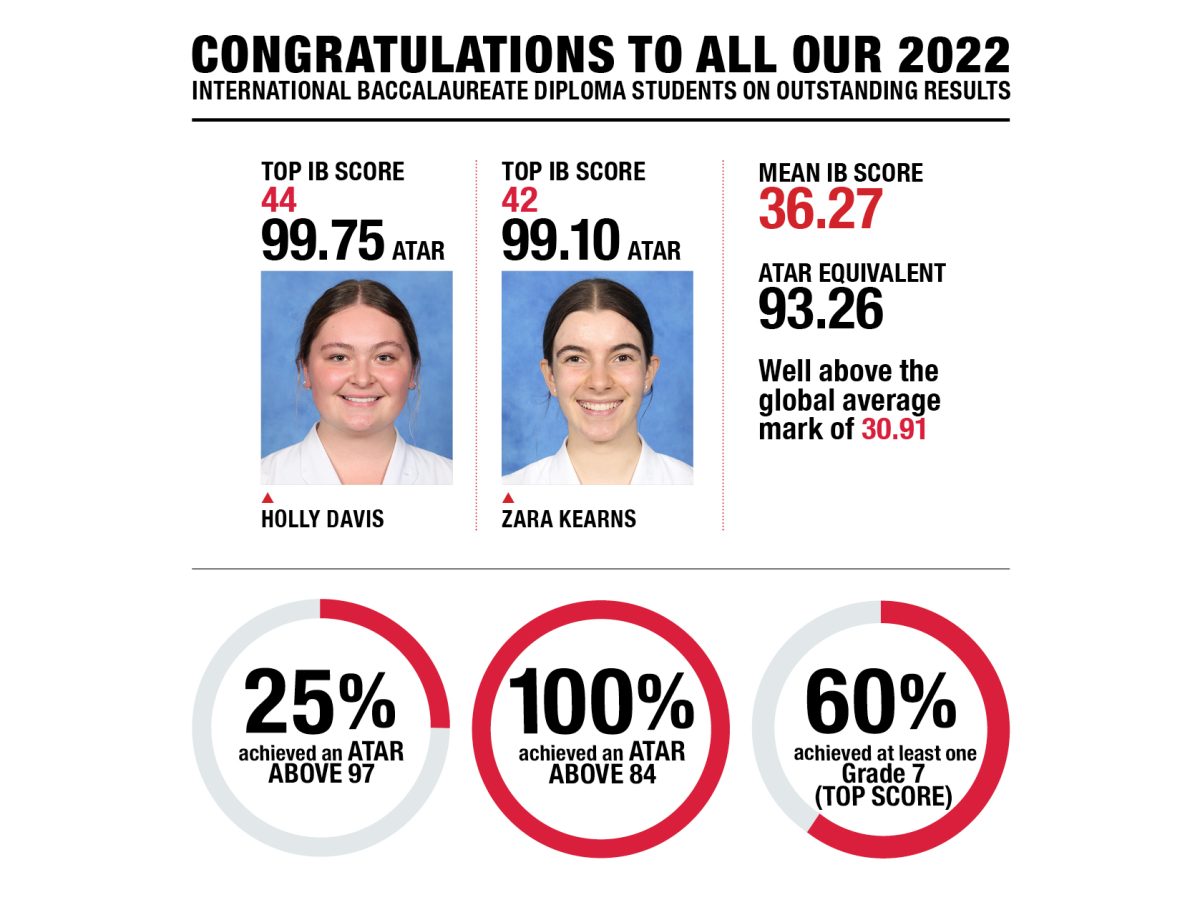 A total of 2,421 students in Australia sat for the November session examinations and in NSW there were 652 candidates.
● The average IB score for Santa Sabina was 36.27 which is equivalent to an ATAR of 93.26. This is well above the global average of 30.91 and also above the national average of 35.6 out of 45.
● Twenty-five percent of our students achieved an ATAR over 97, 53% achieved an ATAR above 95 and 75% achieved an ATAR over 90.
● We saw a diverse range of Extended Essays submitted by these students. This 4000-word research paper is in an area of their choice and for this cohort, their research fell under a wide variety of subjects such as English; Psychology; Mathematics; Sport, Exercise and Health Science; Global Politics and Biology.
● At Santa Sabina 15 students completed the course in November 2022 and all have passed and received their Diploma.
● In 2022 Santa Sabina students were offered 15 IB subjects. The high performing subjects this year include English A Language and Literature; Business Management; Global Politics and Sport, Exercise and Health Science.
● The Diploma course is still in its infancy at Santa Sabina but is well ingrained in our rigorous academic program offered to all students. This program is designed to suit students who wish to study a diverse range of subjects.