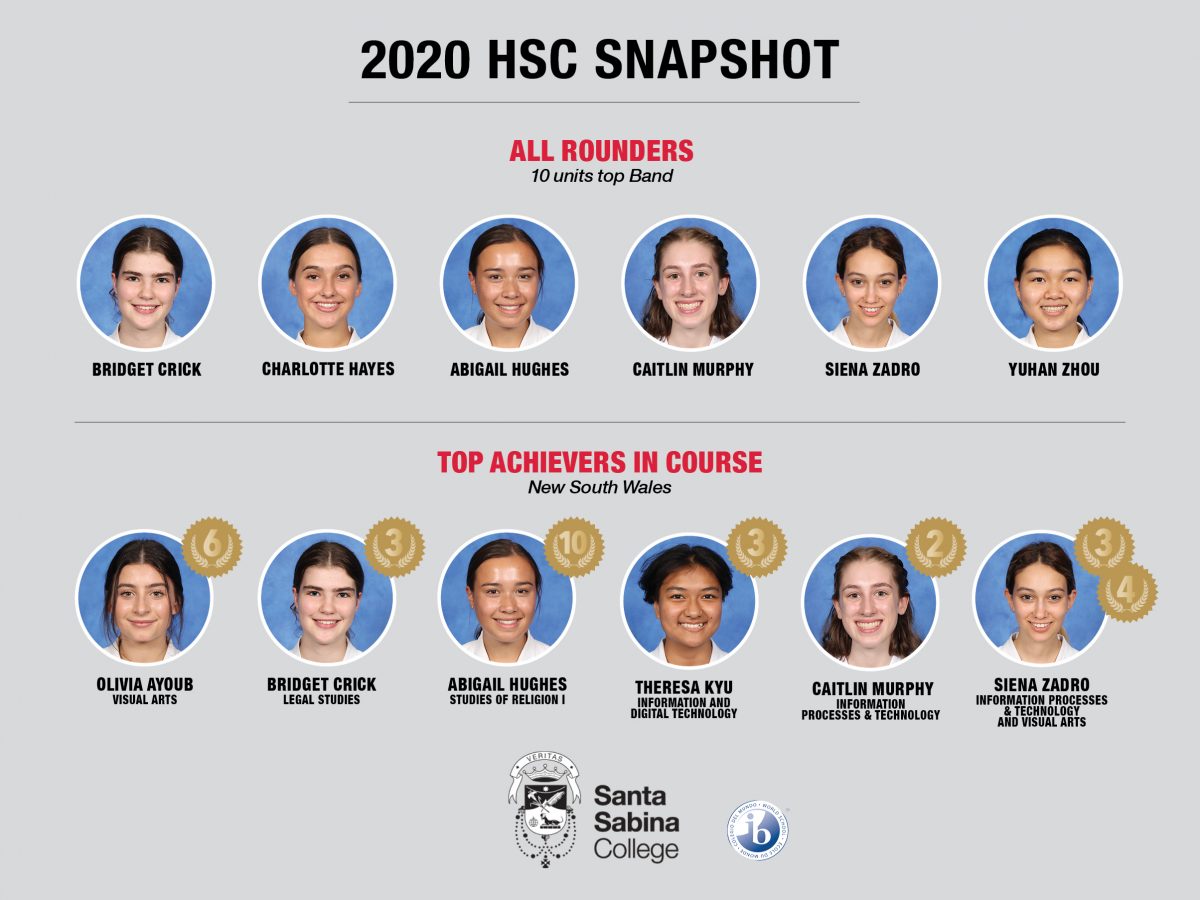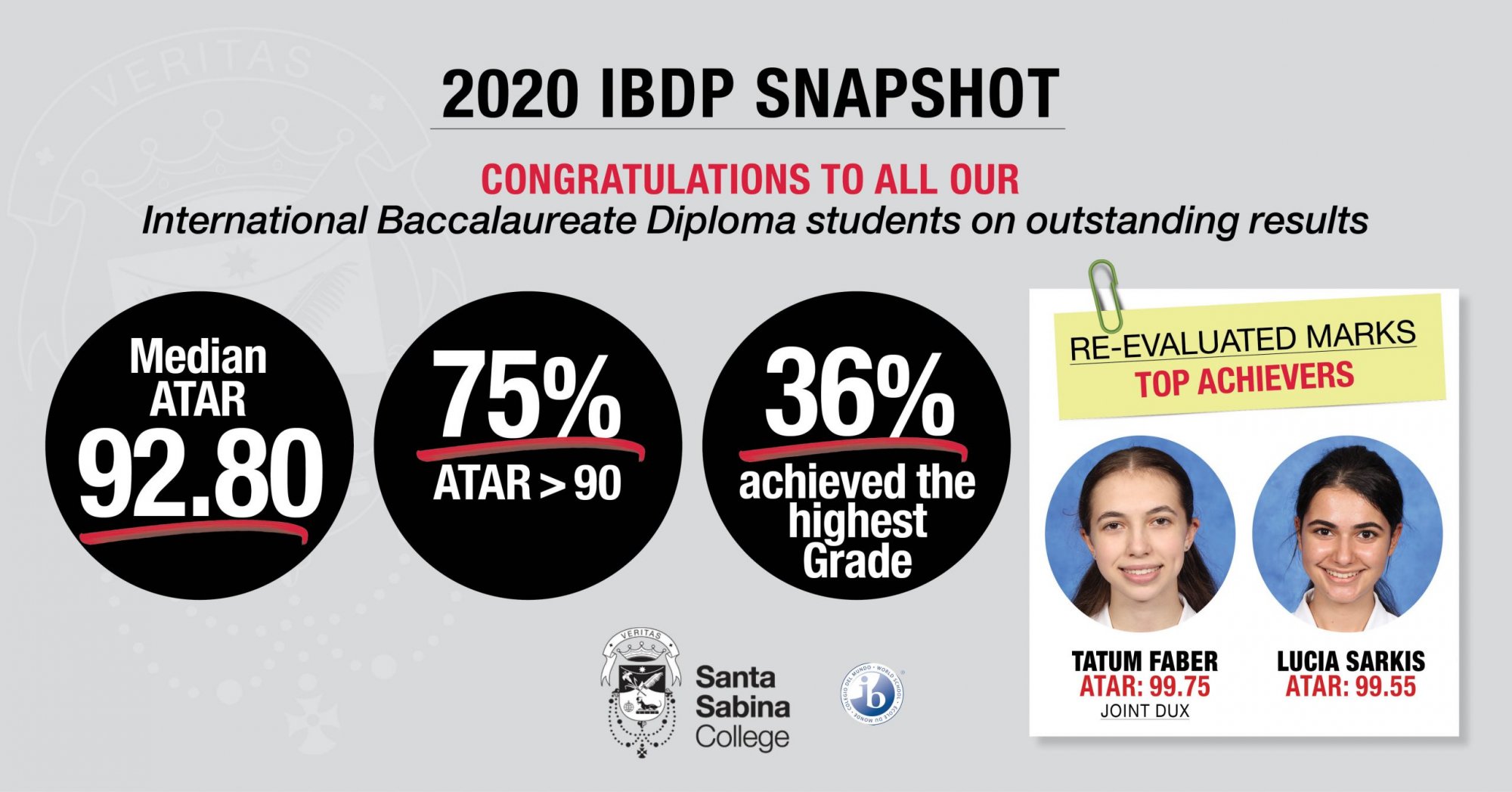 Our preliminary analysis of Santa Sabina College HSC results shows that almost 70% of the HSC cohort achieved at the highest levels, Band 6 or Band E4, and four students received ATARs of over 99. A further two IB Diploma students received ATARs of over 99. We congratulate Bridget Crick (HSC) and Tatum Faber (IB) who both achieved ATARs of 99.75.
Stand-out performances were recorded in our STEM faculties with two girls achieving second and third place in NSW for Information Processes and Technology, while our Chemistry students challenged national trends for girls in Science with more than 30% achieving a Band 6 result. In our Design and Technology classes close to 90% of our girls achieved a Band 6 compared with 15% of the State. Theresa Kyu placed third in the state for Information and Digital Technology.
Our students also gained outstanding results in Languages, Mathematics, Humanities and the higher levels of English. We also saw continued excellence in our Extension courses.
Our International Baccalaureate Diploma Programme results were equally strong. Nearly 75% of our IB students received results equivalent to an ATAR of over 90. The median ATAR equivalent for the IB cohort was 92.80.
We saw significant growth in Grade 7 results (the highest mark) and these were achieved in nine out of 13 courses (four in 2019) – English Literature, French Ab Initio, Italian B, Philosophy HIgher Level (HL), Biology Standard Level (SL), Chemistry HL, Physics SL, Mathematics and Music HL. Grade 7 results were achieved by close to 40% of the cohort across these nine courses. These results demonstrate the strength in achievements across a diverse range of subject courses. In Philosophy, Italian B and Music HL 100% of candidates achieved the two highest grades. In Biology, Chemistry and Music HL we saw 50% of candidates achieve the top grade.
HSC COURSE DATA

In 2020 106 Year 12 students and 19 accelerants (including four accelerants studying two courses) undertook study in 33 NESA Developed Courses. 
70 students (including 10 accelerants) received a result in the highest band possible for one or more courses and are recognised on the NESA Distinguished Achievers List. 
10 of the 19 accelerated students received a Band 6 result on the Distinguished Achievers list with two students receiving two Band 6 results. 
Santa Sabina students appeared 160 times, for many students more than once, on the NESA Distinguished Achievers List across 30 Courses, celebrating the diversity of our success.
Santa Sabina College was ranked 48th in the state by The Sydney Morning Herald.
This is the fifth consecutive year we have been on the list of the top 50 schools in NSW, this is particularly outstanding in the last two years with the commencement of the IB Diploma Programme. 
The 2020 results reflect strong performances particularly in the following courses
Japanese Continuers – 100% of the cohort received Band 6
Music 1 – 100% of the cohort received Band 6
Design & Technology – 88% of the cohort received Band 6
Information Processes & Technology – 75% of the cohort received Band 6
French Beginners – 66% of the cohort received Band 6
Mathematics Advanced – 42% of the cohort received Band 6
Impressive Extension results:
Japanese Extension – 100% of the cohort received E4
English Extension 1 – 86% of the cohort received E4
English Extension 2 – 67% of the cohort received E4  
Maths Extension 1 – 59% of the cohort received E4   
SHOWCASING OUTSTANDING STUDENT WORK – HSC SHOWCASES
Each year NESA showcases outstanding student project work in a series of exhibitions and performances. The 2020 selections and nominations were:
Nominated for ARTEXPRESS – Visual Arts
Olivia Ayoub – SELECTED
Alyssa Facioni – SELECTED
Celine Ho 
Eliza Kennedy 
Siena Zadro 
Nominated for OnSTAGE – Drama
Olivia Ayoub
Isobel Burkhard
Nominated for Shape – Design and Technology
Mia Baricevic
Madeleine Bettridge
Sarah Crittenden
Chloe Devine 
Katie Duncan 
Mia Francis 
Charlotte Hayes 
Alessandra Korompay 
Patricia La 
Mia Mardini 
Antonia Moulos 
Lara Muirhead 
Claudia Tyree 
Siena Zadro 
Nominated for Texstyle and Shape –Textiles & Design
Nominated for ENCORE – Music 2 – Composition
OTHER AWARDS – NATIONAL
Antonia Moulos's Major Work for HSC Design & Technology won the Interior Design category of the prestigious Bright Awards 2020. Antonia's Rehabilitation Facility for Young Australians provides age-appropriate housing for young people with severe disabilities and complex needs. You can read more about this award and Antonia's project here.