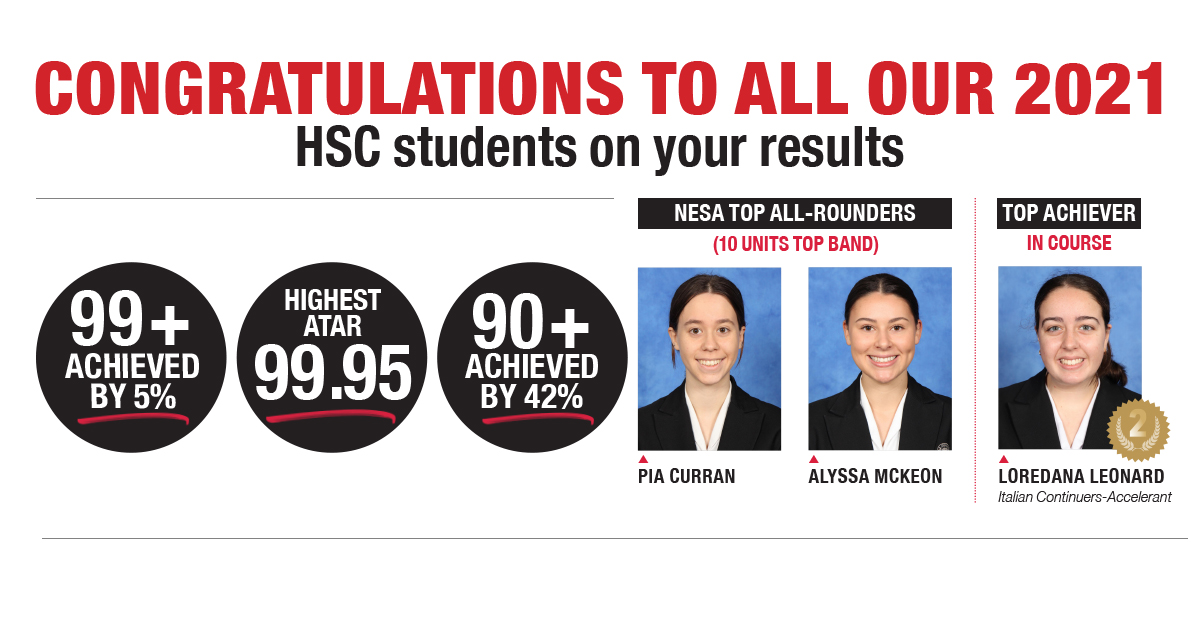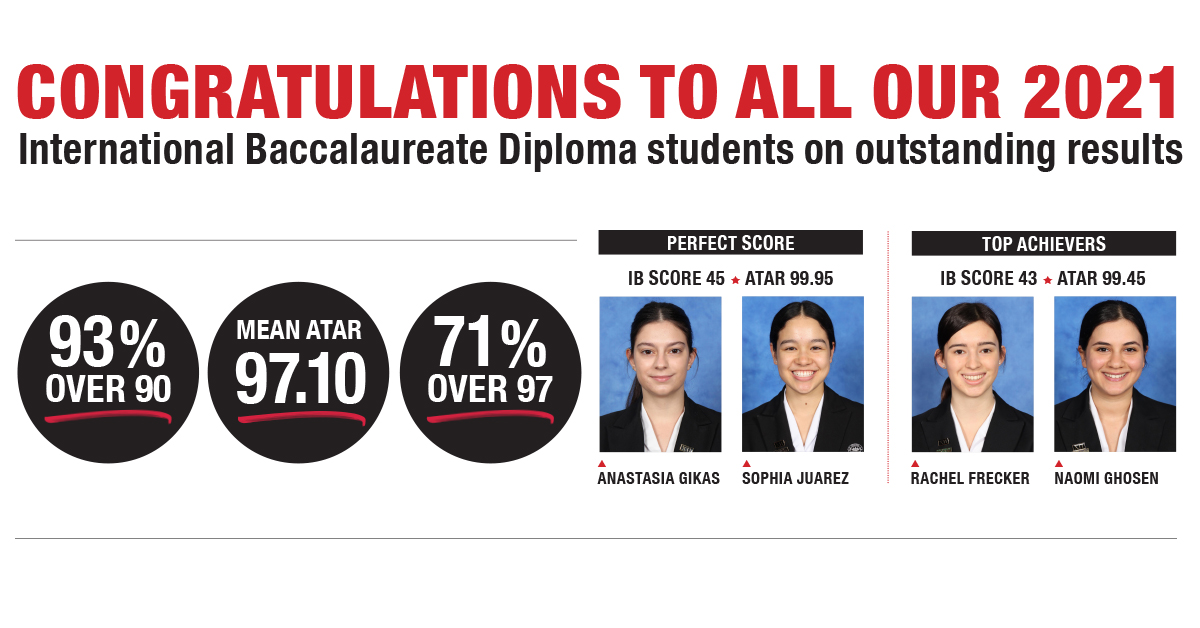 In 2021, 127 students completed their senior secondary school qualification through either the NSW Higher School Certificate or the International Baccalaureate Diploma. This made them eligible for an ATAR (Australian Tertiary Admission Rank) for access to a range of university courses throughout Australia or overseas. We are particularly delighted to see the amount of students receiving an ATAR of 99 or over – this year we have 2 students achieving the top ATAR result of  99.95 and 6 students above 99. Also of note is the increase in those receiving an ATAR of 80 or over, this result enables a vast array of choice of tertiary course options or workplace options for the Class of 2021.
In 2021:
42%

achieved an ATAR of 90 or over (40% in 2020)

24%

achieved an ATAR of 95 or over (24% in 2020)

5%

(

6

stu

dents) achieved an ATAR of 99 or over (5% in 2020)
HSC OUTSTANDING STUDENT ACHIEVEMENT
In 2021, 113 students completed their Higher School Certificate. 23 accelerants also studied one or more HSC courses throughout the school year.
Santa Sabina students featured 2 times on the HSC Top All-rounders List. This list acknowledges students who achieved in the highest performance band in 10 or more units in the HSC.
2021 TOP ALL ROUNDERS
TOP ACHIEVERS IN COURSE
The Top Achievers in Course List indicates the students who achieved in the top 5, 10 or 20 places (depending on candidature size) for each HSC course:
| | | |
| --- | --- | --- |
| Student Name | Course | Place in Course |
| Loredana Leonard (Accelerant) | Italian Continuers | 2 |
COURSE DATA
In 2021 113 Year 12 students and 23 accelerants undertook study in 34 NESA Developed Courses. 
69 students

(including 10 accelerants) received a result in the highest band possible for one or more courses and are recognised on the

NESA Distinguished Achievers List. 
10

of the

23 accelerated students

received a

Band 6 result

on the Distinguished Achievers list with

3 students

receiving

two Band 6 results. 

This means

51% of students attempting a HSC course

achieve a Band 6. (Approximately 12.2% of students achieve at this level across the state)

Breaking this down to

61% of our Year 12 students

and

43% of our accelerants

achieved at least one

band 6 result 

Santa Sabina students appeared

150

times, for many students more than once, on the

NESA Distinguished Achievers List

across

28 Courses,

celebrating the diversity of our success.

Santa Sabina College was ranked

62nd

in the state by SMH with a success rate of 23.1%. When incorporating the IBDP ATAR results the College would have ranked 46

(

47th in 2019 with a success rate of 29.11%, 30th in 2018, 47th in 2017, 46th in 2016). 
SHOWCASING OUTSTANDING STUDENT WORK – HSC SHOWCASES
Each year NESA showcases outstanding student project work in a series of exhibitions and performances. The 2020 selections and nominations were:
Nominated for ARTEXPRESS – Visual Arts
Nominated for ENCORE – Music 2 – Composition
Emilie Choi
Amelia Dillon
Eleanor Dillon
Nominated for OnSTAGE – Drama
Rose-Marie Moussa
Anna Munns
Nominated for Shape – Design and Technology
Nominated for Shape –Textiles & Design
Nominated and Selected for Texstyle –Textiles & Design
IBDP OUTSTANDING RESULTS:
In Australia, 2,644 students sat for IB Diploma examinations in the November 2021 examination session. Australian students' average result was 37 out of a possible 45 with a pass rate of 98%.
At Santa Sabina, 14 students completed the International Baccalaureate. The average result was 39 with a 100% pass rate.
Grade 7 results were achieved in 20 courses

(8 in 2020) out of

25

courses offered internally

36 Grade 7 results were achieved by the cohort

across these

25 courses.

(12 in 2020)
SANTA SABINA AVERAGE 39.07 (34.7 in 2020)
AUSTRALASIAN AVERAGE 37 (34.2 in 2020) 
GLOBAL AVERAGE 32 (29.8 in 2020)