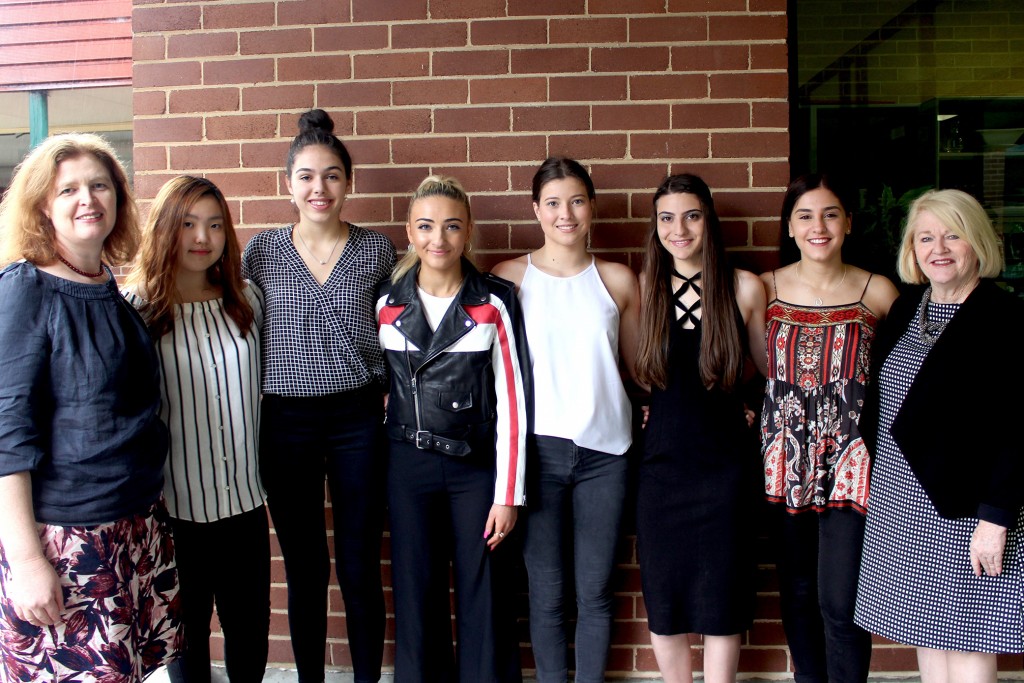 Head of School 6-12
The College is very pleased to announce the appointment of Mrs Carmelina Eussen to the position of Head of School for Years 6-12, 2017. Carmelina has held numerous leadership positions in both Catholic schools and the Catholic Education Office, Sydney, and is currently the Assistant Principal at Marist Catholic College Penshurst.  She has extensive experience in leading educational change, engaging in strategic leadership and ensuring quality teaching and learning. Carmelina is an experienced teacher of English and Religious Education. In Carmelina's words, she believes 'it is part of our mission in Catholic Education to ensure all are included and made to feel welcome and supported. As Head of School my goal would be to ensure that as a school community we move forward to ensure excellence for our students through faith, empowerment and contemporary learning'. We look forward to welcoming Carmelina Eussen in early 2017.
Class of 2016 – Outstanding Results
Congratulations to the Class of 2016, and to all of the teachers who contributed to their outstanding results. Santa Sabina College demonstrated significant improvement this year in particular courses, and in overall ranking, moving from 59th in the state in 2015 to 46th this year. We had 35 students in Year 11 undertake HSC courses in Languages, Mathematics and Studies of Religion. A number of these students have now completed two HSC courses before Year 12 begins.
ATARS
Congratulations to Georgette Bechara who received the highest ATAR of 99.7.
9 students received an ATAR over 98 (increase from 3 students last year) Congratulations to:
Georgette Bechara – 99.70
Courtney Ferguson – 98.95
Nina Kerwin-Roman – 98.8
Adelaide Highfield – 98.5
Cindy Li – 98.30
Claire Duncan – 98.25
Isabella Boulos – 98.00
Isabelle Brooks – 98.00
Juliette Kaado – 98.00
TOP ACHIEVERS IN COURSE
The Top Achievers in Course List indicates the students who achieved in the top 10 places in NSW for each HSC course
ALL ROUNDERS
In 2016 four Santa Sabina students featured on the HSC Top All-rounders List. This list acknowledges students who achieved in the highest performance band in 10 or more units in the HSC.
2016 TOP ALL ROUNDERS
Isabelle Brooks
Adelaide Highfield
Annalise Ianni
Nina Kerwin-Roman 
COURSE DATA
In 2016 133 Year 12 students and 35 Year 11 accelerants undertook study in 39 Courses 
83 students received a result in the highest band (Band 6 or E4) possible for one or more courses and are recognised on the BOSTES Distinguished Achievers List.
17 of the 35 accelerated students received a Band 6 result on the Distinguished Achievers list with 3 students receiving two Band 6 results.
Santa Sabina students appeared 198 times on the BOSTES Distinguished Achievers List across 35 Courses.
The 2016 results reflect strong performances particularly in:
Design & Technology – 100% of cohort received Band 6
Music Extension – 100% of cohort received Band E4
English Extension 2 – 50% of cohort received Band E4
Studies of Religion 2 – 44% of cohort received Band 6
Geography – 44% of cohort received Band 6
English Extension 1 – 43% of cohort received Band E4
Personal Development, Health & Physical Education – 39% of cohort received Band 6
French Beginners – 38% of cohort received Band 6
Textiles & Design – 36% of cohort received Band 6
Mathematics Extension 1 – 35% of cohort received Band E4
There were substantial improvements in the following courses:
Physics – Increase in Band 5&6 (44% of cohort)
Chemistry – Increase in Band 6 (12% of cohort)
PDHPE – Increase in Band 6 (39% of cohort)
Maths General – Increase in Band 6 (15% of cohort)
Mathematics 2U – Increase in Band 6 (25% cohort which includes accelerants)
Studies of Religion 2 – Increase in Band 6 (44% cohort which includes accelerants)
English Advanced – Increase in Band 6 (25% cohort)
Each year BOSTES showcases outstanding student work in a series of exhibitions. Congratulations to:
Michelle Mutyora for her inclusion into the HSC Music Showcase, Encore performing at the Sydney Opera House
Monica Carollo for her inclusion in the HSC Design and Technology Exhibition, Shape at the Powerhouse Museum
The Australian Volleyball Schools Cup 2016: Melbourne
We are very proud of ongoing success as the leading Australian girls' school for Volleyball. Yet again we have been awarded overall 1st place within the all girls' school category, after an exciting and nail-biting series of matches in Melbourne.
This year 70 Santa Sabina College (SSC) students travelled to Melbourne in eight teams to challenge other schools in their respective divisions for Gold, Silver or Bronze medals. Throughout the week students were great ambassadors of the College competing in matches on each of the six days of competition. SSC teams should be very proud of the way they competed for every point and if a game or two had gone our way we would have been able to compete in many more of the finals series.
This is an outstanding result for the SSC program and the students who attended the AVSC should be congratulated. We would also like to thank the parents who travelled with the teams as mangers and or support crew for the students. They worked tirelessly to ensure our students were fed, watered and kept in peak condition to play. The parents and coaches were an invaluable part of the squad who worked behind the scenes for our students.
Results for Santa Sabina College
Overall:
1st – All girls school in Australia
2nd – NSW school in Australia (one place behind Sydney Boys' High) out of 13 NSW schools
15th – Overall placing out of 133 schools
I would like to take this opportunity to wish all of our families a very happy and holy Christmas and all the very best for 2017.
Dr Maree Herrett